Charlotte's first public EV charger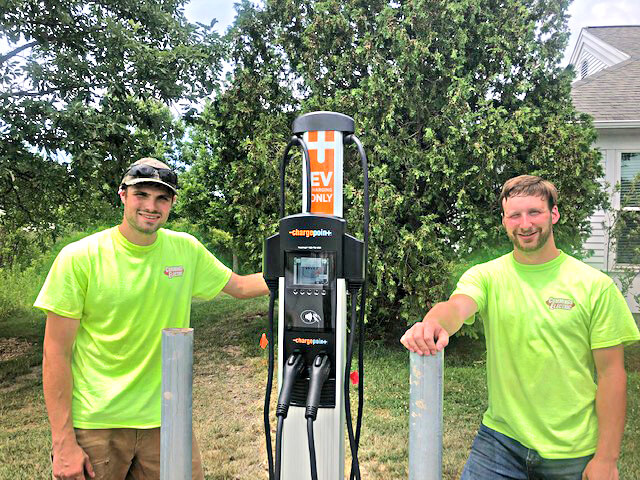 The Charlotte Energy Committee and the Charlotte Library, with the support of the town, successfully applied in April 2019 for a $17,000 grant from the State Electric Vehicle Supply Equipment Grant Program for a charging station at the library. Funded by Volkswagen's settlement agreement, EVSE is providing Vermont $2.4 million in funding to expand its network of electric vehicle charging stations. The grant covered 90 percent of the cost of the two-port charging station. While the library was the grant recipient, we ended up locating the charger in the Town Hall parking lot for superior power access.
"The Charlotte Library Board was pleased to support the efforts of the Charlotte Energy Committee in obtaining an EV charger for the Town Hall-Library area," said Margaret Woodruff, director of the library. "The charger fits in with the library's overall mission to move toward net-zero energy use. The recent construction at the library included an overhaul of the HVAC system and added insulation to old and new parts of the building. An EV charger contributes to the sustainability mission of the Charlotte Library, with guidance from the Energy Committee."
Given that Charlotte has bragging rights as the town with the second highest number of EVs per capita in Vermont, it's high time for the town to have infrastructure to support the move to EVs. Come check it out in the Town Hall parking lot!