Senior Center News – Feb. 20, 2020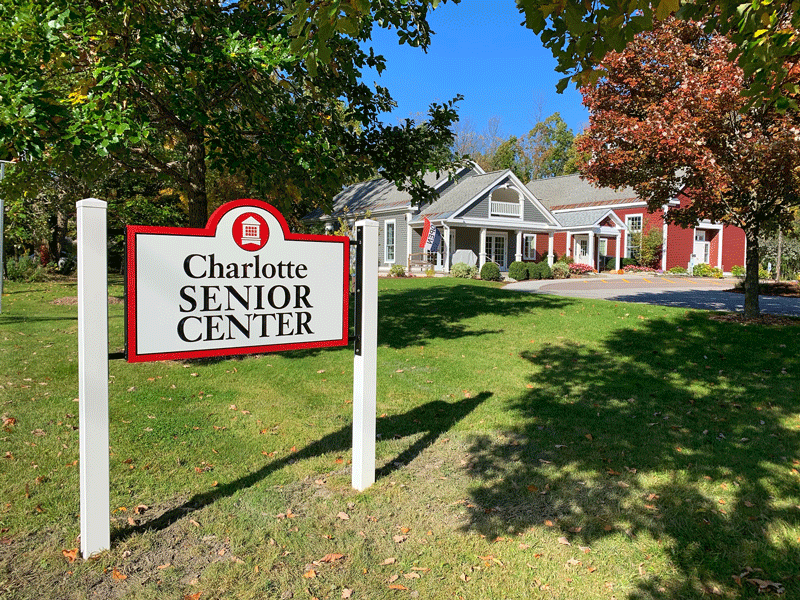 "I realized it for the first time in my life: there is nothing but mystery in the world, how it hides behind the fabric of our poor, browbeat days, shining brightly, and we don't even know it."
~ Sue Monk Kidd, The Secret Life of Bees
"There is no logical reason for the existence of a snowflake any more than there is for evolution. It is an apparition from that mysterious shadow world beyond nature, that final world which contains—if anything contains—the explanation of men and catfish and green leaves."
~ Loren Eisley, The Immense Journey
As you can see, the Spring Schedule is not inserted in this issue of this paper as promised last time. The following Charlotte News issue of 3/5 will include the Spring Schedule which covers March, April and May. In addition, on 3/1, it will be posted on our website. Signups will start as of Monday 3/2 – although most classes will be starting later in the season. Please stop by or call (802) 425-6345 to register. You may also mail in your registration and payment.
That first week of March has ongoing classes or groups which continue every season and do not require advance registration. These include exercise and health classes: Chair Yoga, Gentle Yoga, Pilates, Pilates Plus, T'ai Chi Ch'uan for Beginners, T'ai Chi Practice for Advanced Students, and Strength Maintenance. Then, there are the regular gatherings: Duplicate Bridge, Spanish Conversation, Mahjong, Fiber Arts Group, and the Arts Group on Fridays.
Other events to keep in mind that first week are:
Monday, 3/2.From 10:30 a.m. -11:30 a.m., Age Well Restaurant Tickets will be dispensed. You must be 60 years of age; the suggested donation for each ticket is $5, good for one year at participating restaurants on certain days. Please bring cash or check.
Tuesday, 3/3. Introduction to Feldenkrais – Awareness Through Movement, at 1:00 p.m. Gentle, mindful movement brings new self-awareness to increase our ability to do what we want to do. Free.
By popular demand, there will be two separate classes of EssentricsTM this season. Please note that both of them do have fees:
Wednesday, 3/4. Essentrics on Wed. at 8:30 a.m. – requires advanced registration, limited to 15, fee: $8 per class; $50 for 7 sessions. It is a full-body workout that improves how you feel in your body through a dynamic combination of stretching and strengthening that works through all the joints and releases tight muscles. Please bring water and your own mat.
Friday, 3/6. Essentrics on Friday at 9:30 a.m. – requires advanced registration, limited to 15; fee: $8 per class; $50 for 7 sessions.
Courses and Notes
Two of the Senior Center's language instructors will be returning this season. On Mon. 3/9, Alysee Anton will begin two classes: at 1:15 p.m., French for Travelers (beginners) and at 2:30 p.m., French Conversation Circle (intermediate). On Fridays at 1:00 p.m., starting 4/17, Nicole Librandi will be back to teach a series of beginning Italian classes.
Perhaps most exciting will be a new, Movie Classics Discussion Series comprised of four films on a theme, to be shown on four Friday afternoons starting in April. The screenings are co-sponsored by the Charlotte Public Library, and they will be screened in the library's brand new meeting space. There will be plenty of time for registration (at the Senior Center), and more information will be available in the Spring Schedule. Stay tuned.
Health Events
On Wed. morning, 3/4, the Foot Clinic is offered, and it does require pre-registration for appointment times. The Blood Pressure Clinic on the same day at 11:30 a.m. is open to walk-ins, however. The following Foot Clinic and Blood Pressure Clinic will be on Wed., 4/1.
Wednesday Afternoons at 1:00 p.m. Free Events, No registration necessary
The 2/12 event, More Paths to Wellness, was informative and well-received by the attentive audience which asked great questions afterwards. The panel of four professionals introduced the fields of Craniosacral Therapy, The Feldenkrais Method, Osteopathy, and Rolfing. Many in the audience requested that these panels continue in the future to introduce other modalities.
2/26. Antarctica's White Wilderness with Patrice Macomber. Discover the history and wildlife of Antarctica, our chilliest continent. After a short pre-trip to Buenos Aires and Ushuaia (The City at the End of the World), we'll spend time cruising through the South Shetland Islands.

3/4. Ocean Currents, the Gulf Stream & Sailboat Racing with Don Porter. It's just the right time of year to share an educational journey from an offshore sailor's perspective! Learn about the critical influence ocean currents have on our climate, the surprising dynamics of the Gulf Stream, and how gale force winds and rogue waves in these waters conspired to define one of the most challenging Newport-Bermuda sailboat races.
3/11. American Sign Language Explained! with Jody Crosby. Find out how American Sign Language and Sign English are structured, learn some basic signs, and leave with an alphabet chart for fingerspelling.
Art News
The February Art Exhibit: "2020 Hindsight ~ Barbara Water's Retrospective" continues to the end of this month. The 60-piece show of abstract, personal reflections and nature-inspired works in many mediums is certainly worth a visit.
The March Art Exhibit will showcase works from our friends at Wake Robin and include pieces in oil, watercolor, acrylics and hot wax in both representational and abstract styles.
Winter Weather Closings
When there is iffy weather, remember that the Senior Center follows the school closures of Champlain Valley School District (CVSD). Closings are announced on local TV and radio stations, at the CVSD website, as well as on our website and by phone message.
During school vacation (2/24-2/28), please check our website for a posting, or call the Center for the phone message which is updated at 7:00 a.m. in the case of a closure.
Best times to see art in February and March 
Mondays at noon, Tuesdays after 2:30 p.m., Wednesdays 10:00 a.m. to noon, Thursdays and Fridays after 12:30 p.m. Please call the Center during the week to check on Sunday availability.
Do visit our website for more details on course listings, events and menus. If you have questions, would like to register, or ask about volunteering – please call (802) 425-6345, or stop by Monday – Friday from 9:00 a.m. – 4:00 p.m.
We are at 212 Ferry Rd., Charlotte—right across from the post office. The Senior Center's mission is to serve those 50 and up. Residents from other communities are always welcome. There are no membership fees.
Stop in and say hello. See you soon!
Charlotte Senior Center
(802) 425-6345
Lunch Menus
Suggested donation for all meals: $5. Keep up to date on menus on Front Porch Forum and our website as the menu sometimes changes.
Monday Munch
11:30 a.m. to 12:30 p.m. No reservations required.
February 24
Creamy carrot soup, zucchini fritters, greens, apple dumpling, fresh fruit
March 2
Philo Ridge, carrot/ginger soup, salad, roasted cranberry cheesecake bar
Wednesday Lunch
All diners eat at noon. Reservations suggested.
February 26
Spinach/mushroom lasagna, garlic bread, lemon bars
March 4
Beef burgundy, homemade birthday cake and ice cream
Thursday – Gents Breakfast
7:30 a.m. to 9:00 a.m. Reservations required.
February 27
Menu and Topic – TBA