Planning Commission discusses Act 143 and ECV boundaries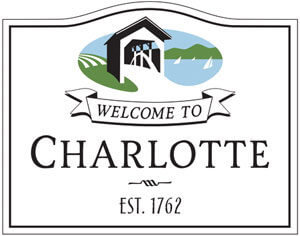 The August 1 Planning Commission meeting agenda was a continuation of several topics from recent meetings: Act 143 and accessory on-farm businesses and the East Charlotte Village (ECV) district boundaries. The commission also introduced its newest commission member, James Faulkner.
The invitation extended by the Planning Commission to the Selectboard to discuss Act 143 was a suggestion, said chair Peter Joslin. Only Carrie Spear was present from the Selectboard. The commission discussed the previous zoning administrator's findings as well as whether a site plan review may be necessary for future on-site accessory agricultural businesses. Vice Chair Charlie Pughe suggested criteria that could trigger a site plan review, such as number of events, customers or square footage of the building. While Act 143 is an "act relating to municipal land use regulation of accessory on-farm businesses and to hemp cultivation," it was noted in previous Selectboard meetings several aspects of Act 143 have shifted the responsibility to individual towns. Towns have the option to develop additional regulation related to site plan reviews and performance standards. Joslin proposed adding the topic to three upcoming meetings and inviting the Selectboard "to see how to formalize the approach."
The agenda item, next steps for the East Charlotte Village—view the deliberative information regarding the 2019 East Charlotte Village district boundary — opened with Joslin saying the commission needed to make some decisions about density and the proposed village and village commercial borders. Both Pughe and Ilick discussed aspects of identifying the number of projected build-outs. Pughe offered to figure it out by parcel and fix the proposed boundary map to reflect the planning changes discussed.

In other business, the commission heard from Sydney Spohn, representing Andrew Zins for a minor subdivision application for the property located at 1654 Prindle Road (PC-19-107-SD Zins). Spohn presented the application for a two-lot subdivision and requested a final decision. After discussing a related case in the Vermont Superior Court, Environmental Division regarding the appeal of a Planning Commission decision, the commission decided to continue the current application until the appeal is decided. "The issue of the open space is a critical one," said commission member Marty Illick.
News Editor Note: This article was adapted from the Planning Commission draft meeting minutes posted on the town website.