Calendar: Oct. 19 – Nov. 3
Please send event listings at least three weeks in advance.
CHARLOTTE
Book launch
Thursday, Oct. 19, 5-8 p.m.
Split Rock Tree Farm is hosting a book launch and signing for a new children's book, "Hope Beneath the Tree," by Kristen Vincent of Shelburne in conjunction with the organization Hope Beneath the Tree which connects children of incarcerated parents with gift givers in the community.
Avalanche forecasting
Thursday, Oct. 19, 6:30 p.m.
Vermont Ski and Snowboard Museum in Stowe presents Avalanche Forecasting: The State of the Art, an in-person presentation and conversation about innovations in avalanche forecasting for both backcountry and resort skiing. Doors will open at 6 p.m., giving the opportunity to enjoy the exhibits.
Spirits of Rokeby: Spectral Rooms
Saturdays, Oct. 21, 27 & 28, 5:45-8 p.m.
Rokeby Museum presents a new production inspired by the spiritualist history at the museum. Ticket holders will gather for a drink and a short talk on Victorian spiritualism before entering the historic home where actors will guide visitors through a participatory dramatization, recreating a series of séances at the home. A study in mediumship methods, the script draws from Rokeby records and other historical accounts. Performances are every 45 minutes from 5:45-8 p.m. Tickets must be purchased in advance at rokeby-museum.square.site and cost $20 for members, $25 for non-members.
International Archaeology Day
Saturday, Oct. 21,
11:30 a.m. – 12:15 p.m. & 3-4:30 p.m.
Fort Ticonderoga will celebrate International Archaeology Day with two tours led by Fort Ticonderoga Director of Archaeology Margaret Staudter highlighting Fort Ticonderoga's historically significant archaeological collections and Carillon Battlefield. The tours are included in Fort Ticonderoga's general admission ticket. To purchase tickets and learn more, visit fortticonderoga.org. The early tour will explore the fort's exhibit spaces and the second will be a walking tour of the Carillon Battlefield.
CHARLOTTE
Parent Coaching from
Conflict to Cohesion
Wednesdays, through Nov. 16, 6-8 p.m.
Marigold Farm at 151 Prindle Road in Charlotte is hosting a parent-coaching group. This class is for parents and caregivers who want to cultivate a relationship with their young ones that feels fun, sustainable and respectful. Participants will learn skills to improve communication and strengthen the family system through straightforward, actionable steps. Learn more or register.

Youth Environmental Summit
Friday, Oct. 27, 8:30 a.m.-2:15 p.m.
You must register by Oct. 16 for the Youth Environmental Summit, an annual conference for middle and high school students to learn about environmental issues and get involved in local communities. Through hands-on workshops, action-inspiring discussions, networking with environmental professionals and like-minded peers, the mission of the event is to prepare youth for leadership on environmental issues. For sixth grade through seniors, the program is free and at the Barre Civic Center. Register.
Youth rowing race
Saturday, Oct. 28, 8 a.m.-noon
Cheer on local high school and middle school rowing crews in the annual youth rowing race hosted by Lake Champlain Maritime Museum in Vergennes. The race starts at the foot of the Vergennes Falls and goes down and back via Otter Creek. Many crews compete in the race and in an annual costume contest. Watch and cheer from Vergennes Falls Park or along Otter Creek.
Halloween art activity
Saturday, Oct. 28, 11 a.m.-1 p.m.
Get ready for Halloween at Family Art Saturday. Drop into the BCA Center fourth-floor education studio on Church Street in Burlington for a free, intergenerational art activity inspired by the current exhibition, Terry Ekasala: Layers of Time. Kids, caregivers, students and adults will explore the power of process as they make their own abstract masterpieces, using watercolors, pastels and colored pencils. Come in your Halloween costume while you create your own curious creatures.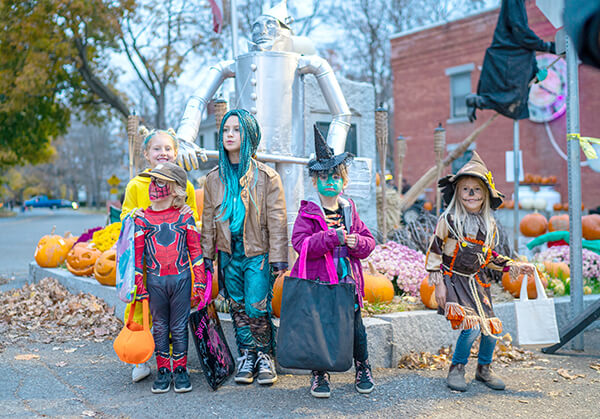 CHARLOTTE
Trick-or-treating in Charlotte
Tuesday, Oct. 31, 4:30-8:30 p.m.
Greenbush Road will be closed to make it safer for trick-or-treaters for four hours on Halloween evening. Organizers ask that residents of Greenbush leave and return to their homes during that time via the north end of the road. Lowell Thompson and his band will play again at the Old Brick Store for free. Revelers are encouraged to park east of the Greenbush and Ferry roads intersection at the town hall or senior center or, for those coming from south of the intersection, at The Old Lantern.
Women in cyber conference
Friday, Nov. 3, 9 a.m.- 2:30 p.m. 
Champlain College and our Women in Cybersecurity Leadership Council invite you to attend the Women in Cyber Summit at the college's Center for Communication and Creative Media, 375 Maple Street, Burlington. This event is designed for high school students to seasoned professionals who want to learn more about cybersecurity, pursue a degree, enter the field or connect with others who appreciate technology. It is free and open to the public. Register by Oct. 27