Defense rules in CVU football so far this year
Hopefully, any CVU football players reading The Charlotte News have stopped reading this story before now.
Champlain Valley Union High coach Rahn Fleming would rather this story about his team didn't start this way. He doesn't want his players thinking about this statistic: In the last three games, the Redhawks have outscored their opponents 131-7.
"We don't want to let that become a dominant thought because it leads to a lack of humility, and a lack of humility is going to lead to a lack of preparation. Lack of preparation is going to lead to loss," Fleming said.
The coach credits the defensive dominance to a good strong anchor in the play of junior Sean Kennedy, senior Connor Simons, junior Josh Quad and senior Will Kearney.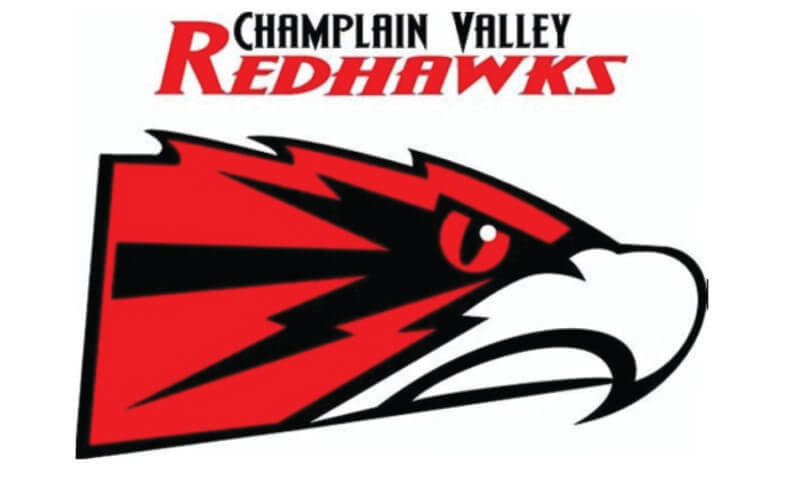 "Those four guys fill three spots on the offensive line very reliably," Fleming said, a statement that could win an award — if they gave awards for understatement.
Sophomore Stuart Allard and junior Daniel Tuiqere have supplied strong play in the middle of the defense.
On the outside of the line are two players Fleming has nicknamed with names he took from Homer's "Odyssey" — Scylla, who was a six-headed serpent in the epic, and Charybdis, who was a dark whirlpool that devoured any ships that came near her.
When Fleming asked sophomore Dylan Terricciano and freshman Orion Yates which one wanted to be Scylla and which one wanted to be Charybdis, they didn't know who he was talking about.
"Have you ever read any Homer?" Fleming said he asked the two, who have been flying around, shutting down the outside of the defensive line, in spite of their age. "They looked at me like I was talking about 'The Simpsons.'"
The coach takes pleasure in teaching his players about more than football.
CVU 54, St. Johnsbury 7
The Hilltoppers traveled to Hinesburg on Saturday, Sept. 23, and had a long drive back to the eastern side of the state.
The Redhawks' defensive prowess led to five St. Johnsbury turnovers. Junior Caleb Scrodin, Terricciano and Kearney recovered fumbles that resulted in CVU touchdowns in the third quarter.
Senior Michael Dunbar and junior Dylan Frere both had interceptions.
Junior Anderson McEnaney scored on an 84-yard kick return and on a 25-yard run.
When St. Johnsbury started the game by scoring on the first possession of the game, Fleming said he wasn't nervous. And as events proved, he didn't have any reason to be.

The following kickoff was the one McEnaney returned for a touchdown.
"We were right back in it, and we never looked back," Fleming said.
Frere's interception came with less than 3 minutes left in the first half. Five plays later senior quarterback Ollie Cheer hit senior Brian Rutherford for an 11-yard score.
The Redhawks went into halftime leading 40-7.
Cheer finished 8-for-17 with 129 yards and four touchdowns.
CVU 28, Essex 0
The Redhawks played another home game on this past Saturday, Sept. 30, against the Essex Hornets.
The game started looking like it might be a real nail-biter.
"We traded punts all first quarter. They were three and out, then we were three and out," Fleming said. "We were punting back and forth."
The first quarter ended with the teams knotted at 0-0.
That changed in the second quarter, when the Redhawks scored three times to end the half at 21-0.
CVU got on the scoreboard after a drive that started at their own 1-yard line. The Redhawks worked the ball down the field and senior Jacob Bose dove across the goal line from the 1-yard line to cap the 99-yard drive.
Bose ended with 14 carries for 90 yards and two touchdowns.
Cheer threw the ball for 109 yards and ran it for 24 yards, accumulating touchdowns by both passing and running.
Fleming was pleased to get a good many players game experience because of his confidence in his defense. His players didn't let him down. He's hopeful that experience will pay dividends in upcoming games.
Rutland comes to town this Saturday, Oct. 7, for a 1 p.m. contest.