Calendar of Events: April 6 – April 22
Please email us your event listings at least three weeks in advance.
Merlin tech talk
Thursday, April 6, 6:30-7:30 p.m.
Bridget Butler, known locally as the Bird Diva, presents a free online class for participants wishing to become proficient at using the Merlin bird identification app. The class is offered through the Green Mountain Audubon Society. Read more and reserve a spot.
Poetry and cultural identity
Friday, April 7, 11:30 a.m.
Richard Blanco is the fifth inaugural poet in U.S. history, born in Spain to Cuban exile parents. In this free, online presentation for any Vermont middle or high school students, homeschoolers, teachers and school librarians, Blanco reads from and discusses his work. Presented by Vermont Humanities. More info and to register yourself or a group.
Festival of short films
Friday, April 7, 6-9 p.m.
Lunafest features award-winning films for and about women at Main Street Landing in Burlington. Doors open at 6 p.m. for snacks, cash bar, reception and raffle; film starts at 7 p.m. More info and tickets.
The power of music
Friday, April 7, 7:30-9:30 p.m.
Middlebury College hosts The Westerlies, along with Theo Bleckmann, in a musical program combining elements of jazz, classical and contemporary music. Trumpets and trombones are joined by vocals for an inspiring evening. The program, called This Land, is an examination of music's power to invigorate protest movements as well as provide solace in difficult times. Concert held at Middlebury's Mahaney Arts Center. More info and tickets.
New Haven Ledges race
Saturday, April 8, 9 a.m.
A time trial kayaking event takes place on the New Haven River in Bristol, with a half-mile Class IV course. Boaters get two attempts at the course. Entry cap of 60 participants; sign up ahead or at the event. This is also a popular spectator event. More info on Facebook, details and a waiver form. More info also on the website.
Connect to the land
Saturday, April 8, 1-3 p.m.
Walk the trails at Shelburne Farms, visit the lambs and welcome the changing seasons. Families and allies are invited to a Pride hike; trail and distance determined by group. Meet at the Farm Barn with appropriate clothing, footwear, water and snacks. Registration required.
Neptune Frost
Saturday, April 8, 3-5 p.m.
Get ready for Neptune Frost, a sci-fi punk musical that takes place in the Republic of Burundi. Part of the Black is Beautiful Film Festival, the film defies description and has been called "visually wondrous." Free film is shown at the Fletcher Free Library in Burlington. More info.
Breath and movement
Saturday, April 8, 6-8 p.m.
Learn and practice guided breathing techniques as well as free-form dance to gentle music at this drop-in class at All Souls Interfaith Gathering in Shelburne. No registration required; donations taken at the door. Taught by Brian Tobin. More info.
Disappearing structures
Saturday, April 8, 6 p.m.
Photographer Jim Westphalen, Shelburne resident, chronicles the iconic, weathered and aging buildings that represent our country's rural heritage. His documentary, Vanish, takes viewers along on his travels, where he shares the history and the stories of these disappearing buildings across the country. Movie is shown at Middlebury's Town Hall Theater. More info, trailer and tickets available.
Global folk dancing
Sunday April 9, 2:30-5:30 p.m.
An afternoon of traditional dances from around the world is happening at the Brownell Library in Essex Junction Free to attend, with instruction, second Sunday of every month. For more info, email [email protected]. Call library to confirm this gathering at 802-878-6955.
Guitar and saxophone
Tuesday, April 11, 2 p.m.
Classical guitarist Jason Vieaux and saxophonist Timothy McAllister perform together at All Souls Interfaith Gathering in Shelburne as part of the Lake Champlain Chamber Music Festival. Tickets and more info.
Comedy for peace
Wednesday, April 12, 7 p.m.
The Argosy Foundation brings an interfaith comedy show to All Souls Interfaith Gathering in Shelburne. Four comedians, no politics, just laughs, poking fun at themselves and life. More info and tickets.
Learn the eBird app
Thursday, April 13, 6:30-7:30 p.m.
Bridget Butler offers another tech training for bird watchers using the eBird app. With eBird, your observations become data for science communities studying bird migration, disappearing species and changes in climate. The free online class is through the Green Mountain Audubon Society and requires registration. More info.
Navalny documentary
Thursday, April 13, 7 p.m.
Feel like a fly on the wall witnessing the investigation into the poisoning of Russian opposition leader Alexei Navalny. This film delves into Navalny's life and his pursuit to identify the men who attempted to poison him in 2020. Film is at the Town Hall Theater in Middlebury. More info, trailer and tickets.
Made Here film festival
Thursday-Sunday, April 13-16
This competitive film festival is devoted entirely to films made by filmmakers in New England and Quebec. Most in-person screenings are held at Burlington Beer Company on Flynn Avenue in Burlington. Films shown virtually between April 17-23. Movies are free to attend; donations encouraged. Filmmakers will be in attendance and participating in Q&As. Complete schedule and tickets.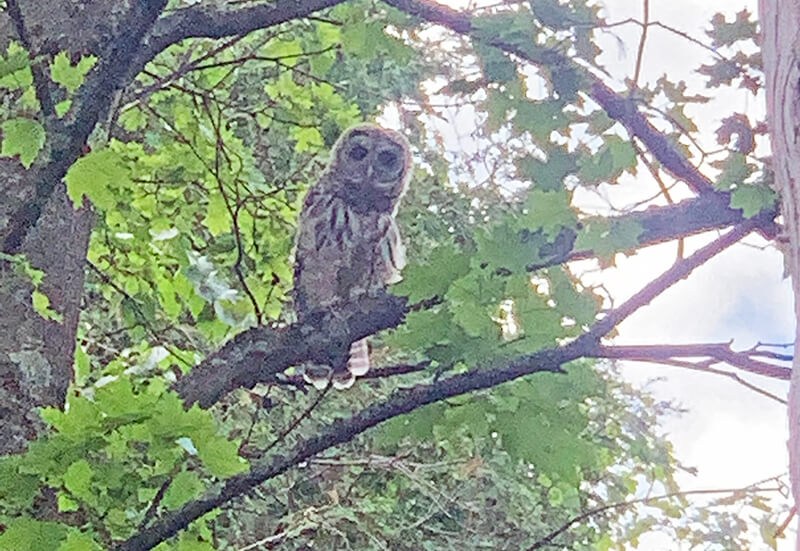 Snags are crucial for owls
Friday, April 14, 6-7 p.m.
The Vermont Institute of Natural Science presents staff from the Owl Research Institute, speaking about their ongoing research on Great Gray Owls and the importance of tree snags for their habitat. Free online event; donations gratefully accepted. More info and registration.
The people's music
Friday, April 14, 6-8:30 p.m.
Milton Busker and The Grim Work entertain at Shelburne Vineyard in a free concert; no tickets or reservations required. The Vermont-based group play Americana and what they call "suit- folk," folk that's all dolled up for a night on the town. Read more.
A fly fishing lifestyle
Friday, April 14, 7:30 p.m.
Attend the International Fly Fishing Film Festival, or IF4, at Middlebury's Town Hall Theater. Professional filmmakers from around the globe take viewers into the world and culture of fly fishing. Trailer and ticket info.
Choir from Cambridge
Friday, April 14, 7:30 p.m.
The Choir of Clare College, from Cambridge, UK, perform at St. Stephen's Episcopal Church in Middlebury. Tickets and more info.
Solaris Vocal Ensemble
Friday, April 14, 7:30 p.m.
Based in Burlington, the ensemble performs Deep River: A Spiritual Journey at Bethany United Church of Christ in Montpelier. Tickets for this show, as well as a show at the College St. Congregational Church in Burlington on April 16, are available.
Motion and emotion
Friday, April 14, 7:30-8:30 p.m.
The University of Vermont Concert Band presents their spring concert, Motion and Emotion, at Recital Hall. Free and open to all. For a complete schedule of all band, voice, ensemble, choir and instrumental recitals.
Peter, Wendy and Hook
Friday, April 14, 6:30 p.m.
Saturday, April 15, 5:30 p.m.
Burlington's Very Merry Theatre troupe presents The Further Adventures of Peter, Wendy and Hook, on stage at Orchard Elementary School in SOUTH Burlington. Performance is free; donations gratefully accepted. More info and an extended schedule.
Alliums for the pantry
Saturday, April 15, 10 a.m.-noon
Julie Rubaud of Red Wagon Plants in Hinesburg gives an in-depth workshop about successful production of garlic, onions, leeks and shallots, enough to keep your pantry stocked all year. Essential ingredients that every chef wants, grown in their own garden. Learn more and sign up.
Science showcase 4.0
Saturday, April 15, 10 a.m.-12:30 p.m.
If you are between the ages of 8-14, register by April 12 for a free science, technology, engineering and math (STEM) event held at the University of Vermont. This free event  introduces youths to hands-on STEM activities and workshops. Registration required.
World Art Day celebration
Saturday, April 15, 10 a.m.-4 p.m.
The Milton Artist Guild presents a day of art demonstrations, live music, crafts and more at their Art Center and Gallery in Milton. More info or call 802-891-2014.
New-time string band
Saturday, April 15, 7:30 p.m.
The Stragglers take the stage at the Vergennes Opera House, bringing their originals and classic renditions of bluegrass and Americana tunes. More info and tickets.
Deep in song
Saturday, April 15, 7:30-9 p.m.
The Burlington Choral Society joins forces with the Onion River Chorus in a program of music from, and to, Ukraine. Over 100 voices will sing at the Elley-Long Music Center on the campus of St. Michael's College, Colchester. Tickets and more info.
Singers who are composers
Saturday, April 15, 7:30 p.m., Richmond; Sunday, April 16, 3 p.m., Hinesburg; Saturday, April 22, 7:30 p.m., Burlington; Sunday, April 23, 3 p.m., Charlotte
The local troupe of singers who call themselves Social Band are pleased to be back to in-person concerts and are celebrating their 25th year. They present their spring slate of shows at four local sites; the program is aptly called "Where Does the Music Come From?" These are works of Social Band singing members who are also composers. Suggested donation at the door. More info on venues and tickets.
Archaeology of the Homestead
Sunday, April 16, 2 p.m.
A free talk on the archaeological history of the Ethan Allen Homestead at the homestead with Neils Rinehart. Program is in person or online. No registration needed to attend in person; link for online streaming.
Spring is for leaping lambs
Sunday, April 16, 2-3 p.m.
Learn about sheep, lamb season, wool and afternoon chores at the Children's Farmyard at Shelburne Farms. Event is also offered Sunday, April 23. More info and registration, plus a complete calendar of upcoming events.
Music from Madagascar
Sunday, April 16, 3:30-4 p.m.
Singer Mikahely performs at the Fletcher Free Library in Burlington in a program of original music inspired by his upbringing in Madagascar. Free; call library to confirm event at 802-863-3403.
Folk quartet in Richmond
Sunday, April 16, 4-6 p.m.
Rani Arbo and Daisy Mayhem play at the Richmond Congregational Church. This band is known for its folk influences, with some jazz, blues and country thrown in. Their harmonies and soulful sophistication are well known. Tickets and more info.
Globes made by a farmer
Wednesday, April 19, noon-1 p.m.
In 1810, Bradford farmer James Wilson made the first American-made globes for sale in history, without much formal schooling or scientific background. They were manufactured and in use for the next 50 years, a less expensive and quite successful alternative to imported globes from England. The Vermont Historical Society presents a free Zoom discussion about Wilson and his ground-breaking product. More info and to register. Several examples of Wilson's globes are on display, through June 2023, at the Vermont History Museum in Montpelier.
Portrait of an artist
Wednesday, April 19, 6:30-8:30 p.m.
Design visionary Bruce Mau is the subject of the film "Design the Time of Your Life," which follows Mau's career path, from graphic designer for global brands to involvement with some of the world's best-known architects. Movie is free at Contois Auditorium in Burlington and may be live-streamed on the same day. More info.
Let's go fishing
Saturday, April 22, 9 a.m.-3 p.m.
The Vermont Department of Fish and Wildlife offers a training clinic for those who would like to become a certified instructor of Let's Go Fishing clinics, which happen at many state locations throughout the season. The clinics teach skills to those who are new to fishing, as well as regulations, gear, Vermont fish species and a joy of the sport. There is no fee for the training which is held at the Essex Junction district office. More info or to register.
Antiques Roadshow preview
Saturday, April 22, 5 p.m.
Three episodes of Antiques Roadshow were filmed at Shelburne Museum in July 2022. The episodes will air on Vermont Public on April 24, May 1 and May 8, at 8 p.m. To get a sneak preview of the upcoming episodes, make plans to attend an advance screening event at the Double E Performance Center in Essex. Make a small donation to Vermont Public (which serves as your ticket) and you can attend the preview, a Q&A with an appraiser and a VIP reception. More info and ticket options.
Local Holy Week services
Charlotte Congregational Church – 802-425-3176
Thursday, April 6, 7 p.m., Maundy Thursday service
Thursday-Friday, April 6-7, 8 p.m.-3p.m., Easter vigil
Friday, April 7, 4 p.m., Good Friday service
Saturday, April 8, noon, community Easter egg hunt
Sunday, April 9, 5:45 a.m., Easter sunrise service
Sunday, April 9, 9 a.m. Easter worship (also live-streamed)
Sunday, April 9, 11 a.m., Easter worship
Lighthouse Baptist Church, Hinesburg – 802-482-2588
Sunday, April 9, 10:30 a.m., Easter service
Hinesburg Community Alliance Church – 802-482-2132
Friday, April 7, 6 p.m., Good Friday service
Sunday, April 9, 10:30 a.m., Easter Sunday service
United Church of Hinesburg – 802-482-3352
Sunday, April 9, 6:45 a.m., Easter sunrise service
Sunday, April 9, 10 a.m., Easter service
St. Catherine of Siena, Shelburne – 802-985-2373
Saturday, April 8, 7:30 p.m., Easter vigil mass
Sunday, April 9, 10:30 a.m., Easter mass
Our Lady of Mt. Carmel, Charlotte – 802-425-3446
Sunday, April 9, 8 a.m. Easter mass
Sunday, April 9, 11 a.m., Easter mass
St. Jude Catholic Church, Hinesburg – 802-482-2290
Sunday, April 9, 9:30 a.m., Easter mass
Trinity Episcopal Church, Shelburne – 802-985-2269
Sunday, April 9, 9:30 a.m., Easter service (also live-streamed)
All Souls Interfaith Gathering, Shelburne – 802-985-3819
Sunday, April 9, 6 a.m., Sunrise meditation
Sunday, April 9, 7:30 a.m., tea and coffee
Sunday, April 9, 9 a.m., Morning Meditation Service
Sunday, April 9, 10 a.m., Easter brunch potluck
Sunday, April 9, 11 a.m., Music and Spirit service
Sunday, April 9, noon, community Easter egg hunt
Shelburne United Methodist Church – 802-985-3981
Saturday, April 8, 11 a.m., Community Easter egg hunt
Sunday, April 9, 6 a.m., sunrise service at Palmer's Sugar House
Sunday, April 9, 8 a.m., Easter service
Sunday, April 9, 9:30 a.m., Easter service