A new farmer makes the cut on the former Nichols Fodder Farm
Figuratively speaking, farmers have always had to "make hay while the sun shines." But when growing hay really is your business, the old adage has special resonance.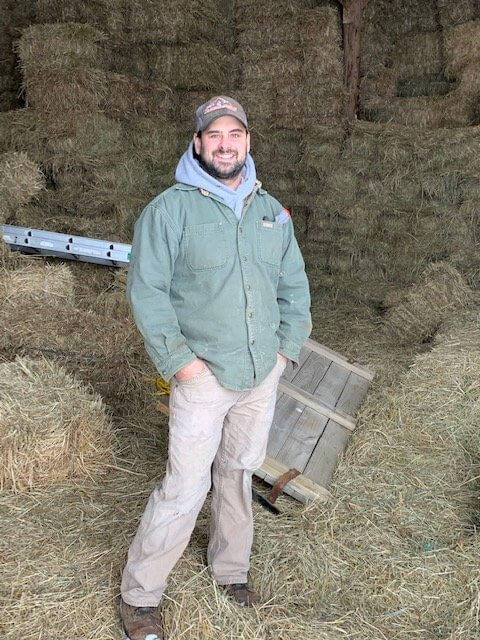 Dave Nichols knows that better than most, because for decades that's all he did on his 315 acres in East Charlotte. After an eight-year turn there as a dairy farmer, he sold the herd, pivoted to hay, and stuck with it. In the 40 years that he raised hay the fields produced an average yearly yield of 45,000 bales. During that time, he cut, tedded, baled and sold close to two million square bales of fragrant green fodder. Not, he says, that he actually set out to do that.
"The hay business wasn't anything I planned on; I fell into it," Nichols admits from central Florida, where he and his wife are spending the winter enjoying retirement. "My wife came from New York state, and she had a friend with a horse that needed some hay," he explains. And nearby was a feed store that also needed some hay. What started as serendipity became a multi-state hay business, with almost all of his customers out of state, some as far away as Martha's Vineyard. Before the ubiquity of horse farms in Charlotte, none of his customers were local. "In Vermont you either sold your hay to a grain farmer or you used it yourself. In New York State it was different," he explains, of the established horse industry.
And so, for decades Nichols loaded box trailers full of his fragrant hay and headed down Route 22A, mostly to New York and Connecticut. Most years, the fields produced three good cuts of hay. It was hard work that he did mostly on his own with some seasonal help. One of those helpers was a teenager from Hinesburg named Nick Powden, who also eventually did carpentry work there. The two men formed a lifelong friendship that evolved into a working partnership and, gradually, a succession plan—at least in Nichols's mind. "I was 70 years old and it was time to quit," he reasons. "My body was telling me it was time to quit. "
He eventually approached Powden about taking over the business and buying the farm. The younger man, despite being surprised and unsure whether he could afford it, agreed, in part because Nichols told him he would make the transaction work. Now the deal is moving forward and is a source of satisfaction and relief to Nichols. "I'm just grateful that I have a young man of the caliber of Nick who was interested in doing what I was doing."
Powden, who describes Nichols as a second father, is equally pleased with the outcome. "I was pretty happy when he asked me to take it over," the 35-year-old says, sitting above the main barn in a room that he helped to build. Below, tens of thousands of pale green square bales reach for the ceiling in neat rows. "I felt proud…that he didn't want anybody else."
It was a trust earned over a 20-year apprenticeship. Nichols taught Powden everything he needed to know about the business. "I learned how to drive the trucks and make the hay, the best way to stack the hay, how to work hard. He taught me a lot about working on the tractors and the balers …so I can pretty much do all of my own maintenance," Powden notes. And Nichols took Powden with him to help on his out-of-state deliveries, introducing him to his customers and teaching him the bookkeeping system. Nichols is proud of Powden and certain that he's ready to assume full ownership of Green Mountain Hay, as the new owner has renamed the business. "I feel confident," Nichols says firmly. "He doesn't lollygag around. He gets things done and he's very good at it."

Powden and his wife, Marla, just sold their home in Essex, and they'll use that money for the down payment on the farm, most of which he hopes will eventually be conserved. He'll use the winter to work with USDA's Farm Service Agency, banks and the Charlotte Land Trust to design and structure the overall purchase.
Now, it's just Powden and his two young helpers, Nikolai Pughe and Hunter Kehoe, running the farm and delivering hay to their far-flung customers. Just as Nichols mentored him, Powden is doing the same with the two young men, and the bond among them is palpable. Both Pughe and Kehoe speak of the trust that Powden places in them, and how he is teaching them the same skills that Nichols taught him. "He's more of a friend than a boss, because we all get along very well together. It's more of a family job. We all treat each other as family," Pughe explains.
For his part, Powden is grateful to already have good help and not to worry, as so many other farmers have to, about reliable labor. As the father of two young children and, now, the boss, he has a lot of responsibility. "A lot of times in the summer I have things to do with my family, so I like to spread out all the jobs. They know how to do them, so why not?"
Like Nichols before them, the three men are united in their love of farming, their desire to work outdoors and be largely independent, their commitment to their customers, and in keeping the land productive and free from a housing development. "Let's get 20 generations out of this place," Kehoe enthuses.
Green Mountain Hay's deliveries will continue through the winter and spring, right up until the first cut in June replenishes the farm's supply and begins the cycle all over again. The fields may be dormant, but the farm itself is decidedly not.