Senior Center News – Oct 17, 2017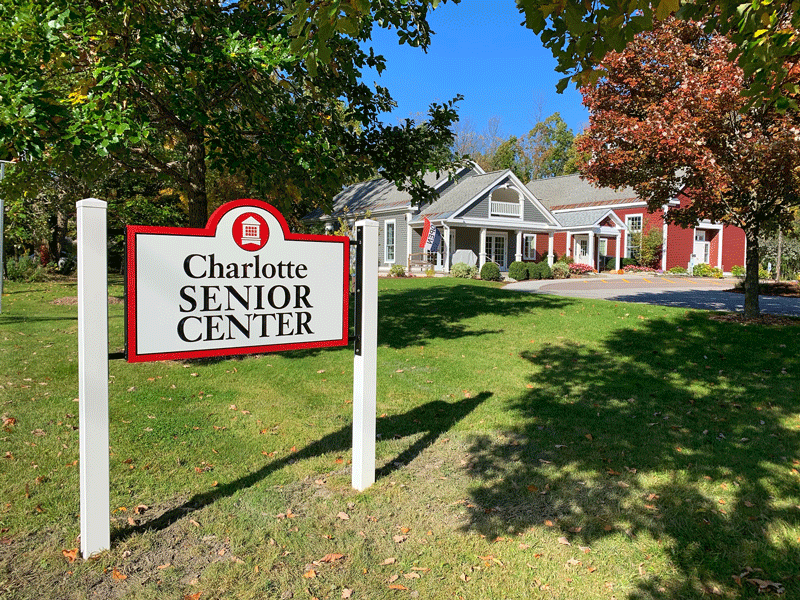 "There is no passion to be found playing small—in settling for a life that is less than the one you are capable of living."
─ Nelson Mandela
The trip on 10/5 to Frank Ittleman's Lemon Fair Sculpture Park in Shoreham was truly memorable, and the perfect weather was a bonus. For more than two hours, Frank took us around this lovely rural setting and told us his personal stories about each of the 48 large outdoor sculptures there. Assembling these works is his passion, and it was very special to be introduced to them through his eyes. Photos do not show the scale of the artworks very well—one is more than 30 feet tall. The park is a real treasure for the public to explore and is open May through November. The Senior Center will be offering another trip in the Spring Schedule that comes out in March.
Tomorrow
Friday, Oct. 18, there is still room to join the CWSD recycling plant tour of the Materials Recovery Facility in Williston. Meet at Senior Center at noon to carpool to Williston. Tour starts at 1:00 p.m., finishing by 3:30 p.m. Please call today for more information and to register. Free.
Activities starting soon
Sunday, 10/20, from 1:00 p.m. – 3:00 p.m. is the monthly Shape-Note Singing at the Senior Center. This traditional, a cappella, four-part harmony has been called "full-body, shout-it-out singing" and is also known as Sacred Harp. Open to newcomers and experienced singers. Stop by to listen or sing, and leave whenever you wish. No fee.
Tuesday, 10/22, is Fall Hike #5 at Williams Woods in Charlotte, accompanied by Chittenden Country Forester Ethan Tapper. Williams Woods is an old-growth, clay-plain forest off Greenbush Road. The 1.2-mile easy loop trail is on fairly level terrain with some boardwalks over marshy ground. this nature walk will be an opportunity to learn about forest ecology and tree identification from Ethan, whose columns appear regularly in The Charlotte News. Meet at 8:45 a.m. at the Senior Center and carpool to the trailhead because of limited parking there. The hike should be about two hours, total. No fee.
Wednesday, 10/23, at 10:00 a.m., is Strolling in Charlotte with Janet Yantachka. It's an easy walk on the Town Link Trail if you are not up for a hike. And this is a great way to get out and about before it gets too cold. Please sign up in advance. No fee.
Coming up soon are two holiday craft workshops with artist Linda Finkelstein. The first one is Mask-Making on Friday, 10/25, from 1:30 p.m. – 3:30 p.m. Have fun decorating a mask form of paper pulp, using materials such as paint, glue, feathers, sequins, ribbons, raffia and tissue paper to create a fantastic mask in time for Halloween. Discover the background of the importance of masks in different cultures. Fee: $20, includes materials.
The following week Linda offers Mexican Fiesta of Arts and Crafts on Friday, 11/1, from 1:30 p.m. – 3:30 p.m.
Close to Halloween, in Mexico there is the celebratory Day of the Dead with many fanciful images and bright colors. Learn what it means in our neighboring country and create your own "dead" characters using model magic, found objects, wood pieces, colorful shiny papers and paint. This will be a festive process! Fee: $20, includes materials.
Activities in November
Bake for Good with Margaret Woodruff and Susann Kahn
Saturday, November 9, from 9:30 a.m. – 2:00 p.m. Kids and seniors learn how to bake delicious, nutritious rolls. Lunch provided. For seniors of all ages and children ages 9 and up. Registration required. No fee.
Holiday Origami with Gail Martin
Thursdays, 11/7, 11/14 and 11/21 from 12:30 p.m. – 2:00 p.m. In these classes, you will be folding paper and fabric into trees, stars, birds and ornaments for the holidays. Directions for some models will be included so that you may teach them to friends and family. Registration required. Fee: $30 for the series, includes materials. Class limit is 14.
Free Wednesday Afternoon Events at 1:00 p.m. – after lunch
10/23:  Making A Difference in Honduras with Linda Gilbert. See colorful images that tell the story of how international service is provided by dedicated Hands to Honduras Tela volunteers. Their successful accomplishments help to improve the lives of thousands of Honduran families. "Doing good work with good people—it's good for the soul."
10/30: Fudge Fest in the Café. Sign up beforehand, and we will supply the ingredients for you to pick up and mix up a batch of fudge at home to bring in. It's very easy—and we are even providing the pan. Then, all are welcome to come around 1:00 p.m. on Wednesday and spend the afternoon telling stories while wrapping up Halloween fudge and popcorn balls for the children. All hands welcome—many needed.
New sign and website
Have you seen our new sign? We moved it closer to the road so it will be easier to see and trimmed some branches. It's now in color—pretty spiffy—and was designed by Phyllis Bartling of Futurad with input from the Senior Center's board. In addition to being a graphic design artist, Phyllis has been our popular Pilates instructor for many years. Do you like it?
The Senior Center's website is new-ish. It went up last year and is still a work in progress. It is worth a visit. The address is long but really easy: CharlotteSeniorCenterVT.org. In addition to the seasonal schedule and the monthly calendars, you'll find our menus for the month, additional nutrition tidbits, occasional photos of activities, some background information on the Center, as well as limited archives of these articles.
The best times to see the Art Exhibit in October and November
Mondays at noon, Tuesdays after 2:30 mp.m., Wednesdays 9:30 – noon (except 11/3), Thursdays after 12:30 p.m., Fridays after 12:30 p.m.
Please call the Center during the week to check on Sunday availability.
If you have questions or would like to register, please call (802) 425-6345, Monday – Friday from 9:00 a.m. – 4:00 p.m. We are at 212 Ferry Road, Charlotte, right across from the post office. The Senior Center's mission is to serve those 50 and up. Residents from other communities are always welcome.
Stop in and say hello. See you soon!
Charlotte Senior Center
(802) 425-6345