Around Town – Oct. 17, 2018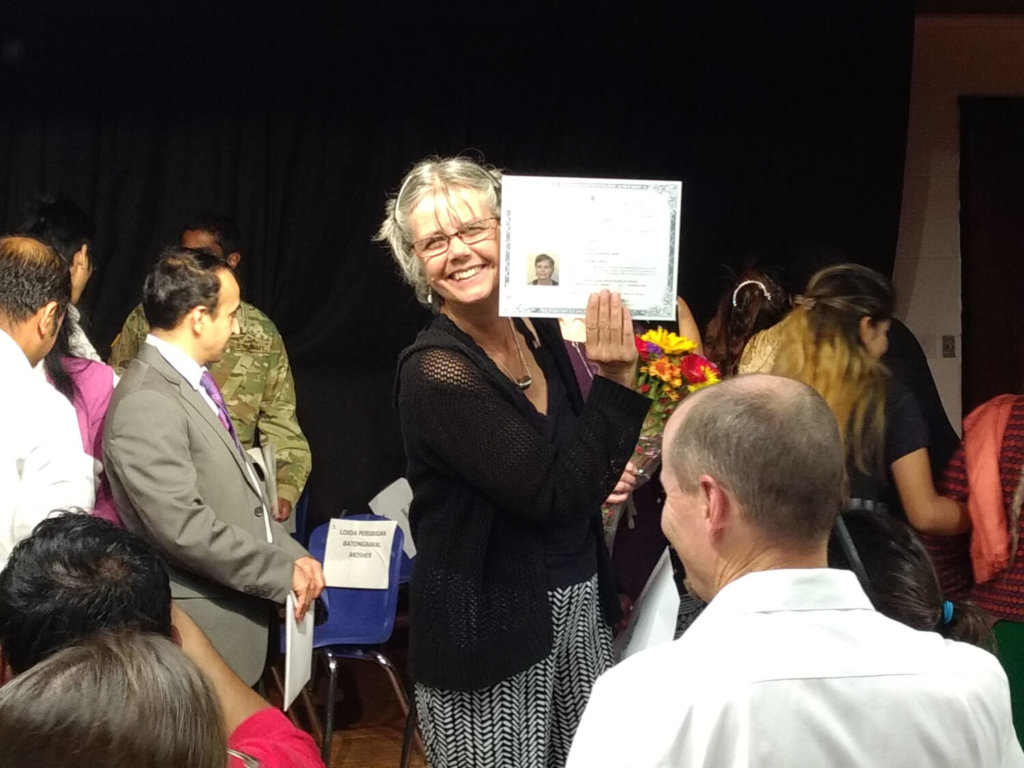 Congratulations to Hadley Murphy, a senior at Rice Memorial High School from Charlotte, who volunteers her time to make art with hospitalized children and their families. Hadley also presented a check to Burlington City Arts in support of its Arts From the Heart program, with the intent of bringing "joy through art to patients in pediatric care." Her donation came from her business in which she creates beaded jewelry and which she operates in conjunction with the University of Vermont Medical Center and Children's Hospital. Hadley says she has always had a passion for arts and crafts and enjoys sharing this love with young children. (See photo below.)
Congratulations to Tiny Sikkes who took the oath of U.S. citizenship recently and was recognized with a party in her honor at the Charlotte Senior Center where she teaches yoga. She and her husband, Roel Boumans, came to this country from the Netherlands in 1987, living in Baton Rouge, La., where Roel earned his Ph.D. at the University of Louisiana. There they experimented in urban agriculture and became fascinated with local gardening and raising animals. They moved their interest from a hobby to an integral part of their lifestyle. In 2002, Roel accepted a teaching position at UVM, and they bought the Windy Corners Farm in Charlotte that belonged, at the time, to the Vermont Conservation Trust. 
After 31 years in the United States owning land, farming and having an active role in the community—and five years after Roel became a citizen—Tiny concluded it was time she too became a citizen. She was, she said, "done with taxation without representation." 
She was surprised how emotional the entire process was and especially appreciative of all the support she received from her friends and neighbors. She enjoyed learning about the Constitution and recommends that we all might just "give it a try." And she looks forward to casting her first votes on November 6. 
Congratulations to the Charlotte Central School (CCS) 5th and 6th grade spelling team, which placed second in the Champlain Valley School District Spelling Bee last Wednesday. Held at Williston Central School, the Hinesburg Community School held off CCS and won by a narrow margin. The CCS team included Sarah Stein, Deirdre Higgins, Jenny Blanshine, Shana Mester, Sam Moore and Erin Caldwell. They were coached by Christa Duthie-Fox.
Congratulations to CCS for receiving a Merit Ribbon at the Vermont Positive Behavior and Intentions Leadership Forum (VTPBIS) for its schoolwide effort in fostering a safe and positive learning environment where the values of "Take CARE of Ourselves, Take CARE of Others and Take CARE of this Place" are "taught, encouraged and practiced."
Sympathy is extended to family and friends of Alan Bates of Shelburne who passed away Oct. 2 at the age of 59. A member of the Charlotte Congregational Church and the Charlotte/Shelburne/Hinesburg Rotary, he was also a mentor at the Charlotte Central School. Friends and family held a service of remembrance at the Congregational Church in Charlotte, and they ask that those wishing to do something in his memory "do something he would do—something philanthropic, something adventurous, something with a generous heart."