Persisting through the pain—a struggle with CRPS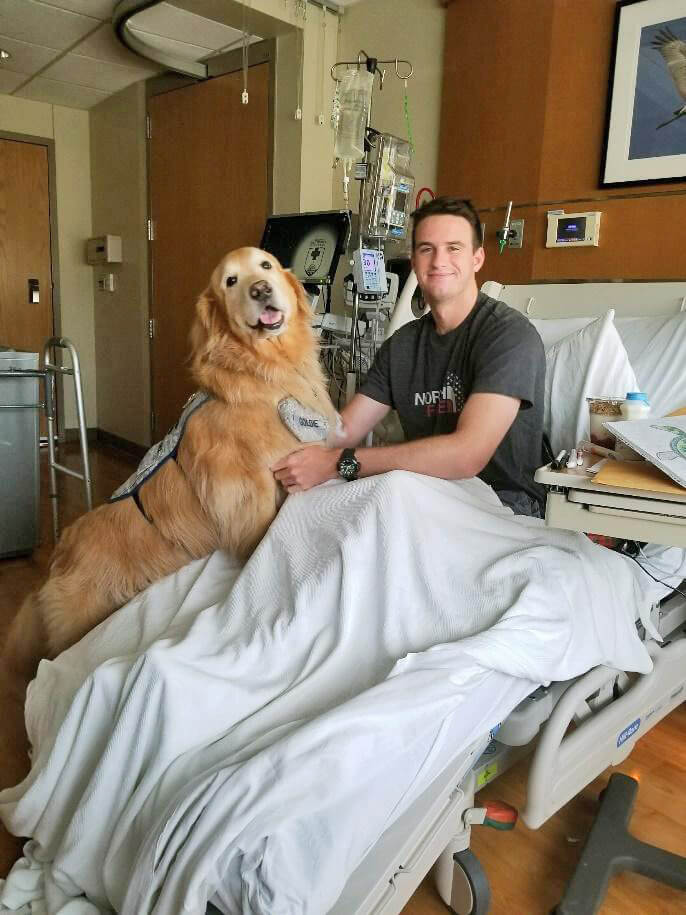 "You're probably never going to walk normally again." 
These were the words told to 19-year-old Charlotter Kyle Jaunich by his doctors a few weeks after what was supposed to be a simple foot surgery in January 2017. A few days later, Jaunich walked out of the Walter Reed National Military Medical Center with a cane and several teary-eyed doctors. 
In October of 2016, Jaunich was an aspiring Navy SEAL and a freshman at the United States Naval Academy. He began to notice pain in his foot and went to the doctor who suggested he get a simple surgery to remove some bone from his foot. He woke up from surgery in extreme pain and was diagnosed with Complex Regional Pain Syndrome.
CRPS is an unknown condition where the person suffering experiences extreme pain in a part of their body that recently suffered a trauma. There is no known cause or cure, and little is being done about it since it is so rare.
"My doctors told me don't be surprised if you never walk normally again," Jaunich said, adding, "There are really only two options for people suffering from CRPS: commit suicide or turn into a vegetable because the pain is just that brutal."
But those weren't options for Jaunich. He instead looked at how he could get through the pain and continue his schooling at the Naval Academy. 
Jaunich read a book by Viktor Frankl called Man's Search for Meaning, which illustrates Frankl's experience being a Holocaust prisoner in Auschwitz. "I remember reading it the first time and thinking, "Wow, there are definitely some parallels here," he said. "Fate just has you now and you're trapped in pain. How do you find meaning in that?"
Next to his hospital bed he hung a Post-It note that had the words "Attitude" and "Effort" written on it. "It would be the first thing I saw when I woke up and the last thing I saw when I went to bed, and it just reminded me that even when I can't control anything else, I can still work on those two things," Jaunich said.
He and his doctors and family began to look for options to help suppress the pain. He had spine shots to try to numb the nerve and was treated for certain types of brain damage, but nothing was working. 
Jaunich was admitted to Walter Reed National Military Medical Center in February of 2017 for his first extended stay to try ketamine treatments. Ketamine is one of the strongest painkillers in existence and is meant to block out certain pain receptors in the brain. This allowed Jaunich to try walking for the first time since his surgery, and 36 hours after he started moving his foot, he walked out of the hospital with a cane. 
"Walking was just the most not-normal thing," Jaunich said. "I had to tell myself left, right, left, right."
After the first set of ketamine treatments, he was pain-free for a month and a half, and then his symptoms started to flare up again. He was supposed to be in school and training every day, but by the end of his freshman year at the Naval Academy, he had been to only 29 days of classes. 
He spent more time in the hospital than at school but said that, when he was at the Academy, even someone coming to check on him and smiling at him could turn his whole day around, no matter how bad the pain was. 
Regardless of the absence, he ended up passing all his exams, including sea trials—a rigorous fitness test at the end of the semester. 
"I had a bunch of kids come up to me at the end of sea trials and say things like, 'I never would've finished without seeing you out there!' And hearing that totally made it worth it," he said.
But the Naval Academy wanted him to be fully recovered by his sophomore year, even though his condition has no cure. 
Over the summer of 2017, Jaunich went in for two more rounds of ketamine treatments that failed to suppress his pain. He asked the school to let him take the semester off and give him until December to try other options, and luckily, thanks to Jaunich's persistence, the Academy agreed to give him the time off. 
Jaunich then went to a clinic in Cleveland, Ohio, in November of 2017 for physical therapy, and while he was going through treatments, he was also putting in four hours a day of his own physical training so he could continue to pass the physical tests at the Academy. By December, he was able to run for 10-20 seconds at a time before falling down. 
"It's like when your foot falls asleep, but you're running and your whole leg feels like that, but at the same time it's being bit all over by fire ants and covered in lava," Jaunich said.
And the ketamine treatments were taking their toll. Jaunich said he was on 25 to 30 different painkillers a day. "I hated feeling like a zombie and just quit cold turkey."
Despite the pain, Jaunich pushed through, and one week after being discharged from the clinic in Cleveland, he passed his physical training test and was allowed back into the Academy. 
But it wasn't over yet. During his spring semester, Jaunich had another flare up of his symptoms that was so painful, it left him unconscious on the floor in his dorm room. He turned toward an experimental spinal surgery that he went through this time without painkillers. He ended up with a hematoma on his spine and an immense amount of pain.
Still, he kept going. He said that there were some Green Berets on his floor who had come back from overseas fighting ISIS. One was in a coma, another had lost his leg, and another one had been shot several times. 
"Every time I wheeled past their room, they had the biggest smiles on their faces. I would see them in the PT gym learning how to walk on prosthetics, and I would think, if he could be happy, I could be happy. At least I still have my legs!" he said. 
Yet again, he persevered and passed his exams. But the Academy had had enough. He was missing too much school, and finally this past spring he began the process of being medically discharged from the Navy. He was devastated but still had a lot to look forward to.
Though his struggle with CRPS isn't over, and maybe never will be, perhaps the most important thing Jaunich said was the support he got from the people around him. 
"There's absolutely no way I could've done everything I did without the support of Navy, my friends, family and doctors, he said. "There were definitely a lot of dark days and hard times, and without their support to make sure I wasn't fighting alone, things could've turned out very differently."