Four CVU teams ranked top in the state heading into the playoffs
Batters, men and women LAXers and women racketeers, all headed into their respective state tournaments ranked on top of the heap. As things turned out, two won and two lost.
Baseball was the first to go.
Running into a complete-game effort by St. Johnsbury Academy's Tyler Wells, the top-ranked Redhawks took it on the chin from the eighth seeded Hilltoppers 11-2 in a quarterfinal contest. Wells gave up only four hits and struck out four in his seven-inning stint. He also accounted for four runs on his two hits, one for extra bases. Ian Parent led the Hawks, driving in both runs, while Liam Reiner took the loss, even though he struck out eight. CVU had beaten 16th-ranked Mount Anthony in the play-downs to reach the quarter finals.
Women's lacrosse waited until the finals.
It took a rally by the third-seeded Middlebury Tigers to drop top-ranked CVU in women's lacrosse. The two teams had played in a final regular-season game that CVU won easily, and Middlebury was afraid of seeing a similar result as they trailed by four goals early in the final before pulling equal prior to halftime. A strong defense paved the Tigers' way toward a back-to-back state championship. Led by twelve seniors, Middlebury came out on top 13-10. After being down by four goals, the Tigers had a six-goal run in five minutes. A 15 to 11 edge in face-off wins gave them the ball at midfield often. 
For CVU, Kate Noel scored a team-high four goals. With just over 9 minutes left in the game, the score was knotted at 10. It took Middlebury another three minutes to score the clinching goal.

CVU goalie Ali Wainer stopped 15 shots to the Middlebury goalie's 5.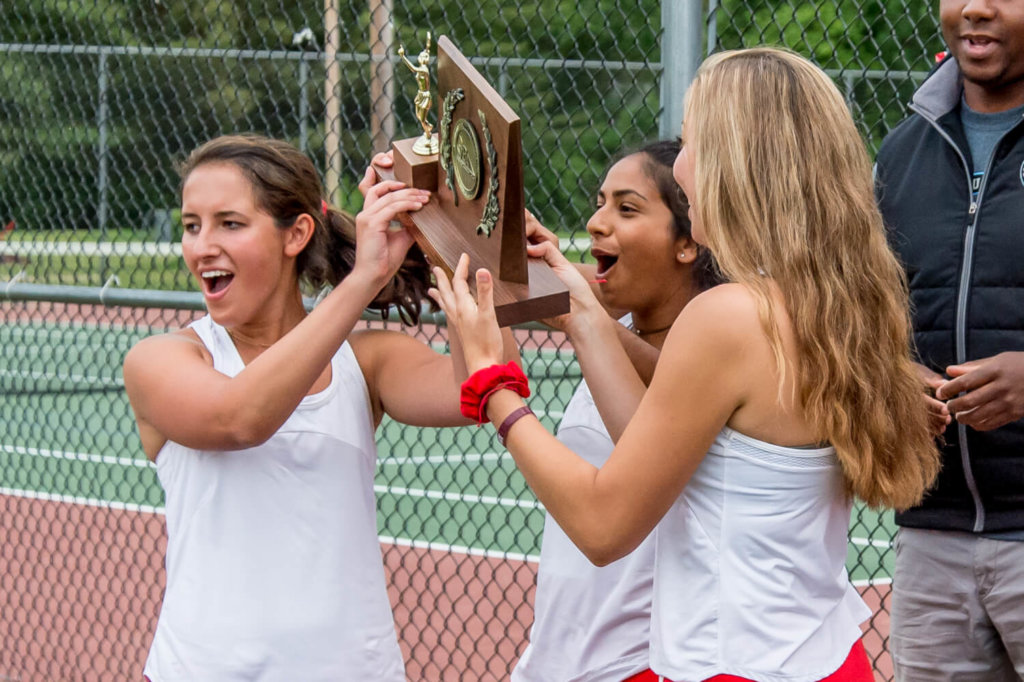 Women's tennis builds its 66 match winning streak.
Ho-hum, another year another state championship for CVU women's tennis. It has been four state titles in as many years. To demonstrate the prowess, the title was decided more than an hour before the final match against 6th ranked South Burlington was completed. Top singles player, Stephanie Joseph, won her second title, and the winning matches read Redhawks down both singles and doubles' lists. In addition to Stephanie, the singles winners were, in rank order, Sophie Dauerman, Kendall Blanck, Renee Dauerman and Corina Gorman. In doubles, Maddie Huber and Megan Watson and Courtney Vincent and Ella Kinney won their matches.
Men's lacrosse rolls to sixth straight title.
The Free Press called it a "dynasty."  Thirteenth-year coach, Dave Trevithick, said that playing against teams that give you the most trouble force you to play your best. That's what happened in the finals game against BFA-St. Albans that CVU won 16-6. Believe it or not, a loss to Essex in the next-to-last game of the regular season, followed then by a season-ending win over Middlebury gave the Hawks the incentive through the tournament. The BFA coach commented on the extent of CVU's playbook. Unlike some teams, Redhawk scoring is spread among many players, showing diversity as well as the depth of talent. Charlotte's Walter Braun and his mate Nate Cuttitta scored three apiece. Walter's brother Will added two and an assist; Jake Schaefer also added two with two assists. Six others had a single goal, and goalie Andrew Tieso stopped seven. Unlike the women's game, the outcome of this one was not really in question. CVU had a 10-3 halftime lead. Going back to his playing days at CVU, Trevithick says in the June 10 Free Press that the team culture, as nurtured by the upperclassmen, is what keeps underclassmen knowing what is expected of them. That, in turn leaves the coaches to focus on elements of the sport and the specific game.
Redhawk grad Supple selected by Colorado Rockies in major league baseball draft.
A 2015 graduate of CVU and a strong pitcher on the Redhawk baseball team, Rayne Supple went on to play at Wake Forest University. He was picked by the Colorado Rockies in the 13th round of the major league draft. The Chicago Cubs had selected him in the 38th round as a high school senior. At Wake Forest, he was the leading closer pitcher, striking out 55 batters in 47 innings and allowing hitters he faced only a .178 average.