New owner says Old Brick Store 'belongs to the community'
After three months of renovating and putting on the finishing touches, new owner Jolene Kao has reopened the doors of the Old Brick Store, and the first day was one to remember.
Kao, who bought the store in July, is a second-generation Taiwanese immigrant, and opening day, Sept. 29, coincided with her "favorite Chinese holiday," the Mid-Autumn Festival, which made it even more special.
What else made the day so special was her surprise at the turnout. She had thought it would be a "really quiet, soft opening," having only told "a handful of neighbors."
But instead a chatty inflow of locals poured in. Kao remembered how "exciting" it was "after three months of being closed" to see the space as she had always wanted, "full of life."
"I've been wanting a place like this for like 10 years," she said in a recent interview. "I grew up in a family business and a family restaurant."
In buying the historic Charlotte store, she had wanted to replicate part of her upbringing — but in her own way.
"My parents' restaurant is a big, sit-down, full-service Chinese restaurant," she said. This store, in her mind, would be "a little bit more intimate."
If you walked up the old wooden steps on Ferry Road and into the front door in recent weeks, you probably noticed a fresh stack of sugary Shelburne Farms apple cider donuts at the front counter, the previous store owners' fall tradition Kao wanted to continue.
Kao's mindset coming into owning the store was "not to take away from the things people are used to but add to them and put my own touches," she said.
During the three months of renovations, she wanted to keep the old charm of a building so iconic in town.
So, the new additions aim to highlight its history. Lights on the shelves both show off the products for sale and spotlight the old brickwork inside.
Kao said she wanted to create a place for people to come to and feel welcomed in, just as she found in Charlotte when she moved to town with her family this past year from New York.
"My partner Pete and I are constantly looking at each other and saying this is the best decision we've ever made — second to having our daughter," she said. "But really, it's about the community we've found here."
She added, "Everybody is so welcoming and kind."

Charlotters also live the kind of lifestyle she was looking for. "People just take their time to savor things more," she said, adding later, "I feel really lucky that I've been able to find a really lovely staff. All really beautiful humans."
She sees herself, really, as just the latest steward of the building. "Like it doesn't really feel like it's mine, but that it belongs to the community," she said.
Kyle Mariboe, who comes to Charlotte seasonally with his family, has "seen a lot of different iterations" of the Old Brick Store as well. Mariboe was in the store recently, his first time in the revamped building. He said the space felt "inviting and friendly."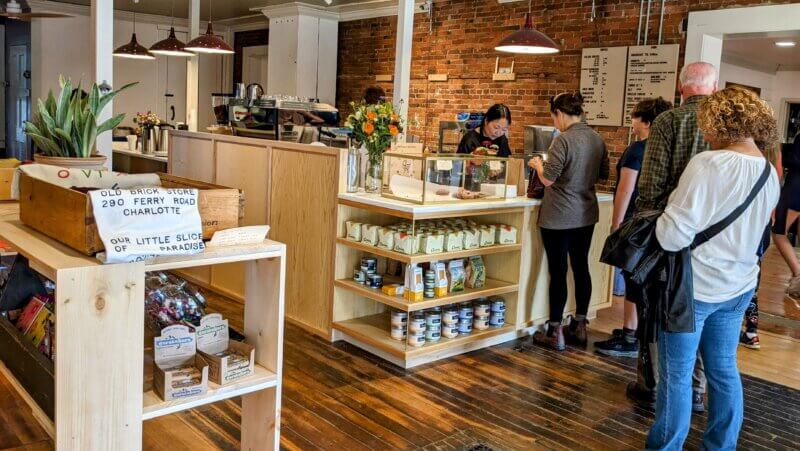 Charlotte Historical Society member Molly King, who grew up in town summering at Thompson's Point, has her own history with the Old Brick Store. In 1878, she said, her great-grandfather, Sydney E. Russell, owned the store, and it got passed down in the family until the 1980s.
She remembers hearing conversations when she was a kid about how the store had begun to change so much especially from when they, the adults, were kids. The transformation of the store over the years and through the different owners is something that King grew up with.
"It evolved from when you could go get a bucket, you could go get a pair of galoshes there, you could go get cleaning supplies, shoes — you could get everything you needed there, and then it started to get more towards food," she said, describing a deli and a pizza shop.
According to a 2007 article written by Frank Thorton in The Charlotte News, no one knows for sure when a store first opened at the Four Corners. The first records of a store there come from 1818, when a store owned by Nathaniel Stone stood on that site, Thornton wrote.
An owner or two later, in 1840, that store burned down, and "the present building, a brick Greek Revival-style commercial building with granite lintels, was built in 1840-41," according to the article.
(Meryl Hartmann reported this story on assignment for The Charlotte News. The Community News Service is a program in which University of Vermont students work with professional editors to provide content for local news outlets at no cost.)