Library helps with getting unstuck in stick season
Stick Season is here. Vermonters joke about having more than four seasons. Stick season is one of those seasons. It starts somewhere between fall and winter; and "sticks" around from about late October to early December.
It is the time of year after the last leaves of the deciduous trees have fallen and before measurable snow. It is a time between the summer and winter sports. The days are getting shorter, nights longer. A time before the ground is frozen solid.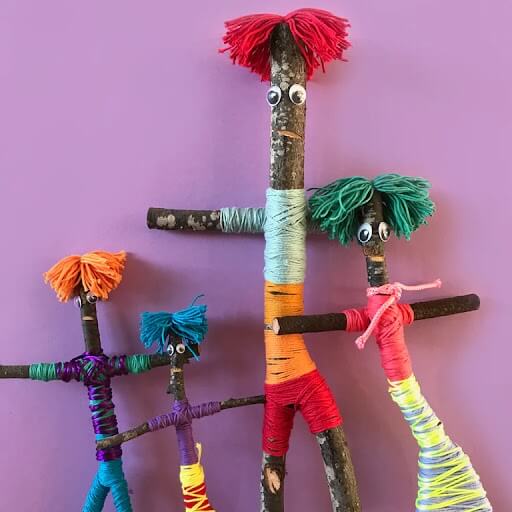 The library is embracing stick season this year. Check out its "Stick Season" book list and pick up a Take & Make kit to create your own stick people. Both can help to offset these dark days before the snow flies.
News about Hoopla
Those who have used this digital streaming platform already know how handy it is for reading, listening and watching on your mobile device. For the past year and a half, grant funding helped to pay for this service. The end of the grant means the number of borrows has changed to four borrows per month. The library is grateful to the Friends of the Charlotte Library for continuing to fund this program.
Children's programs
Preschool story time
Tuesdays, Nov. 7, 14 & 28
Join the Charlotte Library for preschool stories, crafts and activities. No registration required. Age 2 and over.
Preschool play time
Wednesdays, Nov. 8, 15 & 29
Play in the preschool years enables children to explore and make sense of the world around them, as well as to use and develop their imagination and creativity. Exploring the sensory table, sorting, playing with blocks or Play-Doh — these are a few of the open-ended projects planned for Wednesday morning play-based learning at the Charlotte Library. Stay tuned for details about upcoming fall programs.
Programs for adults
Special Events
Wendell book discussion
Monday, Nov. 6, 2-3 p.m.
A discussion on the writings of Wendell Berry led by Ron Miller.

Thursday book group
Thursday, Nov. 16, 7:30 p.m.
A book of great ambition, Sarah M. Broom's "The Yellow House" tells of 100 years of her family and their relationship to home in a neglected area of one of America's most mythologized cities. This is the story of a mother's struggle against a house's entropy and of a prodigal daughter who left home only to reckon with the pull that home exerts, even after the Yellow House was wiped off the map after Hurricane Katrina. "The Yellow House" expands the map of New Orleans to include the stories of its lesser known natives, guided deftly by one of its native daughters, to demonstrate how enduring drives of clan, pride and familial love resist and defy erasure. Copies available at the library circulation desk. Join on Zoom.
Mystery book group
Monday, Nov. 20, 10 a.m.
Visit the library and visit 1921 Bombay in "The Widows of Malabar Hill." Perveen Mistry, the daughter of a respected Zoroastrian family, has just joined her father's law firm, becoming one of the first female lawyers in India. Armed with a legal education from Oxford, Mistry also has a tragic personal history that makes her especially devoted to championing women's rights. Mistry Law is handling the will of Omar Farid, a wealthy Muslim mill owner who has left three widows behind. But as Perveen goes through the papers, she notices something strange: all three have signed over their inheritance to a charity. What will they live on if they forfeit what their husband left them? Perveen is suspicious. Copies available at the circulation desk.
Recurring programs
Book chat
Wednesdays, 3 p.m.
Meet each week to discuss new books, old books and books we might have missed. Each week, Margaret Woodruff selects a theme and highlights related titles from the library collection. No registration necessary.
Crochet & knit night
Wednesdays, 5:30-7 p.m.
Claudia Marshall is your host for a casual weekly session of crocheting and chatting, knitting and catching up. Bring your project or start a new one with yarn and needles available at the library, along with plenty of books to instruct and inspire. For teens and adults.
Short story selections
First & third Wednesdays, 1 p.m.
Join library director Margaret Woodruff online to share and discuss short stories old and new. The reading list will include a variety of authors, and one or two stories will be featured each session. Copies of the stories are available at the library circulation desk or via email. Join us on Zoom.
Library contact information:
Margaret Woodruff, director
Cheryl Sloan, youth services librarian
Susanna Kahn, tech librarian
Phone: 802-425-3864
Email
The Charlotte Library Board of Trustees meets on the first Thursday of the month at 6 p.m. The next meeting takes place this Thursday, Nov. 2, online and in person. Please contact the library or visit the library website for more information.