Once upon a time: A hockey team in Charlotte
Over 77 years ago, Charlotte came together as a community to build a hockey rink and cheer on the Charlotte Rockets, an amateur team who donned their white sweaters and hit the biscuit nearly every winter weekend — weather permitting.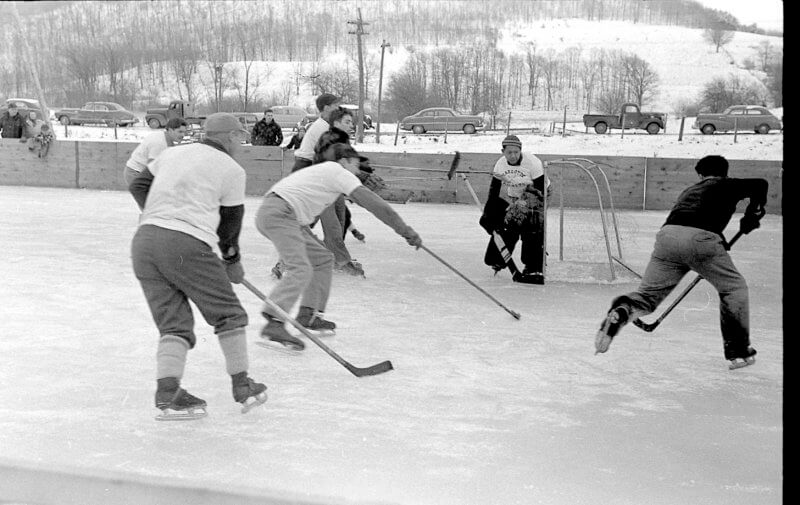 Playing in the Champlain Amateur Hockey league the Rockets suffered losses and skated to victories, playing against teams like the Lakeside Hockey Club, the National Guard and the Service Station Six.
According to "Busy Work," a book by S. Russell Williams, the genesis of the rink came about in 1954 when townspeople who played elsewhere decided to develop McNeil's Pond, a popular skating spot on Greenbush Road, into a hockey rink. William's book, published in 1980 by the Charlotte Historical Society, is a typewritten manuscript featuring a collection of 22 colorful stories capturing aspects of Charlotte history.
Williams describes the rink construction in detail. Players and volunteers collected lumber and built "chest-high heavy wooden boards in Bill William's barn and Albert LeBouf's blacksmith shop." An innovation using metal hinges between the boards enabled them to be folded or removed for rink maintenance.
The first wooden goals were later upgraded to metal and the nets procured by Harry Webb, who "came up with them from some unnamed source." And thus, Charlotte's first hockey rink was in business, bustling with weekend games officiated by Lefty Joyal and Doc Wainer.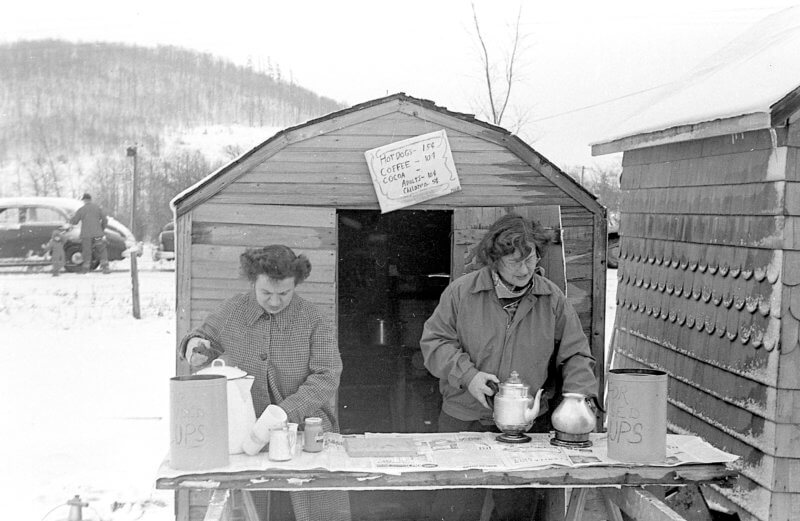 Wainer also "once in a while acted as the team physician, stitching players back together again."
With the popularity of the games bringing spectators from other towns, Williams said "an old fishing shanty on shore was manned (womanned) by ladies of the Library Association selling hot dogs and coffee. A really festive affair!"
A Jan. 24, 1950, Burlington Free Press brief headlined, "Service Station Six tops Rockets," said, "One of the first hockey games of the Vermont winter season was played in Charlotte Sunday when the Barcelou and Teller Service Station sextet, formerly the Lakeside team, defeated the Charlotte Rockets 9-6. D. Joyal and Allard scored three goals each while N. Ritchie had two and Meunier one. Webb pulled the 'hat trick' for the Rockets."
The rink was maintained by volunteers who kept the pond clear with varying equipment. A Feb. 11, 1953, article from the Burlington Free Press, "Hockey Game Planned Sunday in Charlotte," reported on the excellent condition of the pond for skating which would "be kept clear of snow by a snowblower donated by Douglas Burden, Harry H. Webb and Dunbar Bostwick."
Surprisingly, access to the rink wasn't limited with "the lights also in operation," adding "anyone wishing to skate at night may obtain the key from William Horsford after 6 p.m."
Perhaps the most colorful part of Williams' story about the Charlotte Rockets was the Jeep that fell through the ice, "with Henry Webb and Rhodes Bucklin aboard" 10 feet from shore.
"Henry Lane, with a well-balanced sand truck, pulled them out."
Another time a tractor broke through the pond ice, with Henry Parker "to the rescue with his half-truck."
While there are a few news articles here and there, the "official" team roster and record seem to be lost to history.
We'll never know who the duster (benchwarmer) was or if there was a celly (celebration) after a clapper (slap shot goal).

According to Williams, the Charlotte Rockets "did very well — winning many and losing some."
He lists the players' names as: Guy Cheng, Dick Thurber, Rhodes Bucklin, Neil Frink, Roy Thorpe, Romeo Bolduc, Gene Couture, "Pat" Moore, Harry Webb (Shelburne), Ned Jennison (Shelburne), Dunbar Bostwick (Shelburne), John Dobson (Shelburne), Alan Cobb (Middlebury). Lastly he writes, "any omitted names would be welcomed by the Charlotte Historical Society."
The team decided to keep the momentum going, forming a softball team in the spring of 1949, according to another Burlington Free Press article, "Members of the squad already signed include Roy Thorpe, Sid Falby, John Sheehan, Don Dolliver, Rodney Dolliver, Rhodes Bucklin, Ed Crane, Bill Horsford, Bill Williams, Carroll Wrisley, Thomas Schermerhorn, Harry Webb, Larry Johnson, Pat Moore, Neil Frink, Dick Thurbert and Bill Root."
McNeil Pond remained a popular skating spot until a new rink was built across the road, said Jenny Cole, the Charlotte Library's interlibrary loan librarian and a local historian. The pond and new rink are on Greenbush road approximately a mile north of the Ferry Road intersection.
"You can see the contours where they made the rink," she said, noting it included lights, a warming hut and equipment shed.
This rink was featured in a winter 1971 Vermont Life article, "Charlotte's On the Ice All Winter" written by David Bredemeier. "The first skaters to arrive start a fire in the warming hut's oil drum stove. Wood is brought in to dry. As more skaters arrive, everyone takes time to clear the ice."
The article, as well as ice skating photos and S. Russell Williams' chapter about the Charlotte Rockets, are currently on display at the library.
Bredemeier paints a vivid picture of a community skating rink: "The city, resort and school rinks are fine in their way, but are too distant and too expensive for many skaters — especially the children living in small towns. Of course, there are the farm ponds and low fields that sometimes freeze over, but these aren't reliable and are often spoiled by snow."
The essence of a community ice rink in Charlotte continues today. After a few iterations, the current rink sits nestled behind Pease Mountain at the Charlotte Central School. It's still maintained by volunteers, tirelessly flooding and clearing the snow from the ice each season.
This year Craig Reynolds, Bill Fraser-Harris, Ed Sulva and Dave Schermerhorn will be making sure the surface is glassy, the lights remain on and the warming hut stands ready to keep the chill off hands and toes.
Charlotte Recreation is currently promoting its annual ice-skate swap at the town hall.
"Any project run by volunteers cannot always boast the most smooth sailing or the finest equipment," Bredemier said in Vermont Life, "but it is a tribute to the enthusiasm and effort put forth by townspeople and their children, an affirmative test of its value, a source of pride and pleasure to the whole town."
Who knows, maybe local pick-up hockey games could come around like Little League baseball has again at the town beach ball field.
(Thanks to Jenny Cole, the Charlotte Library and the Charlotte Historical Society for the images and articles, and NCAA.com for the colorful hockey slang.)