We never knew there was a southern section of the Outer Banks, but last year Ebeth and I visited Beaufort, N.C., a beautiful town located a ferry ride away from Cape Lookout National Seashore.
This year, we decided to escape November stick season by driving our Hyundai Ioniq 5 electric vehicle (EV) for the more than 2,000-mile, round-trip venture. Because of the fast charging and long range of this car, we were quite confident that we could achieve environmentally friendly travel for our first electric-vehicle road trip.
But we knew this would not be quite as simple as taking a credit card for gas and aiming the car south.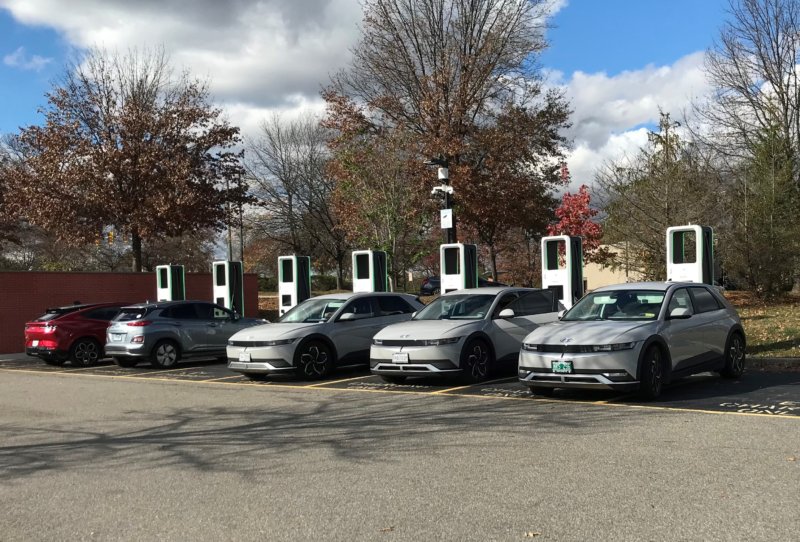 By the way, Hyundai provides free charging at Electrify America's very fast direct current sites for two years. How do you pass up non-internal combustion, free-fuel travel?
In preparation for our trip, I accessed the Electrify America website to plan out charging points about every 220 miles. The car has a range of over 300 miles, but at interstate speeds the range is reduced, so why push it.
It was very easy to find fast chargers along the I-95 corridor, but more of a challenge taking a route through Pennsylvania in order to dodge the big cities. We opted to stick with the main interstates for peace of mind. Charging points are coming online so rapidly, I expect that by next year traveling smaller roads will not be an issue. Another interesting aside is that many of the Electrify America fast chargers are located in Walmart parking lots. Hmmmmm.
The day we headed south was the last of the sunny, warm November days — an excellent day for a road trip. The only surprise of the trip came on day one when the Electrify America charging station in Newburgh, N.Y., which we were planning to be our first charge, wasn't working.
Fortunately, we discovered this long before arriving by using the Electrify America phone app. This app is crucial for long-distance electric-vehicle travel. It shows every one of their chargers (which are the fastest ones currently available), and it's how you communicate with the charger to begin a charging session. The Electrify America website on the computer is useful for seeing charging sites along potential routes, but it doesn't always have the same up-to-date charger information as the phone app.
Because of our heads-up from the phone app to not expect a fill-up from Newburgh, we used the app to locate a fast charger closer to NYC. That worked out OK (the fast charging performed perfectly), but unless you have greater patience for local roads around the New Jersey Turnpike than I do, avoid trying to charge in urban areas.
Once we escaped New York, we made our way to our planned overnight stay in Maryland (near fast chargers in a Walmart parking lot). After replenishing the Hyundai's battery, we discovered a Jamaican style restaurant with unbelievably delicious jam jam shrimp, and we were happy.
The next day we headed off with a full charge, which we boosted at Walmart #2295 near Richmond, Va., then headed further south to Sheetz #504 in Rocky Mount, N.C., for a final charge before heading to the less electrified coast.
We charged about 30 minutes each time (because that's how long the free charging allowed), which averaged about 160 miles per charge, depending on factors such as temperature (colder is slower), whether it was a 350 kW or 150 kW charger (350 kW is faster), and the number of other cars at the site (more cars slows the electricity output).
Everything went just about as easily as filling up with gas, with the unexpected advantages of finding an over-the-top gift for a holiday tacky party and the best submarine sandwiches we had ever tasted. The glories of road tripping!
How nice it was to be wearing shorts and T-shirts when the Vermont forecasts were talking about 30-degree temps and snow. Some of the days were windy enough that long pants and heavyish shirts were appropriate, but other days we comfortably wore lighter clothes when we took ferries out to islands where we found beaches covered with shells, wild horses that were unafraid of humans and many varieties of flying and diving birds.
Beaufort, N.C., (pronounced Bo-fort as opposed to Beaufort, S.C., where the same spelling is pronounced Bu-fort) is a very cool historic seaport with many interesting boats passing through, lots of tempting shops and a variety of terrific restaurants. The area is a take-off point for ferries to the Cape Lookout National Seashore and Shackleford Banks, both of which are undisturbed barrier islands and part of the Outer Banks. A very beautiful and low-key area.
Back to the electrons. The place we were staying had an outlet in the garage where we were able to plug in the 120-volt slow charger that came with the car, which brought the car to 100 percent charge over several days.
I can't estimate the dollar value of the electricity we used, but I'm quite certain the VRBO host will not even notice the cost on the November electric bill.
Not to get too geeky, but in the garage, there was also a 240-volt dryer outlet. I had made a connector to allow us to plug our 240-volt charging device from Vermont into the dryer outlet in case we needed faster charging. In certain circumstances, the five times faster 240-volt on-site charging could be an option, but it's nice to know that the 120-volt can handle the job as long as there aren't a lot of long drives while staying at the destination. (Even out of the way places like Beaufort have faster 240-volt public charging stations, which can easily be located with the PlugShare computer and phone app, but they're not nearly as fast as the very fast Electrify America direct current stations.)
Enough with the tech stuff. We headed back to Vermont (and the cold) after eight warm days in North Carolina. There's nothing to report from the trek back north, except for waiting 10 minutes one time for a charger to open up.
I can truthfully say that travel with an electric car is very doable now and will be even easier in the future. The electric vehicle differences are: possibly one additional stop in a 450-mile day (not a bad thing for older folks like Ebeth and I); a bit more planning needed to scope out fast-charging spots and hotels having chargers (or being near fast chargers); less cost, even if not free, because electricity is certainly cheaper than gas; feeling a bit of pioneering spirit by doing something new (which will be the way of the future); and, duh, the biggest difference — less environmental damage using a cleaner mode of travel.
Granted, the method of generating the electricity that's consumed impacts the environment, but research says electricity and electric cars are one of our best hopes for slowing down climate change.
(Tom Scatchard, a diligent volunteer for The Charlotte News, will be happy to chat with people who have electric car travel questions or thoughts.)