Stick season presents a perfect time for walks
[vc_row][vc_column][vc_column_text]Nevermind that it's cold and dark and mid-rifle season, it's time to get outdoors.
For those who struggle with Seasonal Affective Disorder (SAD), a type of winter depression common during the dark months, outdoor light and exercise can offer relief. The National Alliance on Mental Illness finds than a one-hour walk in winter sunlight is as effective as two and a half hours under bright artificial light, an often-used treatment for SAD.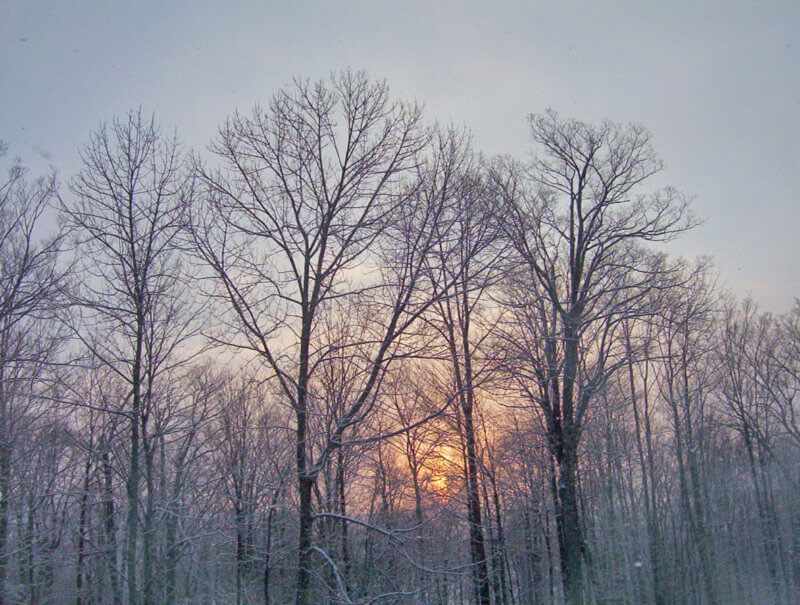 Even watery winter sunshine filtered through clouds can improve mental health.
Where is it safe to walk through hunting season that ends Nov. 27? Here are some ideas, but it's always important to double check and to wear bright colors. One cannot be too careful:
• Red Rocks Park, South Burlington. Four miles of trails in hemlock and pine forest that hug the shoreline and bluffs above Lake Champlain. Spectacular views of Shelburne Bay, the broad lake and the Adirondacks.
• Ethan Allen Homestead in Burlington hosts nearly 3 miles of walking in the Winooski River Delta, including two boardwalks over wetlands. These trails connect to the Intervale.
• Intervale Center hosts organic farms and community gardens. A non-profit created to restore to fertility one-sixth of all open land in Burlington, its mission is to strengthen community food systems and encourage sustainable land use. Several miles of dirt roads and paths.
• The University of Vermont stewards a range of natural areas including Pease Mountain in Charlotte. In addition, University of Vermont manages an abandoned Monkton quartzite quarry on Hoover Street in Burlington from whence came building materials for the Redstone Campus. Familiar preserves include Colchester Bog, East Woods, Centennial Woods and the summit of Mt. Mansfield. Brendan Fisher, who works with the University of Vermont Natural Areas, says, "As of right now there is no hunting allowed in the University of Vermont Natural Areas system. There is talk about the importance of hunting on some of our lands for management purposes, but right now we do not have a full-time Natural Areas manager who can help plan for, administer and monitor management activities — including hunting — on our lands."
• Winooski Valley Park District, manages 17 parks in seven area towns. Many include great walking trails, and all properties are posted. The district's website includes descriptions, driving directions and maps. Parks are open from dawn until dusk with parking in lots or on nearby roads. Don't dally after dark as gates are locked at night. Dogs must be leashed at all Winooski Valley Park District properties. Always clean up after pets.

• Winooski Valley Park District properties include Colchester Pond, a 2.5-mile loop trail in the far northern reaches of the town. The 182-acre preserve is forested and contiguous to protected land in Essex.
• In the midst of hunting country in Huntington, Audubon Vermont posts 255 acres of hills and river valley. Five miles of trails thread through a range of natural communities, from hemlock swamp to northern hardwood forest. Beavers are active on the property and can make trail maps obsolete in the course of a season. Trails open dawn to dusk. Donations appreciated.
• At Shelburne Farms 10 miles of trails allow walkers to explore historic buildings and grounds on 1,400 acres beside Lake Champlain. Rifle hunting is prohibited. No dogs.
• LaPlatte Headwaters Town Forest in Hinesburg. This expansive trail network is mowed, which is helpful when ticks are hungry, and meanders through hardwood and hemlock forests with some spectacular cliffs and a ravine. While parts of the property are open to hunting, the walking trails are not in that area. Full details at hinesburg.org. Two parking areas are on Gilman Road and Lewis Creek Road.
• Hinesburg Area Recreation Trails include walking trails on the 63-acre working Russell Farm in the center of town.
• Causeway Park, Colchester. A 3.2-mile crushed gravel path built over tons of rock fill and white marble stretching into Lake Champlain. This former rail bed is flat and a sensational viewing spot for migrating waterfowl.
• Colchester Bog offers a short outing over floating boardwalks— a great detour after a walk on the Cause way. Bog scenery is unusual and worth a look. A bog evolves where no fresh water flows, encouraging carnivorous pitcher plants to grow on suspended mats of peat. When the lake level is high, the bog gets an infusion of nutrients that gives traditional plants an advantage over those native to bogs.
Need more ideas? Check out Trail Finder, a catalog of hikes and trails across the region. Map features include restrooms, parking, dog friendly, historic site, natural area and wildlife area.
General caveats: Ticks are hungry for a blood meal at this time of year so be vigilant. Some extensive trail networks, East Montpelier and the Trail Around Middlebury among them, extend over a mix of public and private land. While some segments may be posted, others are not. Use your head when walking or hiking during rifle season, this year Nov. 12-27: wear orange or other bright colors and, please, no white gloves that might be mistaken for a deer's tail. Remember, Vermont State Parks permit hunting.[/vc_column_text][/vc_column][/vc_row]