Area Events – November 3, 2022 to January 3, 2023
Please send event listings, especially for Charlotte events, to [email protected] at least three weeks in advance.
Independently, together
Thursdays, Nov. 3, 10 and 17, 6-8 p.m.
The Poartry Project was created by JC Wayne, a Charlotte poet and visual artist. She offers Open Studio Thursdays as a drop-in, virtual artistic space for all creatives and their mediums. Work on a current project, share, ask questions, meet new friends and express your creativity in a non-critique way. All ages welcome and no prior experience required. More info or register.
Music of Thad Jones
Thursday, Nov. 3, 7:30-8:30 p.m.
The University of Vermont Jazz Ensemble presents a free concert at the University of Vermont Recital Hall in Burlington. On the program is music by Thad Jones, revered jazz trumpet soloist of the swing era and member of the Count Basie Orchestra. The orchestra was founded in 1935. This performance is open to the public. More info on this and other recitals.
Arioso Chamber Ensemble
Friday, Nov. 4, 7:30 p.m.
Works for alto, viola and piano will entertain listeners at the Richmond Free Library. Donation suggested at the door. More info or call 802-279-6082. Performance repeats Saturday, Nov. 5, 7:30 p.m., at Christ Episcopal Church, Montpelier.
Stick season birding
Saturday, Nov. 5, 9-11 a.m.
This outing at Audubon Vermont in Huntington welcomes all women from the community, whether experienced birders or beginners, to see what birds are staying around for the winter. Co-hosted with the Pride Center of Vermont, this is an LGBTQIA++ affirming group. Dress appropriately and bring a love for nature and birds. More info and registration.
Williston craft show
Saturday, Nov. 5, 9 a.m.-4 p.m.Over 100 artists and specialty food vendors will be on site at the Williston Central School for those who enjoy a local craft event before the holidays get busy. Free entry and parking. Click for all the details.
Applique workshop
Saturday, Nov. 5, 9:30 a.m.-4:30 p.m.
Join members of the Champlain Valley Quilt Guild to practice the raw edge appliqué method. Workshop held at the Immaculate Heart of Mary Catholic Church in Williston. More info or to sign up.
Little City Gala
Saturday, Nov. 5, 8-11 p.m.
Arrive dressed for a Roaring Twenties celebration at the Vergennes Opera House. This fundraiser for the Vergennes Union Elementary School has food, drinks, raffles, dancing and prizes for best-dressed attendees. Tickets and more info.
Veterans Town Hall
Sunday, Nov. 6, 1 p.m.
Veterans are invited to speak about what their service means to them. All perspectives are valued; all are invited to attend and listen. This free, non-political event is held at McCarthy Arts Center on St. Michael's College campus in Colchester. If you would like to speak, you are encouraged to register in advance.
Alisa Amador and band
Sunday, Nov. 6, 4 p.m.
Boston-based singer/songwriter Alisa Amador and her trio play at the Richmond Congregational Church. Doors open 3 p.m.  More info and tickets.
True stories told live
Tuesday, Nov. 8, 7:30-9:30 p.m.
A Moth story slam happens at Main Street Landing Performing Arts Center in Burlington. Come prepared with a five-minute story on the subject of "leftovers." Doors open 7 p.m. Buy tickets or learn more about the topic.
Play with the orchestra
Wednesday, Nov. 9, 6:30 p.m.
Middle school and high school students who play wind or brass instruments may join in a session of performing music with members of the Vermont Youth Orchestra. It's free to join; membership in the Orchestra is not required. All players welcome at the Elley-Long Music Center, St. Michael's College, Colchester. More info and registration.
Wild medicine
Wednesday, Nov. 9, 7 p.m.
Phoenix Books welcomes Guido Mase, herbalist and author of The Wild Medicine Solution, for an online presentation about his work. Free program; call 802-448-3350 to register and to confirm event.
Amélie
Friday- Sunday, Nov. 11-13
Champlain Valley Union High School in Hinesburg present its fall musical, Amelie. It's the story of a quiet woman with a rich imagination who performs covert acts of kindness for others, with mixed results. Tickets and showtimes. Tickets also available at the door; check ticket link to see if sold out.
Castalian quartet
Friday, Nov. 11, 7:30 p.m.
Middlebury College hosts the esteemed Castalian String Quartet at the Mahaney Arts Center. The free performance includes works by Janacek, Sibelius and Beethoven. Read more about the Quartet.
Arnowitt at the piano
Friday, Nov. 11, 7:30-9 p.m.
Pianist Michael Arnowitt performs a classical program at St. Paul's Cathedral in Burlington. More info and tickets.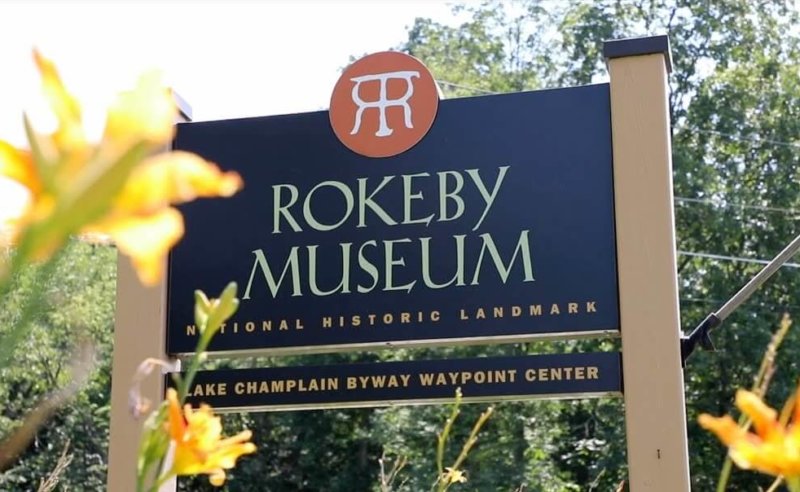 Teaching about slavery
Saturday, Nov. 12, 9 am.-2 p.m.
Rokeby Museum in Ferrisburgh presents Teaching About Slavery, Whiteness, Racism and the Underground Railroad in the North, a workshop, targeted to educators of grades 2-12. Participants learn strategies for teaching emotion-laden topics, as well as for engaging student's curiosity when they visit Rokeby. More info and tickets.
Colchester crafts
Saturday, Nov. 12, 9 a.m.-4 p.m.
The United Church of Colchester, next to the Burnham Library on Route 2A, holds a Christmas craft show, including quilt raffle, bake sale, take-out soups and chili and much more. No entry fee. Questions: Sherry Beane 802-879-7641.
Rug concert
Saturday, Nov. 12, 11 a.m.-noon
The Vermont Youth Orchestra presents a program of music and discovery for its youngest listeners at the Elley-Long Music Center at St. Michael's College in Colchester. The interactive event gives young ones the chance to meet the musicians, their instruments and the vocalists. Call 802-655-5030 to RSVP and confirm details.
Vineyard festival
Saturday, Nov. 12, 11 a.m.-4 p.m.
Local producers and vendors offer food samples and sell products for early holiday preparation. Held at Shelburne Vineyard, with raffles each hour. Get in free with a non-perishable food or cash donation benefiting Feeding Chittenden. More info.
Pride hike
Saturday, Nov. 12, 1-3 p.m.
This hike is welcoming to everyone and goes at an easy pace along the trails at Shelburne Farms. Dress for the weather; bring snacks, water and binoculars if desired. Meet at the Farm Barn parking lot. No dogs please. Pre-register for COVID tracing. If you have questions about accessibility to this free event, email us.
Archaeological clues
Saturday, Nov. 12, 7 p.m.
Vermont State Archivist, Jess Robinson, presents a program on the archaeological history of Chittenden County, focusing on Richmond and nearby communities. The talk is at the Richmond Congregational Church and all are welcome. Learn about Abenaki presence in the area and which early settlers dug the cellar holes found along the old roads. This is a free program of the Richmond Historical Society.
Aurora Chamber Singers
Saturday, Nov. 12, 7:30 p.m.
Accompanied by orchestra led by conductor David Neiweem, singers perform Mozart's Requiem and selected Nocturnes at College Street Congregational Church in Burlington. More info and tickets at the website.
Northern nosh
Sunday, Nov. 13, 11:45 a.m.-3:45 p.m.
The Ohavi Zedek synagogue in Burlington holds a Jewish food fair. A variety of kosher foods will be presented, lovingly made by members of the community. Live music and kids' activities will be part of this inaugural event. Please bring a non-perishable food item for the food shelf. Food tickets available onsite as well as in advance. More info at the Ohavi Zedek website.
Talk on eugenics and ethnocide
Sunday, Nov. 13, 2-4 p.m.
Vera Longtoe Sheehan is featured speaker at the Ethan Allen Homestead in Burlington in this talk about the survival of the Abenaki. The talk is free. More info.
Food for Talk
Sunday, Nov. 13, 3-5 p.m.
The Food for Talk group gathers at Burlington's Fletcher Free Library to talk about cooking, cookbooks and new recipes. Members will discuss Chinese Soul Food, which is available to check out with a library card. More info and registration for this free group.
Wine and cheese pairing
Wednesday, Nov. 16, 5:30-7 p.m.
Shelburne Vineyard hosts a guided pairing of wines and cheeses for participants age 21 and over. Click to register.
Venetian artisans
Wednesday, Nov. 16, 6:30-8:30 p.m.
The Last Artisans of Venice is this month's movie from the Architecture + Design Film Series. Movies show at Contois Auditorium in Burlington, or online. Films are free and doors open at 6 p.m.
Piano concert
Wednesday, Nov. 16, 7:30 p.m.
Middlebury College students of Diana Fanning present a free concert at Mahaney Arts Center on the Middlebury campus. Vaccinations and boosters required; masks optional.
NRBQ
Wednesday, Nov. 16, 7:30 p.m.
The Vergennes Opera House presents area favorite, the New Rhythm and Blues Quartet. Enjoy an evening of R&B, rockabilly and jazz, fun and danceable music. Doors open at 6:30 p.m. for cash bar. Tickets and more info.
Development conference
Thursday, Nov. 17, 8:30 a.m.-5 p.m.
Gather with development professionals for a day of speakers and discussions about economic trends in the state, permitting, growth and designing for Vermont's future. Network with commercial real estate professionals and business leaders. at the Hilton Burlington on Battery Street. Complete schedule and registration.
Vermont and climate change
Thursday, Nov. 17, 7-8:30 p.m.
Professor and ecologist Amy Seidl speaks at the Unitarian Church in Montpelier. Her free talk, "Thinking Through Place," focuses on the challenges of global warming and how Vermont fits into the environmental movement. This is a presentation of the Vermont Natural Resources Council. Read more.
Craft Vermont show
Friday-Sunday, Nov. 18-20
This year marks the 70th annual Vermont Handcrafters fine art and craft show. It is held at the DoubleTree hotel in S. Burlington and features a wide variety of local producers. Hours and more info.
Riddleville
Through Saturday, Nov 19
The Amy Tarrant Gallery in Burlington hosts Riddleville, featuring Clark Russell's still-life scenes made with found and repurposed objects, many in miniature, that form their own unusual stories. More info.
Holiday bazaar
Saturday, Nov. 19, 9 a.m.-1 p.m.
The United Church of Hinesburg holds its annual bazaar of arts, crafts, food, jewelry and much more. Baked goods for sale and soup and sandwich lunch is served from 11 a.m.-1 p.m. Wreaths for sale as well.
Plein air poetry
Saturday, Nov. 19, 2-3 p.m.
Come to the Charlotte Library for a poetry and art walk. This event is facilitated by Charlotte artist, poet and book author JC Wayne, founder of Poetry.org. Families walk the outdoor story path at the library and observe the world as if they were poets or artists. Make art or write poetry in the fresh air. Learn more, or register.
Autumn pop-up
Sunday, Nov. 20, 9 a.m.-3 p.m.
Visit Red Wagon Plants in Hinesburg for a free houseplant talk, pastries, coffee and other fall activities. At 1 p.m., there is a make-and-take herb wreath workshop. Reserve a spot to make a wreath at the pop-up.
Hinesburg craft fair
Saturday, Dec. 3, 9 a.m.-3 p.m.
Head to St. Jude's parish hall for the annual craft fair. If you are a crafter and want to participate, email Marie for details.
Maker's Market
Saturday and Sunday, Dec. 3 and 4
Hula in Burlington hosts The Good Trade Maker's Market, bringing together nearly 100 of the country's greatest independent makers and manufacturers for a festive community shopping experience. No pets allowed. More info and tickets.
Rotary speech contest
Weds., Feb. 8, 2023, 8 a.m.
High school students from Charlotte, Shelburne and Hinesburg are encouraged to enter the local Rotary speech contest. The speech topic is: Why are diversity, equity and inclusion important? Students may present speeches in person or via Zoom. More info and updates.
Call to young artists
Contest deadline: Thursday, Jan. 5, 2023
The Vermont Wildlife Education Fund organizes a wildlife art contest for students in grades 7-12. Prizes awarded and winners exhibited in February 2023. More info and an application.