Mary Landon, Calendar Coordinator
Please send event listings at least three weeks in advance.
The Pitmen Painters
Through Sunday, Oct. 16
Vermont Stage theater company presents an on-stage true story of a group of miners in the 1930s who learn how to paint. Shows are at Main Street Landing in Burlington. Full schedule, more info and tickets available.
Western Vermont Choral Lab
Begins Thursday, Oct. 6, 7-8 p.m.
Singer and composer Moira Smiley will lead two choirs this fall; one group in Bristol and one in Burlington. Her mission is to create a musical and social community between new and established Vermonters through singing together. Music will reflect the diverse languages and cultures of the members. Classes meet weekly through mid-December. Bristol group begins Wednesday, Oct. 5, 7 p.m. Learn more and sign up.
Live auction in Middlebury
Friday, Oct. 7, 5-7:30 p.m.
The Henry Sheldon Museum in Middlebury invites families to their event, Bop by the Barn, which includes live music, barbecue buffet and a live auction. The party takes place in the outdoor sculpture garden under a tent. Tickets and more info.
Almost, Maine on stage
Oct. 7-15, 7 p.m.
Enjoy a Shelburne Players production of Almost, Maine at the Shelburne Town Center with evening and matinee shows. The town center is the brick building across Route 7 from the Farmers Market area. Tickets, times, and more info.
Brass and reeds in Vergennes
Friday, Oct. 7, 7:30 p.m.
Enjoy the sounds of the Champlain Brass Quintet, the Dead Creek Reeds and the Calamellus Trio at the Vergennes Opera House, the acoustics of which will show off all the musicians and their instruments. Doors open at 6:30 p.m. with cash bar. Tickets and more info.
Vintage market days in Rutland
Friday-Sunday, Oct. 7-9, 10 a.m.-4 p.m.
This upscale indoor-outdoor market features original art, handmade treasures, home decor, jewelry and more. It is held at Vermont State Fairgrounds. Food is available plus live music. Tickets and more info.
eBird Big Day
Saturday, Oct. 8
October Big Day is a 24-hour opportunity to observe birds in your area and report your findings through the eBird app, which is a project of the Cornell Lab of Ornithology. Participation is welcome wherever you are, you just need the app. More info.
CHARLOTTE
Spirit of Fall – Press your own cider
Saturday, Oct. 8, 10 a.m.-2 p.m.
Get into the spirit of fall at Charlotte's Horsford Gardens and Nursery with some cider pressing. Bring a maximum of one bushel of apples per family group, plus clean containers for the cider. Vermont Homestead Cider provides a mobile cider press. One free ticket issued per family, so all may participate. Registration and info.
Wood carving event
Saturday, Oct. 8, 10 a.m.-2 p.m.
Members of the Green Mountain Woodcarvers gather at the Birds of Vermont Museum in Huntington to demonstrate a variety of carving projects related to nature. More info about this free event at 802-434-2167.
Celebrate indigenous peoples
Saturday, Oct. 8, 10:30 a.m.-6:30 p.m.
A full day of Native American culture, education and musical performances takes place at Mayo Fields in Stowe at the Stowe Cineplex. The movie "The Wind and the Reckoning" will premiere at 5:30 p.m., and the day ends with a rock concert. Rain date is Oct. 9. More info and tickets.
Story, song and puppetry
Saturday, Oct. 8, 15 and 22, 1-4 p.m.
Borderlands is a theatrical event happening at Shelburne Farms. Follow a 1-mile woodland trail and experience performances along the way, beginning and ending at the Coach Barn. Limited tickets available for staggered time slots. For all ages; no dogs please. More info and tickets.
Homecoming concert
Saturday, Oct. 8, 3-4 p.m.
The University of Vermont music program presents a free program during Homecoming weekend. The symphony orchestra, concert band and concert choir will all be featured at the university's Recital Hall on South Prospect Street in Burlington. Click for more info.
Bluegrass and apples
Sunday, Oct. 9, 11 a.m.-1 p.m.
Shelburne Orchards provides the apples, the donuts and the bluegrass trio The Big Pick for family enjoyment. Stop in to enjoy the orchard's products and views while listening to this local quartet's feel-good music. Free event.
Vineyard harvest festival
Sunday, Oct. 9, noon-4 p.m.
Enjoy an afternoon at Snow Farm Vineyard in South Hero, celebrating the grape harvest with live music, wagon rides, food, wine and foliage. Free for all ages, rain or shine. More info.
CHARLOTTE
Open house at Charlotte fire station
Sunday, Oct. 9, 2-4 p.m.
The Charlotte Volunteer Fire and Rescue services personnel open their doors to the community. There will be discussions on home safety, smoke detectors and fire extinguishers, and activities for kids. Meet the members, see the trucks and equipment, and visit the table of baked goods.
Tour the McClure
Tuesday, Oct. 11, 10:30 a.m.-2:30 p.m.
The schooner Lois McClure is a full-size replica of an 1862-class sailing canal boat. It is docked at the Lake Champlain Maritime Museum in Vergennes, and visitors may board the schooner and tour with an interpretive guide. Some stairs involved between decks. Free event. For more info, call 802-475-2022.
Make fire cider
Wednesday, Oct. 12, 4:30-6 p.m.
Get your tickets early for this popular event held at the Coach Barn at Shelburne Farms. Participants will use ingredients grown at the Farm to make a vinegar infusion of herbs and vegetables. After steeping, the resulting liquid, called fire cider, is beneficial for the immune system through the winter. More info and registration.
Earthkeep Farmcommon finale
Thursday, Oct. 13, 4:15-6:45 p.m.
Earthkeep Farmcommon in Charlotte welcomes you to its free harvest festival and final outside gathering of 2022. There will be food, live music, pumpkin carving, and local farm vendors in a mid-fall celebration with fire pit and great views. More info.
Eritrean cooking
Thursday, Oct. 13, 5:30-7p.m.
City Market in the south end of Burlington hosts a class in Eritrean and Ethiopian cooking, focusing on Doro Wat, spicy stewed chicken.  More info or tickets.
Senior apple specials
Thursday and Friday, Oct 13 and 14, 9 a.m.-5 p.m.
Shelburne Orchards is pleased to welcome seniors to the orchard where they will receive a great discount on a half-bushel bag of apples. More info.
Comics festival
Saturday, Oct. 15, 11 a.m.-6 p.m.
The world of non-fiction comics has exploded as a medium for sharing information. This festival at Burlington's Fletcher Free Library features panel discussions, workshops and exhibits by cartoonists. The event is part of the Vermont Humanities programs and is free to attend.  More info.
Chili fest
Saturday, Oct. 15, 3-7 p.m.
The Vermont Food Collaborative in New Haven invites community members to its chili fest, featuring varieties of chili cooked by local farmers. Meet the farmers whose products are featured in the store. Products from other local producers will be featured as well. Entry is $5/person for chili and specialty food samples. Some chili will be for sale to take home. Lawn games and pumpkin painting too. Event is rain or shine. More info.
Abenaki campfire gathering
Saturday, Oct. 15, 5:30-7 p.m.
Join Abenaki Chief Don Stevens at a campfire event about woodland wildlife. This family event at Shelburne Farms features stories, music, artifacts and culture. Recommended for ages six and up. More info or to register.
Spooky tales
Saturday, Oct. 15, 7-9 p.m.
Bridgeside Books in Waterbury welcomes two actors as they bring scary stories to life for Vermont's Scariest Original Stories. Stories are by several local authors, including a true-to-life tale by Charlotter Kathleen McKinley Harris. Event is best for adults and children old enough to sit still. More info and tickets.
Tractors and machines
Saturday, Oct. 15 and Sunday, Oct. 16, 10 a.m.-4 p.m.
Get up close to tractors, trucks and other farm machinery at Shelburne Farms. Pretend you're a farmer as you climb behind the wheel. No registration required; event is free with farm admission. Family program is at the Farm Barn. More info.
Nature illustration
Sunday, Oct. 16, 9 a.m.-2 p.m.
Illustrator Susan Sawyer leads a workshop at Montpelier's North Branch Nature Center. Participants will focus on seeds, stems and leaves and the shapes and structures of the end of the season. Drawing experience not required. Fee includes all materials except your own sketchbook. More info and registration.
Car show on the green
Sunday, Oct. 16, 10 a.m.-3 p.m.
This family-friendly event on the green in Middlebury features vintage cars, food and craft vendors, music all day and activities for kids. Free to attend. More info.
Sweet orchard music
Sunday, Oct. 16, noon-2 p.m.
At the height of fall, swing by Shelburne Orchards for apples and cider, and also to hear the new acoustic band, Queen City Cut Ups. Based in the Burlington area, they play cajun, country, swing and bluegrass. Welcome them to the orchard while nibbling a donut. Free concert; no dogs please. More info.
Overlooked in history
Sunday, Oct. 16, 2-4 p.m.
Speaker Dan O'Neil gives a lecture at the Ethan Allen Homestead in Burlington called What About the Overlooked: Injustices in Public History. Free event. More info.
Musical trio E.T.E.
Sunday, Oct. 16, 4 p.m.
The trio E.T.E. honors traditional Quebecois and Acadian musical genres. They perform at the Richmond Congregational Church as part of the P.M. Sundays series; doors open 3 p.m. More info and tickets.
Sourdough bread science
Monday, Oct. 17, 5:30-7 p.m.
Heike Meyer, baker of Brot Bakehouse School and Kitchen, leads free Zoom classes on sourdough baking topics. This is the second class of four through City Market; third class is Oct. 24, fourth class is Nov. 7. Take one or all three. Pre-registration required for Oct 17 class; register for future classes.
Olmsted and America's urban parks
Wednesday, Oct. 19, 6:30-7:30 p.m.
The Architecture + Design film series returns to Contois Auditorium in Burlington for its eight-part series, exploring the roles of design and beauty and their impact on our lives. Tonight's film about landscape designer Frederick Law Olmsted may also be screened from home on the same day at adfilmseries.org. Doors open at 6 p.m., masks encouraged. Movie is free, and is introduced by Greg De Vries of Charlotte's Heritage Landscapes. More info, or to see full list of films.
Health equity summit
Thursday, Oct. 20, 8:00 a.m.-4:30 p.m.
The University of Vermont Health Network presents a free, in-person day of speakers and discussion on institutional inequities related to health care and health education in Vermont and northern New York. Seating at the university's Dudley Davis Center in Burlington is limited; virtual streaming available. Registration and more info.
Broccoli bonanza
Thursday, Oct. 20, 5:30-7 p.m.
Join food writer and cookbook author Melissa Pasanen as she leads a class about creative ways to use broccoli and related brassicas. Class is at the South End City Market and requires registration.
French organist
Friday, Oct. 21, 7:30 p.m.
Renowned French organist Maurice Clerc plays the magnificent organ at Burlington's St. Paul's Cathedral. Clerc has performed in over twenty countries, and was the organist of Dijon Cathedral for 46 years. More info and tickets.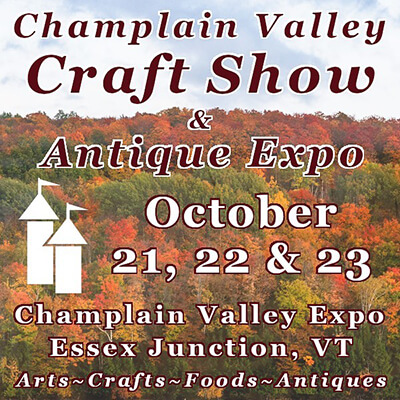 Antique expo and craft show
Friday-Sunday, Oct. 21-23
Find unique gifts, vintage collectibles, antiques and much more at the Champlain Valley Exposition in Essex Junction. One admission ticket is good for all three days. Food available for purchase; show is indoors and parking is free. More info and times.
Independent film festival
Friday-Sunday, Oct. 21-30
The Vermont Independent Film Festival showcases independent films from around the world and the United States. Most films screened at Main Street Landing Film House in Burlington. Titles, times, and tickets.
Open studios
Saturday, Oct. 22, 10 a.m.-4 p.m.
Shelburne Pond Studios hosts an open house at their location on Pond Road to meet the artists, walk the gardens and see the outdoor sculpture exhibit. More info.
Transfigured Night
Saturday, Oct. 22, 7:30-8:30 p.m.
At the University of Vermont music building recital hall, the Champlain Trio treats listeners to a program of Schubert, Beethoven and Schoenberg with a nighttime and ghostly theme. Admission by donation. More info.
Wilderness first aid
Saturday- Sunday, Oct. 29-30, 9 a.m.-5 p.m.
The Green Mountain Club headquarters in Waterbury Center offers a 16-hour, hands-on course that will prepare participants for many backcountry medical emergencies. Course sells out quickly; more info and tickets available.