Milliken's creations help to celebrate Shelburne Museum's anniversary
Nancy Winship Milliken's art would be outstanding in its field even if it wasn't actually, literally out standing in fields at museums, galleries, parks and fields from New England to New Zealand. And to Peru.
Milliken of Charlotte has four of her pieces standing in the central field at the Shelburne Museum, installed in time for the start of the museum's 75th anniversary season this past weekend — Pasture Song, Meadow Breath, Lake Bones and Earth Glow.
Milliken said her art has been variously described as contemporary pastoralism, environmental art or celebratory ecology.
She became a fulltime artist relatively late in life, going back to grad school at the Massachusetts College of Art and Design in her mid-40s.
"After the kids were off and launched, it was something that I couldn't not do. It just was the right fit," Milliken said of pursuing her artistic discipline.
Before and after getting her degree in art, Milliken taught, and what and how she taught wasn't far … ahem, afield? … from the medium she works in now.
She taught farming and outdoor education. At a Waldorf School she taught a sheep-to-shawl program.
Milliken strives to celebrate the natural world and being in the colors and the wind of the natural world in her work. Her work is usually created specific to the site where it is exhibited and incorporates materials and the geological and cultural histories of that place.
Three of the four pieces Milliken is exhibiting at the Shelburne Museum were created specifically for the museum and rely on the history of the lake and the area fields for context. All of Milliken's pieces sit in a pollinator meadow "that relates to the solar fields that Shelburne Museum has recently put in," Milliken said.
The project worked for Milliken because of Shelburne Museum's recent work in sustainability with the solar arrays and stormwater mitigation. "That's part of the ethos of my environmental art studio. It just seemed like a great mix, a great connection."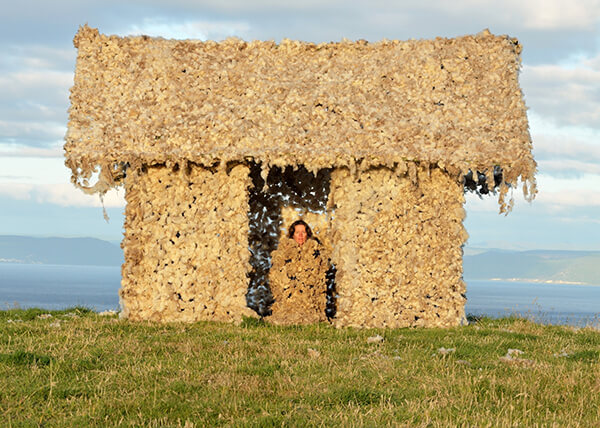 In spite of all the dark environmental issues the world is facing, Milliken said she doesn't focus on what's wrong. Instead, she tries to shine a light or amplify "things that are the way forward or what works."

She hopes her work creates a shared experience of the environment that spurs people to conversations about ways of taking care of the Earth.
Milliken is a University of Vermont graduate. She and her family settled in Charlotte fulltime in 2018, but they had been working their way back for years with stops in Massachusetts and Rhode Island.
She shares a drive for working in the environmental field with husband Andrew Milliken, who works on habitat restoration in the Lake Champlain basin for the U.S. Fish and Wildlife Service.
They chose this area for its scenic rewards but also for the community of farmers, builders and artists they found.
"I'm looking out over the mountains right now. I can't get enough of it," Milliken said.
Her studio is at Shelburne Pond Studios and out front you can see a sculpture made from burned timbers. This is called Cairn and it is an homage to the dairy barn that burned down at Shelburne Farms. The timbers were salvaged from the remains.
Electra Havemeyer Webb wrote in 1948, a year after founding Shelburne Museum, that she wanted the museum "to be an educational project, varied and alive, that will instill in those who visit a deeper understanding and appreciation in heritage." The exhibit "Nancy Winship Milliken: Varied and Alive" embodies Webb's early convictions and reflects the museum's commitment to environmental stewardship and sustainability, according to the museum's website.
Milliken's work is buffeted and modified by the weather. She welcomes these changes, so that she is not the sole creator of these installations.
"These sculptures react, respond and transition in their own unique ways, and in their own timeline, in the environment," she said. "It is a goal to let the environment have the last say and make its mark."
The museum is open Tuesdays-Sundays, 10 a.m.-5 p.m.