Charlotte Health Center's long road to nowhere
Citing rising costs, Evergreen Family Health gives up on Charlotte—for now
Evergreen Family Health's announcement last week that it suspended plans for a Charlotte Family Health Center came six days after the decision was made to halt the project, said Evergreen partner physician Paul Reiss.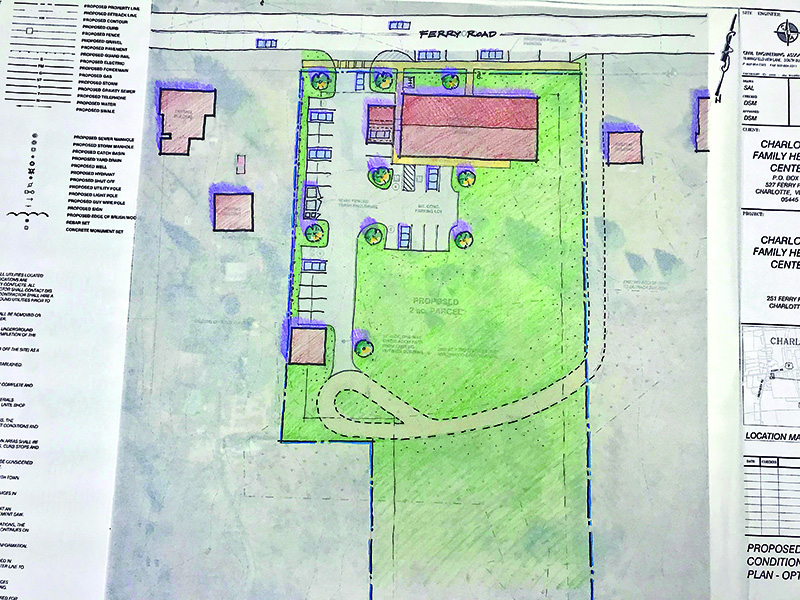 "The partners made the decision on September 9," Reiss said.
The consensus to put the proposed health center on ice followed an appeal filed in August 27 by neighbors Rene and Jeanne Kaczka-Valliere—the second legal challenge aimed at the town's conditional approval of Evergreen's permit to build at 251 Ferry Road. A group of 16 residents led by Ronda Moore filed the first appeal on August 16 on the grounds that the site is a protected wetlands area.
For now, Evergreen's medical practice will remain in Shelburne, Reiss said.
"We are planning to stay in the Shelburne Green location for the foreseeable future and make that site as accessible and professional as our patients expect from our long history of community personalized care," Reiss said.
While Reiss said the appeals were not the only factor in the group's decision, he admitted the new legal wrinkles signaled a tipping point for the beleaguered project.
"[The appeals] were one of the things that made us take a step back and say, 'Do we really want to push this thing, and should we really push this thing through to the end?'" Reiss said. "It came to a point where we had to sit down with the group and talk about the long-term viability of the project. Is it something that's going to work out for us financially if we continue to put good money after bad?"
Ultimately, the partners agreed it was time to step back.
"Once you're in it, you're just going through the motions and trying to get it done," Reiss said of the permitting process. "But periodically you have to reevaluate the situation. And we reevaluated it at that time."
Evergreen's efforts to bring a health center to Charlotte began nearly two years ago, Reiss said. But news of the plan only reached the public last fall when the permitting process got underway.
"The purchase and sales agreement [for 251 Ferry Road] was reached [in] January 2020, but the negotiations with the sellers started many months before that as we looked into the many issues with that property," Reiss explained.
The sale of the property was contingent on all permits being approved and the project working out financially for the partners, Reiss said. The closing date was extended multiple times throughout the process, with the next date scheduled for November 1.
The sellers were notified that "the project is not going forward," Reiss said.
Pushback from neighbors of the proposed site on Ferry Road was "not unexpected," considering the power afforded them by state laws, Reiss said.
"It was a very small amount of opposition," Reiss said. "But Vermont laws are set up to allow any small group of community members to put the brakes on any project, no matter how noble or important it is for the community. Whether it's Act 250, or the ability to appeal in environmental court, it allows a very small group of people to really stop a project in its tracks."
But while Vermont developments, in general, may be vulnerable to appeals, Reiss said Charlotte is unique in its complete absence of a downtown area.

"Charlotte has no businesses, really, very few," Reiss said. "You don't want sprawl, but they don't even have any significant downtown such as Shelburne does or even other small towns that are more far flung in the state. Very rural towns have much more of a town center with shops and services and offices."
Not only does Charlotte lack businesses, Reiss said, but "there's nowhere to put any."
Despite his assertion that Evergreen has no plans to go forward with the health center, Reiss said the group will continue to defend their permits in environmental court.
"The work we did on [the health center] resulted in a number of permits that we obtained, and those permits are worth something if somebody else wants to purchase them from us," Reiss said. "It's in the best interests of the town and the current owners to defend that it's buildable under the conditions that the town approved."
Reiss said if the permits are upheld that "they'll last for a couple of years, where somebody else could potentially do the project for us or for someone else."
The Kaczka-Vallieres expressed distrust of Evergreen's motives for defending the permits.
"Evergreen's statement elicits confusion," said the couple in a written statement. "During the past year, this has been our continued experience with the developers and the process. The fact that they have 'suspended' the development and intend to protect their investment in environmental court, leads us to believe that they intend to pursue the health center in this location. We support the health center in Charlotte. It's unfortunate that Evergreen would not work closer with us to mitigate legitimate concerns."
But Reiss insisted that even if Evergreen's permits are found to be valid, he does not see a path forward for a Charlotte Health Center anytime soon. He explained that the landscape of primary health care has changed in ways Evergreen did not anticipate when the project began.
"[Two years ago] there was a promise of healthcare reform and OneCare and the state all-payer model," Reiss said. "There was a promise that primary care would be supported and elevated to the point where more people would want to go into it, and it wouldn't be so grinding, it wouldn't be so hard to make ends meet. But that hasn't happened."
Instead, healthcare reform has "really moved towards supporting institutional care through federally qualified health centers who get significant subsidies, and through our major hospital organizations who also have subsidies in the sense that they're tax free and can raise rates," Reiss said.
Reiss insisted Evergreen's primary reason for aborting the project was the "lack of appropriate payment" for primary care services by both government payers and commercial insurers, and "the flagrant failure of healthcare reform efforts to stabilize and solidify community primary care services."
To date, the proposed health center has cost Evergreen partners close to $200,000, or "tens of thousands of dollars" in individual losses, Reiss said.
"[Project costs] basically comes out of the pockets of the individual partners of our group," Reiss explained. "The hours and the money that we put into it becomes a direct loss."
Reiss said Evergreen has no plans to look for another site.
"We don't have other options right now, so we're going to make a go of it in Shelburne and continue to take care of our patients who are very loyal and need our care," he said. "We won't be actively looking for another site."
Town Planner Larry Lewack told The News he stands by the town's July 29 approval of the health center's permit application.
"I believe the decision effectively balanced the Health Center's interests and goals with affected neighbors' concerns, and correctly applied flexibility in local and state wetland protection rules while limiting this project's wetland impacts," Lewack said. "It was a good decision, despite this outcome."