Annual Kelly Brush Ride rolls through Charlotte
When local physical therapist Kristi Johnson realized that a cyclist participating in the 16th Annual Kelly Brush Ride needed help, she didn't hesitate to assist.
Johnson, who practices at PT 360 in Shelburne, got athletic tape so the cyclist on the course could get on the road again. "I wanted to help out so she could complete her journey," said Johnson, who also is a cyclist.
Johnson of Hinesburg decided to volunteer her time Saturday at the fuel station table near Spear's Corner Store during the Annual Kelly Brush Ride because she is a proponent of community-building, she said. "As a physical therapist, I like to be here and help."
Underneath a brilliantly blue and sunny sky, the table served as the rest site for 100-mile cyclists. An array of sandwiches, muffins and drinks adorned the counter. Cyclists had two options for the event: either participate in person or join virtually.
The event netted over $810,000 and saw 902 individuals and 84 teams participate. Kicking off at Middlebury College, cyclists could choose from 10-, 20-, 50- and 100-mile rides. Team Midd 80s took first place in the team division, raising over $89,000, while cyclist Edie Perkins took in more than $20,000 in contributions, according to the foundation's website.
Cyclists enjoyed views of the Green and Adirondack mountains and Lake Champlain as they made their way along the course. Karen Kosi-Koskowski, a Saratoga, New York resident, was drawn to the event because of the athletic component of the ride. "We were blessed with beautiful weather," she said. "I'm an athlete and I bike."
Billed as an "iconic Northern New England charity event," according to the group's website, its mission centers on bringing people together, supporting the foundation to "inspire and empower those with spinal cord injuries, so they can live active and involved lives. "
Shelburne resident Dale Loeffler cited her relationship with the Brush family for her devotion to the event. She was on hand to lend a smile and encouraging words to cyclists who stopped for a break at the fuel station.
The organization's website also noted "proceeds from the Kelly Brush Ride help people with paralysis buy the extremely costly adaptive sports equipment they need for athletic trails, roads, the court, or any other site to get active. The Kelly Brush Ride has empowered the agency to purchase equipment for over 1,000 people in 48 states nationwide."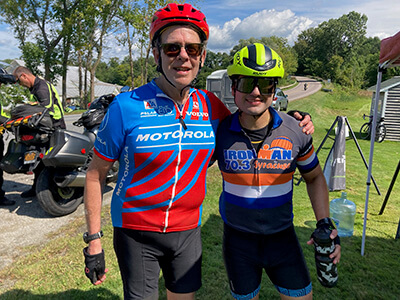 The woman at the center of the race grew up in Charlotte. Kelly's family—her parents and an older sister—also made their marks in the skiing world. Her mom competed in the 1976 Innsbruck Winter Games, her dad skied for and coached at Middlebury College, and her sister already was a presence on the ski team. Kelly kicked off her sport endeavors with alpine ski racing, gymnastics, soccer, basketball, softball and swimming. As a high school student at the Green Mountain Valley School, Kelly focused on alpine ski racing. Kelly's time at the school also saw her head the soccer and lacrosse teams. Golf, ice skating on a pond behind her home, water skiing on Lake Champlain and surfing also ignited her passion for sport. With a growing reputation as an elite athlete, her world centered on alpine ski racing, according to the foundation's website.
By the age of seven, Kelly's moniker was "Tiger" for her "hard- charging, confident ski racing style," according to the agency's website. As she matured, Kelly climbed the national rankings ladder. She shone in events such as downhill and Super G, considered speed events, qualifying to race in the U.S. National Championships during her junior and senior high school years. Her prowess on the course led to a lion's share of attention from college ski programs.
Selecting Middlebury College, Kelly achieved success on the ski slopes, but an accident during the February 2006 Williams College Carnival ended her dreams. Kelly's accident occurred after she came over a knoll and caught an edge on an icy patch. She battled to remain on the course, but her ski edge caught, going off the trail. She struck a lift tower and suffered severe injuries, including a spinal cord injury at the T 7-8 level. She also fractured four ribs, broke a vertebra in her neck and collapsed a lung. Kelly underwent 10 hours of immediate surgery to re-align and stabilize her spine at the Berkshire Medical Center.
Kelly returned to Middlebury College in fall 2006 after more than three months in hospitals. She also spent time getting used to a wheelchair. Despite her injury, she retained her active role on the College ski team. She mastered skiing on a monoski, or a single, wide ski.
The Foundation website notes that Kelly graduated on time from Middlebury College in spring 2008—despite missing a semester due to her injury—to a standing ovation, bringing the graduation ceremony to a halt. Since that time Kelly has been honored with a bevy of awards, including the NCAA Inspiration Award. She also worked for ESPN for a year after graduation before moving to Boston to attend nursing school.
She now works as a Pediatric Nurse Practitioner and is intimately involved with the Kelly Brush Foundation. She is committed to an array of sports, including skiing, biking, golf, tennis and, when able, surfing. In April 2016 Kelly and her husband, Zeke, welcomed their daughter, Dylan; nearly three years later, the couple had their second daughter, Nell. A photo of Kelly and the two adorn the website.