Redhawks over Seahorses for men's tennis state championship
Going down to the final match at Burlington's Leddy Park on Saturday, with the championship still not in hand, it took floodlights and a singles victory by CVU's Ben Sampson to ensure the state title. His win required a ten-point match-breaker in the third set to give the sixth-ranked Redhawks an upset of top-ranked BHS. Two of Ben's singles teammates joined him in match wins- number two player, Charlie Mjaanes, and number four, Henry Bijur.
Aiden Greer and Cooper Whalen won their doubles match that was needed to ensure the team title.
Despite a year off, CVU baseball takes state championship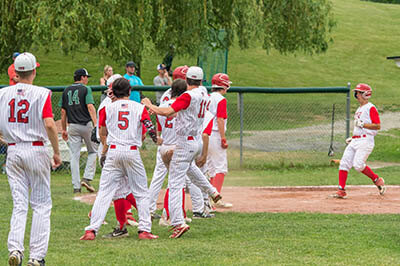 One may call it a back-to-back championship. However, due to the pandemic, the 2020 season was cancelled, so the Redhawks had to wait a year to earn their next title. Apparently the wait paid off as the top-ranked Hawks exploded with seven hits and seven runs in the first inning against number-three ranked Brattleboro at Centennial Field. On the mound, Oliver Pudvar struck out 18 Colonels, holding them without a run, while 18 Redhawks crossed the plate for a 18-0 victory. Despite the year's pause, it was the second straight D-1 championship for CVU. The Hawks have five state baseball titles in the sport's history there.
CVU men's lacrosse wins its eighth straight state title
It did not come easily for the Redhawk men's lacrosse squad in the state championship LAX game against Burr & Burton. Down by four goals in the third quarter, CVU rallied in the final period to win by a single goal, 8-7, and clinch their eighth straight state championship. Alex Leonard's two fourth-quarter goals coupled with Shane Gorman's game winner (his third of the contest) proved the difference. The Redhawks ended the season with only a single loss against 17 wins.
Men's lacrosse joins baseball and men's tennis as Division 1 Vermont state champions, quite a feat for a school that once coined itself "soccer central."