If you yearn for more outdoor art (after visiting Lemon Fair and Cold Hollow Sculpture Parks), venture down the road to Shelburne Museum or consider a road trip to Saint-Gaudens National Historic Park, in Cornish, New Hampshire. Nature is the canvas at Marsh-Billings-Rockefeller National Historic Park, Vermont's one and only, in Woodstock.
Saint-Gaudens National Historic Park,
Cornish, NH
Born in Ireland in 1848 and immigrating in his youth to the United States, sculptor Augustus Saint-Gaudens grew up in New York City. While apprenticed to a cameo cutter, Saint-Gaudens studied at night at both Cooper Union and the National Academy of Art. In 1867, at the age of 19, Saint-Gaudens was admitted to the Ecole des Beaux-Arts, one of the first Americans to study sculpture in Paris.
Saint-Gaudens created more than 150 works of art, including a number that are familiar to many Americans. His General William Tecumseh Sherman Memorial towers above the edge of New York's Central Park while the bronze high relief Shaw Memorial sits at the edge of Boston Common. Colonel Robert Gould Shaw, on horseback, leads a regiment of African American troops to fight for the North in the Civil War. Perhaps Saint-Gaudens' most famous work is the 12-foot-tall Standing Lincoln in Chicago's Lincoln Park. The sculptor died at his home in Cornish in 1907.
Over 100 works are exhibited in the galleries and on the grounds at Saint-Gaudens National Historical Park. Because of COVID-19 restrictions, the artist's home and its galleries are closed. The grounds and studio are open. The gardens feature copies of several of the artist's most famous sculptures and walking trails are also accessible. For current information call (603) 675-2175.
Shelburne Museum
Featured in the book "1,000 Places to See Before You Die," Shelburne Museum is our neighbor. After being unable to score a reservation last year, I recently spent an afternoon re-connecting with old friends, the clutch of masterpieces by Claude Monet, Mary Cassatt and Manet in the Webb Memorial; the recently refurbished carousel, now protected from the elements beneath a wooden roof; coaches, carriages, decoys and the working blacksmith. I stopped in the print shop, smiled at children's toys—probably all colored with lead paint— and strolled through the original Shelburne railroad station. I roamed the decks of the Ticonderoga. Oh, what a joy to return!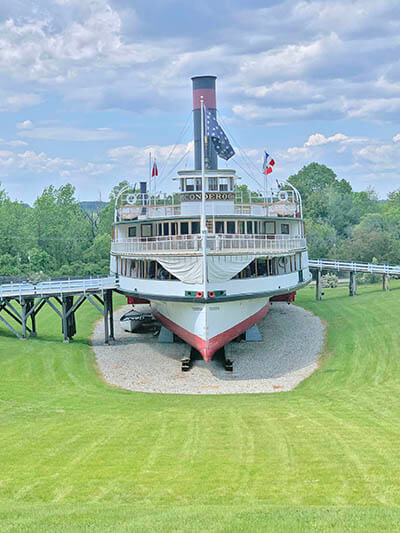 The museum is open Wednesday through Sunday from 10 until 4 until October 17, 2021. This year, preregistration is not required. Members can always visit for free, and there is a reduced rate for Vermont residents.
Outside of each building a sign indicates a capacity limit and reminds visitors that masks are required indoors and when riding the carousel. A number of exhibits will not open this year: Apothecary Shop, Hat & Fragrance Textile Gallery, Lighthouse, Owl Cottage Family Activity Center, Weaving Shop and the Stagecoach Inn.

Shuttles circulate on the gravel pathways and are limited to eight passengers. The Weathervane Café offers grab-and-go options and outdoor seating. Restrooms are open at several locations.
Marsh-Billings-Rockefeller National Historic Park,
Woodstock, VT
The origin story of Vermont's only national park begins with environmental destruction. Vermont was nearly totally forested when Europeans arrived in the 1700s, but within a century, industry, agriculture and general exploitation of the land resulted in a deforested and overgrazed landscape. Eroding topsoil diminished fertility of agricultural lands and devastated fish habitats. Into this world George Perkins Marsh was born in 1801, in what is now the national park.
A lawyer, congressman, linguist, naturalist and diplomat, Dartmouth-educated Marsh recognized the destruction that man had wrought upon the land. In his travels he also witnessed European land management plans designed to reverse the damage. In 1864 Marsh published Man and Nature, a book that earned him the title of Prophet of Conservation and laid the groundwork for the conservation movement of the 20th century. Marsh also inspired Arbor Day and establishment of the national forest service.
The writings of George Perkins Marsh had an enormous impact on fellow Vermonter Frederick Billings. A UVM graduate and lawyer, Billings went west where he made a fortune and grew to love the giant sequoias and dramatic landscapes. He advocated for the establishment of national parks in Yosemite, Yellowstone, Glacier and Mount Rainier.
Returning to Woodstock in 1861, Billings found his beloved hills and valleys eroded and denuded of soil, reminding him of the devastation he had seen in California's gold rush towns. He saw sheep farmers struggling against competitors from both western states and overseas. Billings realized that Vermont farmers needed new tools in order to survive.
In 1869, Billings bought the farm that had once belonged to the Marsh family and added more acreage as it became available. In an effort to demonstrate healthy land management, Billings worked to create a model farm and forest. He bought a herd of Jersey cows and planted trees to create a managed woodlot. In 1893, Billings Farm received top honors at the Chicago World's Fair. One generation later, Mary French, a great-granddaughter of Frederick Billings, married Laurence Rockefeller, and in the 1950s the couple inherited the property.
Rockefeller, a grandson of John D. Rockefeller, was an environmentalist, conservationist and philanthropist. His vision and generosity were central to the creation of many national parks, including Marsh-Billings-Rockefeller, which also includes Billings Farm and Museum. In 1991, President George H. W. Bush presented Laurence Rockefeller with the Congressional Gold Medal, "in recognition of his leadership on behalf of natural resource conservation and historic preservation." Today the park demonstrates that man and nature can coexist in harmony.