Redhawk Catherine Gilwee is Gatorade's Basketball Player of the Year
[vc_row][vc_column][vc_column_text]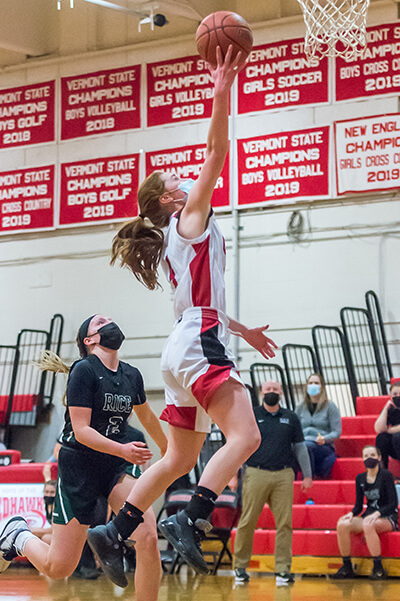 CVU senior Catherine Gilwee has been named the Vermont high school girls' basketball Player of the Year for the past season despite the fact that two state tournaments were called off due to the coronavirus. Catherine led CVU to a 9-0 season record, following 30 wins over the previous two years.
Basketball is not her only attribute. She has maintained a 4.22 grade point average in her academic work and has served on the school's Athletic Leadership Council, coached youth soccer and counseled voluntarily for a group devoted to "eliminating stigmas surrounding mental health issues." Catherine will be headed to UVM in the fall and looks forward to playing for the Cats basketball team.
Redhawk track teams capture Burlington meet
The D.G. Weaver Athletic Complex was the site of a track and field meet May 21. Both men's and women's teams from CVU won top honors, defeating seven other schools. The women led the top five ahead of U-32, Essex, Burlington and South Burlington. The men defeated the same institutions with the exception of Vergennes replacing South Burlington.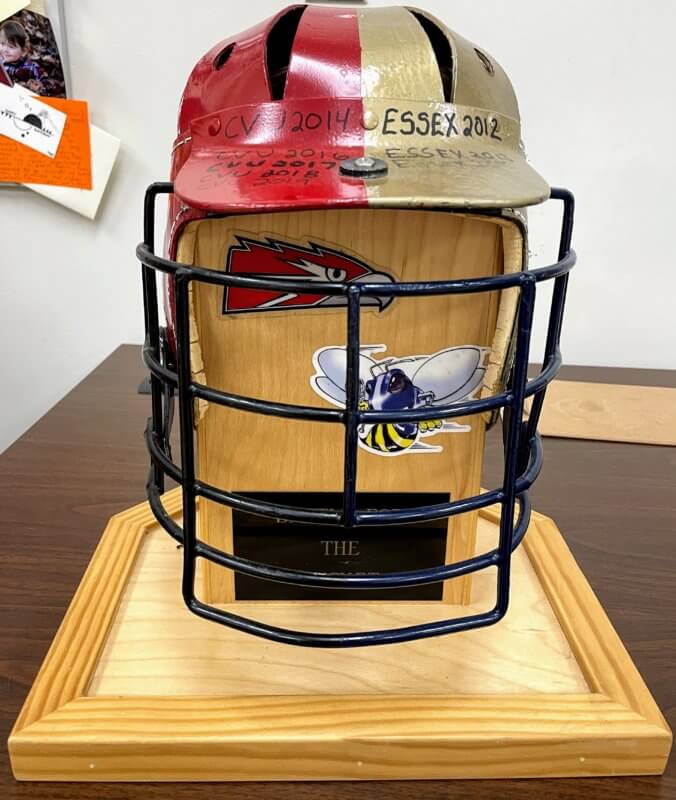 "Battle of the Bucket" goes to the Redhawks
The annual "Battle of the Bucket" between CVU and Essex men's lacrosse teams was fought in the middle of May, and the bucket stayed in CVU's display case. The game was the second of the season between these two long-term rivals. Both games went in CVU's favor, the second 10-8. In that contest Alex Leonard led the Redhawks with 5 goals and 2 assists followed by Colin Zouck's pair of goals and single tallies by Sean Gilliam, Nolan Shea and Shane Gorman. Goalie Jake Bowen was called upon for 7 saves.
First men's LAX loss at the hands of Woodstock
CVU men's LAX hosted visiting Woodstock, hoping to capitalize on the "Battle of the Bucket" and extend the Redhawk record to 13-0. Unfortunately for the Hawks it did not happen, as Woodstock topped CVU by 2 goals, 8-6. Although the loss was considered an upset over CVU who has won seven state Division 1 championships, Woodstock has only two losses on its record this season and a history of being one of the oldest lacrosse powers in Vermont.
The Redhawks got back on the victory path with a 7-6 win at Middlebury on Saturday. Shane Gorman, Sean Gilliam and Colin Zouck each had 2 goals, and Alex Leonard hit the game-winner in overtime.
Redhawks in the statewide tennis tournament
The state high school tennis tournament for individuals kicked off last week
with a number of CVU singles players and doubles partners getting a run at titles. Among the women, Lindsay Beer made it to the semifinals, winning two of three sets before losing in two. The women doubles pair, Tabitha Bastress and Addison Mauer, were defeated in the quarterfinals.
Among the men, the doubles team of Ben Sampson and Henry Bijur won their quarterfinal match before losing to a Stowe pair in two sets at the semifinal level.[/vc_column_text][vc_column_text]By Edd Merritt, Contributor
[/vc_column_text][/vc_column][/vc_row]