The art of fly fishing and the eloquence of teaching it
As the last vestiges of ice crunch and collide in the bays, the shoreline magically opens to reveal the detritus of a changing waterscape. If you listen closely you can hear the ice crystals brushing up against one another, creating a raspy tinkling sound. The water smells so clean, as if the frigid northern winds had scrubbed it over the winter. The frigid water awakens in my thoughts of Vermont's favorite past time, trout fishing. I dream of Opening Day on the shoreline of a swollen stream and of monster holdover rainbows and steelhead like those occasionally caught in Lewis Creek in Ferrisburgh. The ground is still a tamped down mosaic of last Autumn's brush and weed growth. The water is a turbid chocolate with a frosting of wavelets. My inner compass points to a friendship with one of Vermont's finest fly fisherman, bar none—Mark Wilde.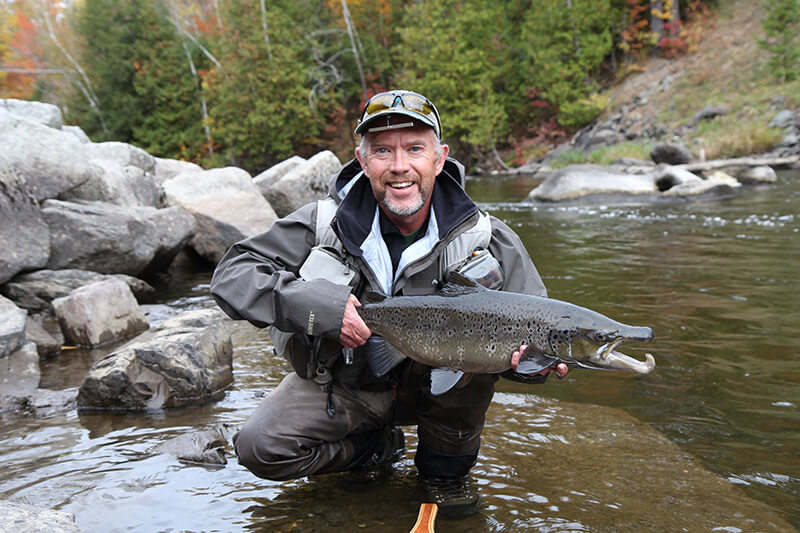 I first met Mark 15 years ago while teaching wild game culinary classes for Vermont Outdoor Women's "Doe Camp." I had heard of him from several well-respected fly fishermen who had sung his praises as a teacher and guide. Our friendship grew slowly over the years, and the more time I spent fishing with him the more I realized that this character, no matter how intensely concentrated he could be when presenting a fly, had a solid spiritual and artistic foundation.
For a few years I worked for L.L. Bean here in Burlington, running their Outdoor Discovery School, so when I was tasked with hiring fly casting instructors, I immediately thought of Mark. Mark had been a teacher in the Missisquoi Valley School District for over 30 years, while running Uncle Jammer's Guide Service for 23 of them. Mark was born in Rhode Island on a Naval base, and by the time he caught his first bluegill at 5 or 6 years old…well, there is no way to get around this pun, but he was hooked! At L.L. Bean I watched him teach newcomers and experts with such patience and empathy that I was dumbstruck. It is one thing to be a good fly fisherman, but many are those who are good at something but lack the humility and eloquence of teaching this sport.
It was during my tenure at L.L. Bean that I experienced the real-life equivalent of the scene in A River Runs Through It by Norman MacLean. The film depicted some of the most beautiful casting sequences ever filmed. There is a scene in which Paul MacLean, one of two brothers, is standing in a raging Blackfoot River in Montana and throwing these impossible long-distance casts to a fish on the opposite side of the rapids. The arc of the fly line is illuminated by the blue sky and fir trees on the far shore, when you realize that this is an individual who has not just perfected the art of casting but is, in this moment, at the apogee of Zen philosophy. He has risen beyond all he has learned and is now a perfect representation of the spiritual universe of the present.
A few summers ago, I witnessed this same level of perfection while watching Mark cast into a pool on the upper Connecticut River. I stood beside him and tried to emulate what I was witnessing. But it was not possible, for only one can stand on this pedestal at a time. He cast to fish that were below the surface of the riffles at the end of a long undulating current. His casts were pure, unadulterated poetry, raw with power and blessed with gentleness. I stood stunned, as each cast, one after another, hooked him into rainbows, browns and even brookies. I saw him hook, land and release at least ten fish in the golden light of a Vermont late afternoon.
And with each fish I saw him bring to hand, I saw him cast a gentle compassionate eye on each before releasing it. Tonight as I write this, his words still echo in my mind when I asked him, "Which fish is your favorite?" To which he answered, "The one on the end of my line." Mark tells me a story of a landlocked salmon he caught and lost on the Clyde River in Newport a few years ago. His description of the ten-minute battle, with vertical leaps and blistering runs, held me in rapt attention. We always seem to remember the "one that got away," but Mark is humble enough to have loved the fight and accepts the loss with all the grace of a Tibetan monk.
So, when this Opening Day rolls around on the second Saturday in April, I hope to be standing somewhere near Mr. Wilde and hoping that some of that magical fishing dust forms a halo around me, and, once again, I can experience the realm of being perfectly in the present. If you would like to share or learn about this most Zen-like sport, I would encourage you to visit Mark's website, unclejammers.com or fire off an email to him at [email protected].
Bradley Carleton is Executive Director of Sacred Hunter.org, a non-profit that seeks to educate the public on the spiritual connection of man to nature.