Tractor trailer accident on Route 7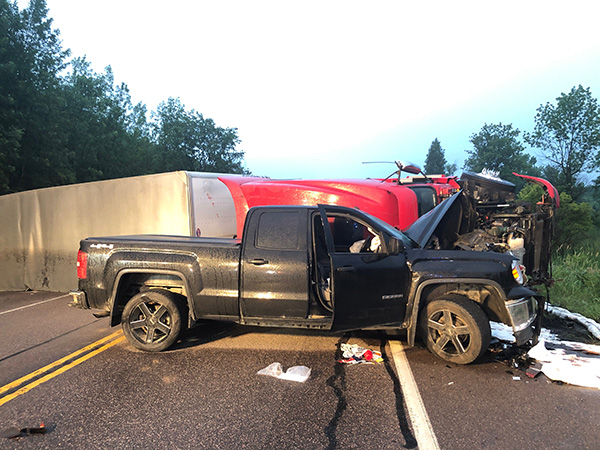 By Chea Waters Evans
Wednesday morning brought the second accident in two weeks at the intersection of Ferry Road, Church Hill Road, and Route 7. On July 1 at approximately 4 a.m. Vermont State Police, along with Shelburne Police and Charlotte Volunteer Fire and Rescue, responded to a report of a two-vehicle collision. A tractor trailer rolled over in the crash, blocking the road for several hours.
VSP wrote in a press release, "Troopers spoke to involved parties and learned the operator of the tractor trailer had fallen asleep while driving northbound on Rt. 7. This caused him to drift off the right-hand shoulder of the roadway. [His] attempt to correct the path of his truck caused the vehicle to overturn and slide into an approaching passenger truck, which was traveling south on Route 7."
The operator of the passenger truck and his passenger were transported to the University of Vermont Medical Center in Burlington to be treated for minor injuries. Crews worked to safely remove the vehicles and the roadway was reopened at around 9 a.m.