CVU seniors make the best of it
By Chea Waters Evans
With an indoor venue off the table and a global pandemic touching even the farthest corners of Vermont, Champlain Valley Union High School's Class of 2020 had a graduation that was non-traditional and unexpected. Instead of the excited din inside the Patrick Gym at the University of Vermont, where the ceremony is usually held, students called to each other from the sun roofs of their family's cars, gathered in small groups for photos like it was a masked tailgate party, and found celebration in the sunny day.

On June 12, the ceremony was held at the Champlain Valley Expo, where a large stage and a big screen set up at the front of a field of cars was half reminiscent of a drive-in movie, half reminiscent of an outdoor concert. Streamed live over the RETN network so grandparents and friends could catch a glimpse from all over the country, the ceremony featured the usual pomp and circumstance and a diploma handoff that was socially distant but warm at heart.
College and other fall plans may not look the same for these students, but from the looks of their faces last Friday, they're starting their post-high school lives with flexibility and good cheer.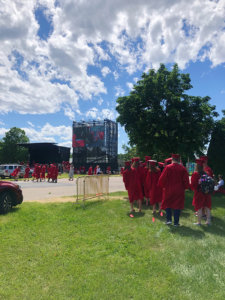 Charlotte CVU graduates
Maryn Askew, Quinn Boardman, Kayla Carroll, Joshua Clark, Nani Clemmons, Isabel Cohen, Claire Delaney, Aydan Forando, Olivia Hagios, Jane Hardy, Michael Hayes, Wyatt Hella, Sadie Holmes, Peter Hyams, McLain Jipner, Sophia Kehr, Annaliese Kramer, Kayley Lambert, Isabell Lawyer, Ben Leonard, Gus Lunde, Anna McGrade, Duncan McGrade, Aaron McNally, Lily Menk, Isabelle Mittelstadt, Ethan Naylor, Binney Patton, Nikolai Pughe, Alden Randall, Stuart Robinson, Wiley Simard, Jules Sprigg, Tate Therrien, Benjamin Vincent, Ben Wetzell, Eden Wright, Jasper Wygmans, Sam Zinner.
Photos by Greta Hagios.