Review of East Charlotte Village plan and Act 143 continue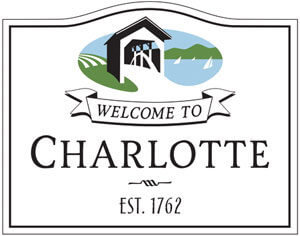 The January 2 Planning Commission meeting moved the vote on the next steps for East Charlotte village incrementally closer. The commission largely agreed on the proposed village commercial boundaries as presented by Vice Chair Charlie Pughe in an updated map. Members discussed adjusting the boundary line on Hinesburg Road to the middle of the right of way, similar to the proposed boundary line on Spear Street. Member Marty Illick preferred the consistency, "in terms of planning for utilities in the future."
The commission also discussed potential changes to residential density in the commercial village, largely agreeing on one-acre lots instead of the current five-acre lot size. Member Gerald Bouchard expressed concern about the proposed size, saying, "One acre isn't enough acreage to do both a well and septic on the lot." Chair Peter Joslin responded that he hoped septic would come from outside the village commercial district and that "resources will ultimately dictate what development happens."
Illick said, "The reason for reducing the lot size requirement is to make more affordable-home potential. In the last 20 years we have not succeeded in achieving affordable homes. It's not the only reason, but one of the reasons. We need to be strategic."
The last topic, changes to Charlotte's land-use regulations allowing utilities to be placed under roads to promote growth in the East Charlotte Village, dovetailed into additional proposed changes to the regulations as related to Act 143. Town Planner Daryl Arminius presented a "red line" draft that included updates to the glossary and to section 3.12. The updates included revised performance standards specifically applied to accessory on-farm businesses to address topics such as noise and traffic.
Pughe said, "By right you can have an accessory on-farm business …. But in Charlotte we are saying you have to comply with this set of performance standards."
Wrapping up the discussion, Joslin asked the commission to consider approaching the changes as three sets of proposed amendments to the town land use regulations.
Other business
No updates were provided on the scheduled discussion of the update of the 1997 "Recommended Standards for Developments and Homes" (road and driveway standards) or village center designation. Both were on the December 19 agenda as well.
The December 19 Planning Commission meeting also included a sketch plan review (for possible site plan review) for Gemini Properties, LLC. Applicant Debra Kassabian and construction project manager Steve Smith presented three proposed ideas for reconfiguring the original parking lot design of 20 parking spots and one ADA parking spot for Charlotte Crossings. Kassabian said the current design necessitated installing a temporary 75-foot ramp in front of the building for access to the front entrance, located on the southeast side of the building.
After the discussion, Joslin noted the new parking lot design would need to go through another site plan review because of the proposed changes to lighting, parking and landscaping. Kassabian replied, "We really need to open this building in January" and asked, "Do we just go by what's approved today? We're ready." Joslin responded, "Schedule a site plan as quickly as you can." The commission then closed sketch plan review for PC-19-214-SK.