Teens and vaping: CVU is part of a national crisis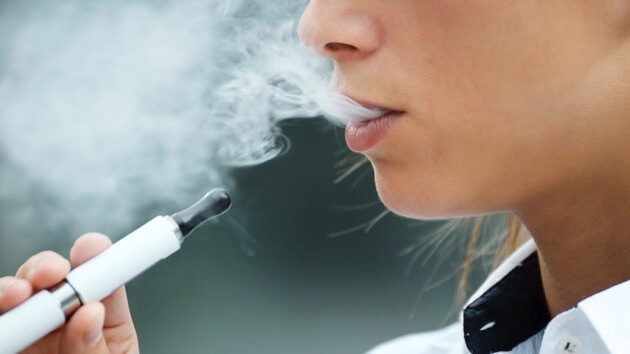 The Juul nicotine vaporizer seems innocuous enough: It looks like a USB thumb drive, it's small enough to hide in your hand, and when a user blows the vaporized nicotine out of his lungs, it can have the smell of candy or mint. It's far from harmless, though. In recent weeks and around the country, teens have been reported as suffering from serious lung issues, and Champlain Valley Union High School (CVU) students are just as current with this national trend as they are with Vans sneakers and Supreme T-shirts.
The Vermont Department of Health announced Monday that the first case of vaping-related illness was confirmed in Vermont and that five other cases are under investigation. The message on their web site is clear: "Until we know more about the cause of these illnesses, do not vape, dab or use e-cigarette products."
Symptoms of the illness include cough, shortness of breath, chest pain, nausea, vomiting, diarrhea, fatigue, fever and weight loss. The illness can progress over the course of only days, or it can take weeks.
The Juul website says on the home page, in bold capital letters, "We don't want anyone who doesn't smoke, or already use nicotine, to use Juul products. We certainly don't want youth using the product. It is bad for public health, and it is bad for our mission."
While this may be the case, certain other factors indicate that the opposite might be true. Juul, and other popular nicotine vaporizers like The Drop and Stig, have increased in popularity among young people over the last two years.
Each year, the Vermont Department of Health surveys middle and high school students across the state in a Vermont Youth Risk Behavior Study to assess behavior and track changes over time. The latest year data is available is from 2017. According to the Department of Health's web site, the YRBS for that year "shows that, on average, Vermont middle school and high school students are more likely to have tried electronic vapor products like e-cigarettes in 2017 compared to 2015, increasing from 7% to 9% for middle schoolers and from 30% to 34% for high schoolers."
CVU Principal Adam Bunting said this information came out well before he noticed a boom in e-cigarette usage at CVU, and he suspects that usage rates are much higher now. "It hit a peak about a year and a half ago," he said. "The challenge is that not only is vaping easily hid but it's prevalent across the student population."
It's everywhere
Tim Trevithick, the Student Assistance Program counselor at CVU, agrees. "I don't care what clique you're in, it tends to be everywhere," he said. "It's through all social groups, which is unique."
Teens are often under the impression that because there's no smoke involved, like there is with cigarettes, vaping is healthier than smoking. Headlines have increased in recent months, reporting young people with what The New York Times called a "mysterious lung illness." In stark contrast to the home page of Juul Labs, the U.S. Food & Drug Administration website home page is a large photo of vapor mist and the headline, "Lung Illnesses Associated with the use of Vaping Products."
Of particular danger are vaping products that contain THC—these pods are often purchased on the black market, and the contents are not regulated like they would be for legal cannabis products. They often contain vitamin E, which is harmful when inhaled directly into the lungs.
Though no cases of the lung illness have been reported in Vermont, the issue is very much on the minds of state lawmakers. A bill raising the purchase age of tobacco products from 18 to 21 took effect on Sept. 1, and Trevithick said he thought this change will significantly reduce teen vapers. "We had 18-year-olds, on senior privilege, go down to the Jiffy Mart and buy pods for kids. There was big distribution around accessing Juuls…seniors would buy a lot of Juul pods and sell them to freshmen and 10th graders."
Stig, The Drop and Juul pods come in flavors like Lush Ice and Mango Bomb, and because they are small and fit in a hand or pocket easily, students can also easily conceal them from parents and adults at school. Trevithick said students vape not only in the bathrooms at school but in the hallways and on school buses.
Stig's website claims, "The STIG is easy to pocket and take anywhere you go, so you can enjoy your active lifestyle and keep discovering your inspiration all day long with STIG!" The Drop comes in colors like Slime Green and Super Stealth Black, and its website says, "After your buddies receive a peek at the brand new teardrop shape, you can be certain that they will want to give it a try for themselves. And they won't be disappointed."
Communication is key for parents who are worried that their tweens and teens will be or already are vaping. Trevithick said, "I'm a big believer of having an open dialogue, presenting information, and letting them process. The thing parents need to get away from is judgment, judgment, judgment."
He also said to listen and make sure "students are getting talked to, instead of talked at, and are part of the conversation, and have the option to opt out of the conversation."
School policy and consequences
The consequence at school for students caught vaping is the same as the smoking policy. "You're sent home for the day, you have to basically start smoking-cessation work, and it's a fine from the police." The CVU Handbook outlines it as such:
"Any student found in possession of any tobacco or e-cigarette product will be considered in the same manner as those actually found in the process of using. Vermont State law requires the school to report underage smoking violations to The Vermont Department of Motor Vehicles. The DMV will charge violators a fine for the first offense. The fine increases for subsequent offenses.
"Consequences: Determined by the administrator (example: loss of unscheduled time, sent home) and includes a referral to the SAP counselor. Repeated offenses may result in suspension and a parent/guardian meeting. Students caught distributing tobacco or e-cigarette products will be suspended up to three (3) days. Repeated distribution may be cause for a suspension of up to 10 days."
"It's not the culture we want here," Bunting said he told students at a kickoff assembly for the new school year. He also pointed out to students that whatever addiction and financial hardship they experience because of a vaping habit goes directly to corporations. "The kids were surprised because I said, 'What pisses me off is that someone is walking you toward addiction and walking you toward other health consequences,'" he said.