Planning Commission moves joint meeting, makes boundary adjustments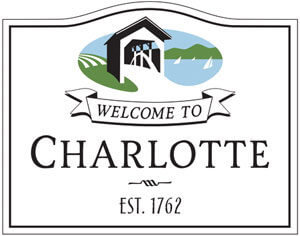 The August 22 Planning Commission meeting continued discussion on the East Charlotte Village boundaries and included closed hearings on a boundary adjustment and two-lot major subdivision.
The commission heard from landowners Rod Stearns and Donna Stearns regarding a two-lot major subdivision of their 57.90 acre property located at 7427 Spear Street. The applicants addressed conditions identified during the previous hearing in February, including obtaining a highway access permit for the curb cut, adjusting the boundary line on Lot 9 to meet setback requirements and the status of the wastewater permit. According to the Findings of Fact and Decision letter issued in July, the 9-lot subdivision and planning residential development was created in 2002. Lot 9 includes 40.34 acres of open space and lot 12 contains a single family home. The commission voted to close the hearing for PC-19-128-SD Stearns with five ayes and one abstention from Planning Commission member James Faulkner.
Next, the commission heard from Wade Weathers and David Garrent regarding three boundary adjustments for a two-lot property located at 1277 Thompson's Point Road. According to draft meeting minutes, the adjustments included changing boundary lines to "fix an encroachment of a barn, and to adjust a boundary line to give more land to the Crockenberg lot and a slice of land to the Eastman lot." According to the sketch plan review letter issued in May the adjustments would not only to create a logical shape to the lots, it would exchange 0.77 acres for 0.54 acres on the Richard P. Eastman lot and adjust a "sliver area" owned by Garrent to the V.A and S.C. Crockenberg lot. In addition to the boundary adjustments, the applicants responded that the recent wastewater application was approved for both lots (septic for 10 bedrooms) and the existing septic area for 7 bedrooms would be void. The commission unanimously voted to close the hearing for PC-19-130-BA Garrett-Weathers.
In other business, an agenda item for a joint discussion between the Selectboard and the Planning Commision regarding Act 143 and Charlotte Land Use Regulations was moved to September 5and Vice Chair Charlie Pughe gave an update on the East Charlotte Village (ECV) Zoning District boundaries.