Francesca Blanchard wins a contest to remember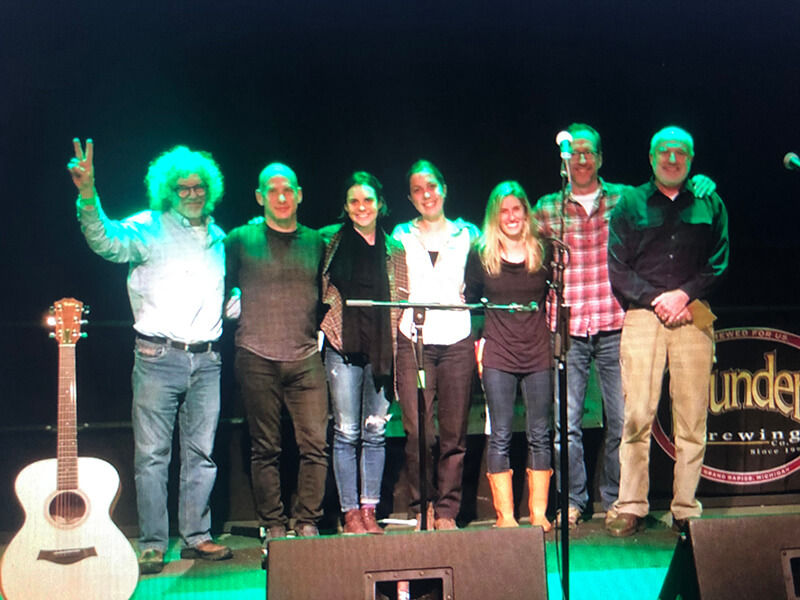 A line of live music seekers made their way into the dimly lit room at Higher Ground on Oct. 30 to hear a collection of local singer-songwriters. The Advance Music Singer Songwriter Contest was presented by The Point Radio Network and Founders Brewing. The owners of Advance Music Center, Mike Trombly and Jeff Wheel, have supported musicians in the contest for 20 years.
This year's winner was Francesca Blanchard, who grew up in Charlotte. Francesca won a $500 cash prize from the Rachel Bissex White Light Fund, two days of studio time at Meadowlark Studio in Williston, and a Taylor guitar from Advance Music. Andrew James, from Citizen Bare, was the lucky crowd winner of a Washburn guitar. 
Blanchard silenced listeners with her intimate and delicate melodies. Her soulful voice and poignant lyrics transported the crowd to another time. Blanchard is no newbie to performing and composing music. The French-American singer-songwriter has released an album, EP and popular singles, such as "Free," which was featured on Grey's Anatomy. She was also selected Best Vocalist in 2015 by Seven Days. 
Fifteen performers earned their spotlight on the stage after competing in a round of semifinals held at the Monkey House in Winooski, Club Metronome in Burlington and The Old Post in South Burlington. This year proved a tight competition for the finalists. The judges evaluated performances on a confluence of criteria: overall feel, instrumental talent, songwriting talent, lyrical effect, voice, and stage presence.  The judges included Carrie Henry from The Point, Karl Bissex from the White Light Fund, Steve Hartmann, a previous winner of the competition, Yasmin Tayeby from Meadowlark Studios and me (Julia Beerworth). 

Paige Thibault, a senior at Champlain Valley Union High School, graciously opened the show and set the bar high for her fellow musicians. She walked on stage with poise and confidence and delivered a strong set of original tunes on her piano. Her last song, laced with jazzy overtones, told a tale of female empowerment and was met with loud applause. Thibault tied for third place with Lucy Chapin. Chapin, also a midwife, has an angelic voice and showered fans with a set of powerful songs. Rick Cusick from Charlotte placed second in the contest. He was recently featured on the Local Music Spotlight with Carrie Henry. 
The night ended with music by contestant Chad Conant from Vergennes. This indie-folk artist showcased a solid set of tunes. His influences include the Avett Brothers and Gregory Isakov. He opened and closed his set with a banjo, dedicating his last tune to his wife, Amy. 
With bellies full of Founders and ears steeped in new music, people seemed overwhelmingly satisfied with the 20th annual singer songwriter competition. Congratulations to all the winners. It was a contest to remember.