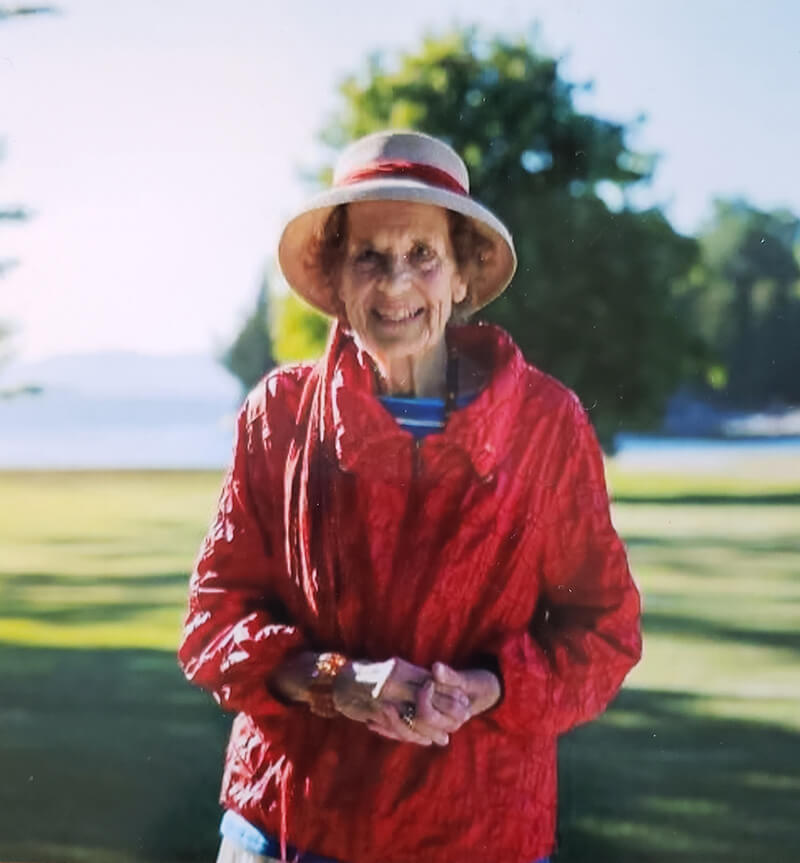 In 1947, at the age of 17, Alice traveled to France with the Experiment in International Living on the S.S. Marine Tiger, a converted troop ship from WWII. She spent the summer as a counselor in southern France at a camp for boys whose fathers had been killed. Their assignment was to bring the boys back to health. The next year, she spent a summer hiking in Swedish Lapland and leading a climbing group near Annecy, France.
She was the fifth of six children born to Alice Hooker and Sidney Wetmore Davidson in Brooklyn Heights, New York. She graduated from Packer Collegiate Institute and then Vassar College. Later she received her M.A. from the University of Vermont and finally, at the age of 60, her Ph.D. in counseling psychology from Union Institute.
After Vassar, she spent over a year at the International Monetary Fund in Washington, D.C. While there, she met and married a dashing mechanical engineer, Dr. John O. Outwater Jr., a Cambridge University graduate with many interests. He had been brought up in wartime England and served in the British Indian Army. During most of their life together, he was a professor and conducted research with UVM in the Department of Mechanical Engineering. 
Alice and John lived on Overlake Park, in Burlington, Vermont, for nearly 50 years, and they summered on Thompson's Point, Charlotte, in a 100+ year-old-camp on Lake Champlain. 
After having four children, she got her M.Ed. and joined the Counseling and Testing Center at UVM; after she earned her Ph.D. she opened her own practice specializing in marriage and family counseling. She taught nurses up and down the state before the era of the internet, as well as at the Plattsburg Air Force base. Any new experience interested her.
Community involvement was important to both John and Alice. They helped start Overlake Day School and were instrumental in starting the Mozart Festival, whose concerts continued for 35 years, often attended by 2,000 on the lawn of Shelburne Farms. Through the decades, they hosted many receptions at their gracious home.
She especially enjoyed encouraging, starting and helping new enterprises, most recently The Charlotte News, for which she wrote a monthly column on aging to encourage elders to get out, find new interests and keep trekking.
She was a member of the Chilton Club in Boston. She was active to the end in her beloved Vassar College where she served on class committees, valued her classmates and kept in touch with a wide array of them. Her recent energies were spent at the Shelburne Museum and the Inn at Shelburne Farms with their many extraordinary programs. 
She wrote two books: 82 Remsen Street, Growing up in Brooklyn Heights and Remsen Street Revisited depicting her early life in the large double brownstone with live-in help. Her enthusiasm and interest in other people's stories fascinated her. Her aging energies could not encompass all she wished to do.
She felt immense gratitude for her educational opportunities, worldwide travel, a beloved husband, and supportive children and friends. Her children and grandchildren living all over the world kept in close touch with her, leading interesting lives themselves and constantly amazing her.
She loved living during this remarkable time in history, and given good health would like to have hung around much longer.
She was predeceased by her husband, Professor John Ogden Outwater Jr., her parents, and four of her five siblings. She has left behind her sister, Louise Davidson Heynemann, and brother-in-law, Prof. Donald Heynemann. She has left four children: Anne Hooker Outwater of Dar es Salaam, Tanzania; Catherine Boe Colby of West Covina, California; Alice Brookfield Outwater and Robert Brennan Lang of Ignacio, Colorado; and John Ogden Outwater and Eileen Lang Outwater of Boston, Massachusetts. She has left three grandchildren: Samuel Outwater Lang, Arthur Boe Colby and John Jacob Outwater, as well as beloved nieces and nephews.
To honor her rich and varied life, a memorial service will be held at 3 p.m. on Saturday, Nov. 17, 2018, at All Souls Interfaith Gathering Center on 291 Bostwick Farm Road in Shelburne. A reception with light refreshments will follow.
Anybody who would like to make a memorial contribution may consider supporting the Vermont Center for Ecostudies (P.O. Box 420, Norwich, VT 05055), or Alice's Rejuvenation Fund, which has been reviving the ecosystem of coastal East Africa (P.O. Box 105211, Msasani, Dar es Salaam, Tanzania).