Sports Report – Oct. 31, 2018
Redhawk runners hit the trail at Thetford Academy
The oldest independent school in the state, just over the Connecticut River from New Hampshire, was the site of this year's Vermont State cross-country championship. As expected, the CVU women hit the slopes of the Academy's 5-kilometer trail in top stride, with the top three individual finishers being sophomore Alice Larson, followed by senior Ella Whitman and freshman Chloe Silverman, leading the Hawk pack to its 10th Division I title in a row and its 15th in the last 16 years. All seven CVU runners finished among the top 10 with Sadie Holmes sixth, Cate Noel seventh, Alicia Veronneau ninth and Jasmine Nails 10th. Their team score of 19 was the lowest ever. (In cross-country lower is better.) Coach Scott Bliss, who has led the team through all 15 titles, was quoted in the Free Press, "For them to perform at their best today—this is what we have practiced for all season. It's a pretty good feeling."
The Redhawk men placed fifth among 11 schools, with Essex winning the team title and a Hornet runner the top individual finisher.
By the way, both of CVU's top two women runners have been voted "Athletes of the Week" in the Burlington Free Press, Alice Larson for the week of August 30 through September 8, and now Ella Whitman for the week of October 14 through 20. She was noted for winning the Northern Vermont Athletic Conference (NVAC) title in Swanton on that Saturday.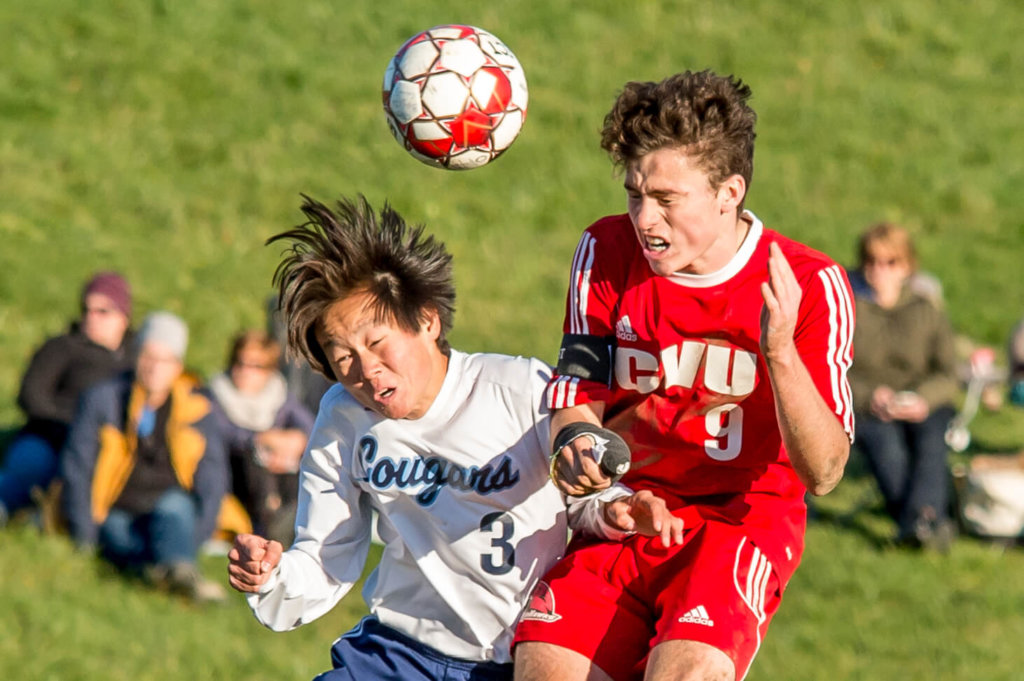 Men's and women's soccer move on to semis
Although CVU waited to score until midway through the second period, it was enough for the top-seeded men to hold off 8th-ranked Mount Mansfield, 1-0. Jack Sinopoli gathered in a high boot in the MMU box and hit a rushing Jami Lashua who placed his kick in the far corner. Again, the Hawks kept the majority of play in midfield, as goalie Aidan Johnson was called on for only two saves.

The defending state titlelist women topped their 8th-ranked quarterfinal opponent from Burlington High, 5-0. Leading 2-0 at halftime, the Hawks moved on in the second stanza to ensure the shutout. As they have all season, the scoring was spread among forwards and midfielders: this time, five of them. Josie Pecor led matters with a goal and an assist. Lilly Cazayoux, Catherine Gilwee, Sara Kelly and Madi Hubbard also scored. Sydney Jimmo assisted twice, and Maryn Askew made four saves.
Field hockey falls from the race
CVU field hockey dropped a quarterfinal match to Bellows Falls by a score of 3-1 last Friday. Ranked first in the state, this was the 51st straight win for the Terriers. Caroline Reynolds scored the 8th-ranked Redhawks lone goal with an assist from Hailey Chase, while goalie Kristy Carlson was called upon for 13 saves.
The Hawks reached the quarterfinals by winning a playdown over number nine Mount Mansfield 2-1 on Oct. 23.
Football season ends
October 19 saw Redhawk football end its season with a 27-7 loss to Middlebury on the Tigers' home field. Quentin Hopwood led the Hawks offense with 10 carries for a total gain of 84 yards, including a 49-yard run for CVU's lone TD.