Around Town: Oct. 31, 2018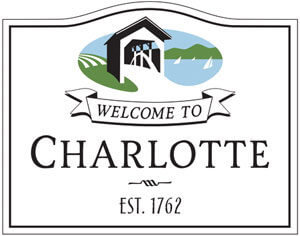 Congratulations to the the following students from Charlotte Central School who were selected to represent CCS in the District III Jazz Festival: Taylor Marchand, Marlie Cartwright, Jadin Brown, Hadley Stockwell, Owen Deale, Charlie Taylor, Estelle Emmons, Kate Kogut, Gretchen Kramer, Ella Lisle, Cessie Forero, Morgan Keach, Claire Sigmon. They will perform Friday, Nov. 9, at Brown's River Middle School in Jericho at 7:00 p.m. along with students from nine other schools and a guest conductor.
Congratulations to CCS student Nina Cusick who plays Mary, one of the orphans in the Lyric Theatre Company presentation of Annie, the Musical at the Flynn Theatre's Main Stage on Nov. 8–11. It begins at 7:30 p.m. on Thursday, Friday and Saturday, with 1 p.m. performances on Saturday and Sunday plus a 6 p.m. show on Sunday. Annie and her lovable dog, Sandy, find a "forever home" in the course of the show.
Congratulations to Annika Gruber whose poem titled "Onward" was featured in the Burlington Free Press "Young Writers Project" on Oct. 19. Annika responded to the challenge of "transition," be it fall foliage or human nature. She chose the latter, writing about where one stands now can make you "stronger than you think" compared to the person you're trying to forget. She urges the reader not to look back.
Congratulations to the cast of the CVU production of the musical Legally Blonde. The play was featured in the Vermont Section of the Burlington Free Press on Oct. 17. Charlotte's Schuyler Edgar-Holmes is one of the featured law students in the play. The show was performed Oct. 26, 27 and 28.
Congratulations to Joseph Lasek, M.D. of Charlotte who was recently appointed co-president of the Vermont Psychiatric Association. He is also the Howard Center's medical director of adult services and a clinical assistant professor at the University of Vermont Medical Center's Department of Psychiatry as well as Southern New Hampshire University's graduate program in clinical mental health counseling. His career has extended to work in many mental-health settings, including corrections facilities and inpatient psychiatric units.
Sympathy is extended to family and friends of Craig Stephen Sim of Charlotte who passed away Oct. 25 at the age of 76. Sim served in the Marine Corps active reserves in the mid 1960s and was wounded in Vietnam. He received the Bronze Star and Purple Heart. After his discharge he established a successful career in investment banking on New York's Wall Street, during which time he and his wife, Susan, purchased a house on Wings Point, Charlotte, where both became active in the community. Craig served as a trustee of the Vermont Historical Society, the Lake Champlain Maritime Museum and the Shelburne Museum. His surviving family includes his wife, Susan, son, Brandon, and daughter, Stephanie, plus their spouses and his grandchildren. The family asks that, in lieu of flowers, consider making contributions in his memory to the Semper Fi Fund, the Shelburne Museum or the University of Vermont Medical Center. A service of memorial will be held on Sat., Nov. 10, at 11 a.m. at the Charlotte Congregational Church.
Sympathy is extended to family and friends of Lynne Carston Matthews who passed away Oct. 17 at the age of 64. Her surviving family includes her sister Barbara Lawrence and Barbara's husband, Bud, plus her niece Tessa Lawrence and Tessa's husband, Tim Boesenberg, all of Charlotte. Remembrances may be sent to the Binter Center for Movement Disorders at the University of Vermont Medical Center.
Sympathy is extended to family and friends of William H. Pelkey of Charlotte, who passed away Oct. 15 at the age of 44. He owned and operated Pelkey's Blueberry Farm and was a partner in the Charlotte Village Winery. His surviving family includes his parents, William and Colleen Pelkey, and sister, Colleen Myers. A memorial service will be held Nov. 21 at 11 a.m. in the St. John Vianney Catholic Church, South Burlington.