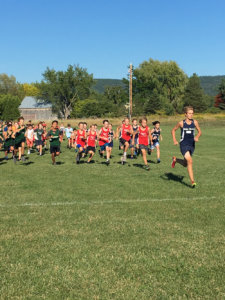 Redhawk cross country looking for 10 state titles in a row
While the Free Press seems often to focus on athletes other than cross-country runners, it might do well to take a glance at Coach Scott Bliss's minions as they travel around Vermont, New England and upstate New York. Earlier this month CVU traveled across the pond to Latham, New York, to face cross-country teams from eight upstate New York high schools. Both men and women finished very well, the women's varsity topping the field, the men's running second. Six CVU women placed among the top 25 individuals, with Redhawk medalist, sophomore Alice Larson, in first place followed closely by teammate senior Ella Whitman only 10 seconds behind her. Sadie Holmes in eighth, Chloe Andre in 13th, Cate Noel in 15th and Jasmine Nails in 22nd brought home the team victory.
Among Redhawk men, senior Jared Leonard landed in sixth place and sophomore Gavin Schaff in eighth; Skyler Heininger, Alec Mogielnicki and Jamie Williamson clustered in 15th, 16th and 17th places, with Caleb Nye 21st and Dylan Gooley 25th.
The previous week Larson won the Essex Invitational, running in course-record time of 18 minutes, 54.3 seconds for five kilometers. These feats led her to be named Vermont Varsity Insider Athlete of the Week over four other women, including her CVU colleague, another sophomore, soccer player Olivia Zubarik. 
It is also tee time
Hinesburg's Cedar Knoll golf course was the site of CVU men's golf against Essex and South Burlington a week ago. Led by medalist Nate Godbout's 39 for nine holes, the four Redhawks all came in lower than linksters from the other two schools.
Another Godbout, Elana, was among the low-score women on the Vermont National Course against seven other Chittenden County high schools. Elana and Courtney Vincent fell 10 shots behind the medallist from Saint Johnsbury Academy but lower than most individuals on the course.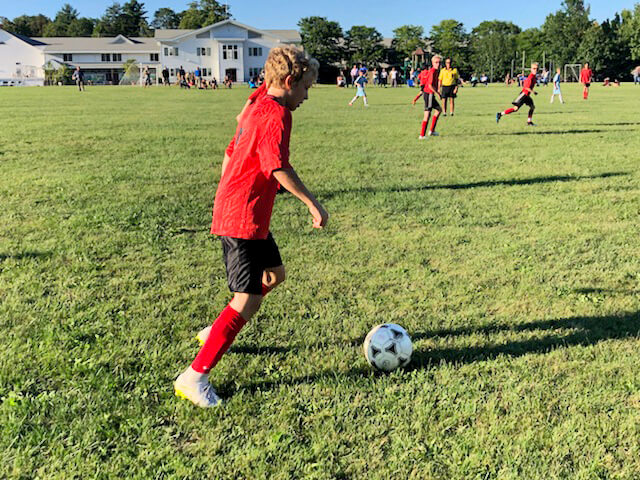 Jay Brady soccer kickoff goes to CVU men
Essex may have been the site, but the trophy went to the Redhawk men's soccer club. Sam Johnson had one of the goals in the opening 3 to 0 shutout of Rice, then followed up with a pair against Rutland in a second-game 4 to 0 shutout of Rutland. The two wins gave CVU the tournament over host Essex by goal differential. 
The following week CVU and Essex went head to head and proved their equality in both the score—0 to 0—and the shots on goal, as each net minder stopped three. A CVU header came close to being the winning tally, but the Redhawks were called off side.
Field hockey goes to Essex
Scoreless for a half, the Hornets came back in the second period with two goals to win it for the visitors, 2-0. Redhawk goalie Christie Carlson saved ten shots to the Essex goalie's two.
Redhawk soccer women keep fans on toes with two overtimes
Two overtime victories in three games and many fewer saves by CVU goalies than by their opponents must say something about what is a Redhawk trademark: strong defenders and controlled midfielders. It took a goal in the 99th minute, the only one in the game, for CVU to top Colchester recently and move its record to 3 and 0. Sarah Kelly scored with 60 seconds left in the second OT on a play that began with Sydney Jimmo's sliding pass to Olivia Zubarik who sent a low cross to Kelly who hit the net from close in.
Olivia earned her nomination for Athlete of the Week through her strong play-making against Colchester, following her two second-half goals that she scored in a previous win over South Burlington.
The Boffas can't do it all by themselves in football
Despite Charlotte sophomore Seth Boffa leading the Redhawk football backfield in rushing yards and touchdowns and his brother Cole serving in a leadership role as co-captain and a strong defender on the field, CVU has yet to enter the winning column this fall, losing to BFA and Rutland by fairly substantial margins. Then on Friday Essex pulled out a late-game win, scoring twice in the last one and a half minutes to top the Redhawks 22-8 despite Cole's sack of the Hornet QB.
Set it and spike it
Which is exactly what men and women did in their recent volleyball victories, both shutouts. The Redhawk men took the Hornets (Essex) 3-0 and the women put down the Green Knights of Rice by the same score.
CVU Mini-Metro basketball tryouts
The CVU gym will be the site of tryouts for 5th and 6th graders and 7th and 8th graders, both boys and girls, to play in the Mini-Metro Basketball League. Those who wish to attend should sign up in advance.
The tryout schedule is:
7-8 Boys:
Monday, Sept. 24, 7:00 p.m. to 8:30 p.m. and Wednesday, Sept. 26, 7:00 p.m. to 8:30 p.m.
7-8 Girls:
Saturday, Sept. 29, 2:00 p.m. to 4:00 p.m. and Saturday, Oct. 6, 9:00 a.m. to 11:00 a.m. 
5-6 Boys:
Monday, Oct .1, 7:30 p.m. to 9:00 p.m. and Wednesday, Oct. 3, 7:00 p.m. to 8:30 p.m.
5-6 Girls:
Tuesday, Oct. 2, 7:00 p.m. to 8:30 p.m. and Thursday, Oct. 4, 7:00 p.m. to 8:30 p.m.
Players must live in Charlotte, Hinesburg, St. George, Williston or Shelburne. For more information, you may also call Ute Otley at (802) 425-6549.