Festival of Fools, a long-running local tradition, has deep Charlotte roots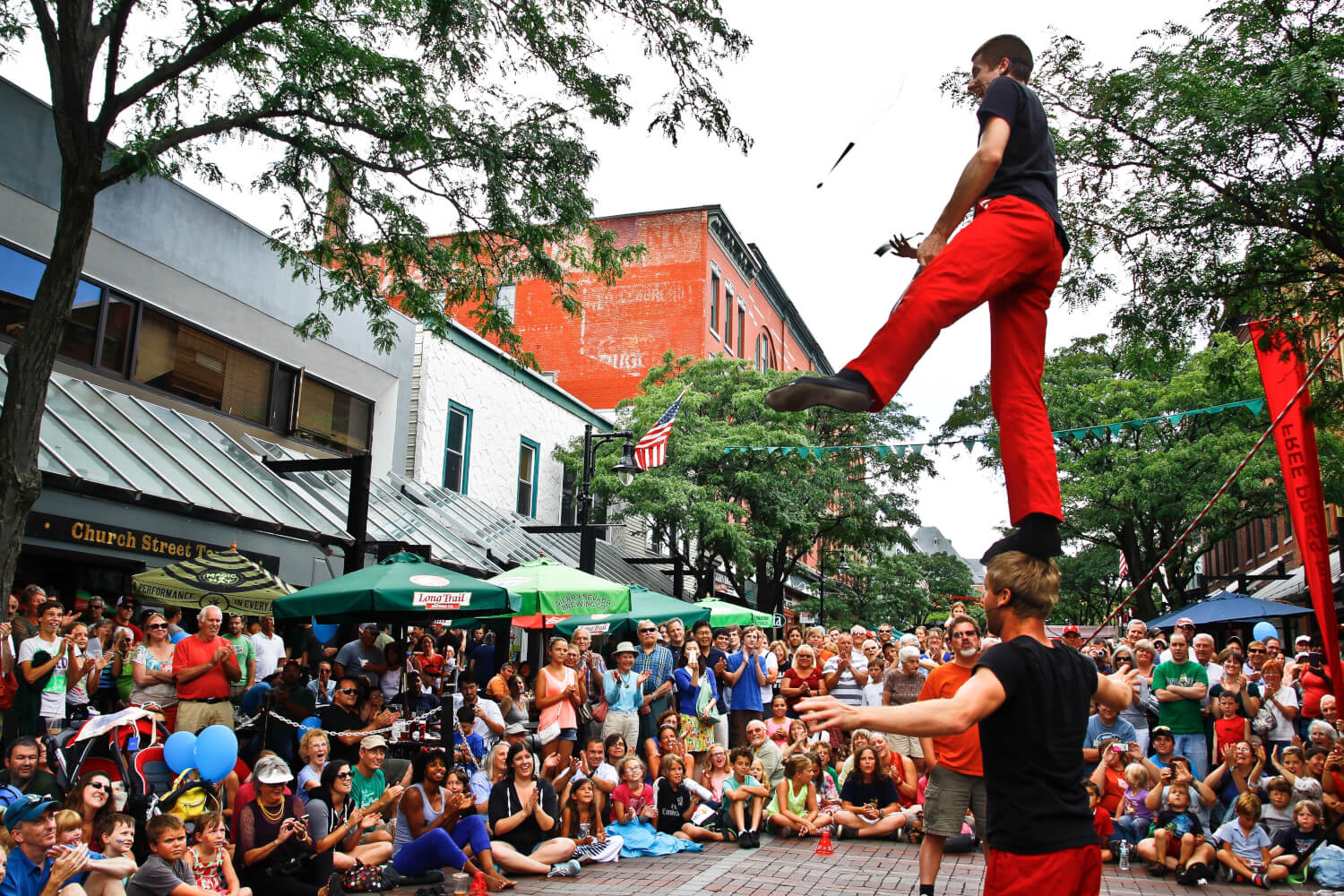 The Festival of Fools (FOF) is a celebration of street theater, music and circus arts all rolled into one magical weekend, August 3, 4 and 5, in downtown Burlington. Now in its 11th year, the Festival has showcased some of the most eye-catching circus and variety artists from around the world and can boast of being the best attended and longest running busking festival in the United States.  (Busking is a British term for playing for tips.)
The FOF was co-founded in 2007 by Charlotter Woody Keppel and Burlington City Arts, but the earliest seeds were planted some 20 years earlier when Woody and pals Paul Burke and Ron Labbe, performing together as "The Waldo-Woodhead Show," came through Burlington on their way to the Montreal Jazz Festival. "We did a kind of guerilla street show on Church Street and realized right away this was a busking-friendly town. Audiences were generous and I knew at once this would be a great place for a festival—and Vermont a great place to live," Keppel said.  
Though there wasn't really a local busking scene in town, the idea for a festival stayed with him, and after 20 years of performing in street-theater festivals around the world (and befriending his favorite acts), Keppel's vision for Burlington, the public's thirst for family-friendly comedy and BCA Executive Director Doreen Kraft's interest for a new city festival coincided perfectly.  
With Kraft and Keppel, the FOF has deep roots in Charlotte. In addition, Zach Williamson, BCA's events manager and the managing director of the Festival, was raised here, and Charlotte's Alex Lalli, co-owner of Signal Kitchen, cultivates the music aspects for the Festival. 
"It's been a collaborative effort with BCA from the start, and they produce a world class event," added Keppel. "We did a preview sort of trial run on a summer day in 2007, then launched the first FOF a year later."  Festival goers support the performers with their generous tips, and the city and corporate sponsors pay for the production cost of staging the weekend revelry, which includes providing lodging, meals and travel for dozens of international acts.
"All of us love putting on 'Fools.' We get to immerse ourselves in a weekend of laughter and music with a multicultural audience of young and old who have all come together to celebrate comedy and music. It's a good vibe, all around.I'm certain that during Fools weekend, we have more laughs and defining applause than any other place in the world. People need a reason to laugh, and we try to serve it up in big portions," said Keppel.
Last year it was estimated that more than 100,000 people attended the Festival of Fools over the weekend.  This year over 50 entertainers from the world of circus, comedy and music will do it all over again.  Highlights include contortionist and stuntman Alan Millar (aka Alakazam) from Australia, the Kif-Kif Sisters and trampoline greats FLIP École de Cirque from Quebec, world yo-yo champion and juggler John Higby (aka the Yo-Yo Show) from Boston, and funnyman Michael Trautman from Portland, Maine.  Music acts include What Cheer?, Brigade, Marco Benevento and Grammy Award winners Flor de Toloache from New York City.
This year there will be a special dedication to world-renowned performer Rob Torres, a crowd favorite at the Festival, who passed away suddenly in early July. Rob performed at the Festival of Fools on three occasions, most recently in 2017. "All of us at the Festival of Fools are saddened by the death of this great clown and are forever grateful for the good vibes he shared with us in Burlington. Rob will forever be a part of our 'Fools' family," added Keppel.