Meet Michael Gordon: Captain and AEMT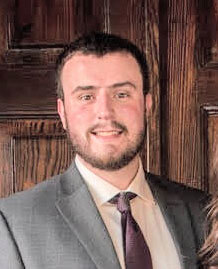 Michael grew up in Salem, New Hampshire, a town just over the line from Massachusetts. He has one older sister who is a registered nurse at Catholic Medical Center in Manchester, New Hampshire. His father, now retired, worked for the federal government and, sadly, was widowed just six days after Michael's first birthday. His father never remarried.
Michael has many fond memories of his early days in Salem. Back then it still felt like a tranquil, close-knit community. His father worked very hard, but with his position he was able to take significant time off during the summer and spend all of it with his kids. Michael remembers many trips during these summers, and his favorite included visits to Nubble Lighthouse in York, Maine.
In middle school and throughout high school, sports became an important part of his life. He excelled in baseball, football and track and field—and was even lucky enough to help his high school football team to a state championship victory.
As Michael progressed throughout high school he found a new passion for the medicine. During his junior and senior years he attended a vocational program that focused on health science and technology. During his final semester in this program he enlisted in an emergency medical technician course through his local fire department. This was the beginning of his successful and satisfying EMS career here in Vermont.
After high school, Michael turned down a football scholarship to Holy Cross and decided to attend St. Michael's College. He dropped sports and majored in biology with a minor in chemistry. During his freshman year he was accepted into Saint Michael's Fire and Rescue where he ran roughly 80 hours a week consistently throughout college and during breaks. He also was the active 1st lieutenant for rescue during his junior and senior year. Working all four years as an EMT/AEMT, he still graduated with a 3.4 GPA.
Today Michael works full time at Shelburne Rescue squad serving his new community. Michael also began working in June of 2016 as an AEMT with CVFRS. During this time, he has demonstrated many leadership skills and has been promoted to captain on the rescue squad.
You can find Michael today happily working continuously within EMS for our surrounding communities and continuing his education by attending the New England EMS Institute in Manchester, New Hampshire, to obtain his paramedic certification.
Favorite meal: meat loaf and lemon cake from his Grandmother Mimi.
Favorite musician: Billy Joel
Last concert: Ed Sheeran
Favorite spot: Nubble Lighthouse in York, Maine
Favorite season: Fall because it's cool and windy and has a beautiful change of colors
If he won the lottery: Pay off student loans, travel, but still work in EMS and apply to medical school
Favorite movie: Mel Brooks' History of the World, Part I
Favorite book: Being Mortal, by Atul Gawande