Library gets $10,000 grant to redesign its website
The Charlotte Library was awarded a $10,000 grant from the National Network of Libraries of Medicine to redesign the library website.
The new format will better facilitate website navigation and make the entire site more accessible to everyone seeking resources and information. Stay tuned for more details.
Aspiring chef? Accomplished cook? We're looking to expand our menu of food-based programs using our Charlie Cart so let us know if you have any ideas. This portable kitchen comes fully equipped with tools and supplies for fun cooking activities for all ages. Stop by the library or contact Margaret Woodruff  if you're interested.
Our Mending Matters gathering was a hit. Repair-minded Charlotters met to repair everything from sweatshirt zippers to woolen socks. If you're interested in joining this informal group, let us know.
Explore outdoors
Seed library
It's still a good time to request garden seeds from the Seed Library. Have a look at the 2023 Seed Catalog online or at a hard copy at the library front desk.
Contact us at to request small amounts of heritage seed for vegetables, herbs and edible flowers at no charge.
Join the blog to receive technical information and notice of educational programs to help your garden succeed and learn how to save seeds for next year.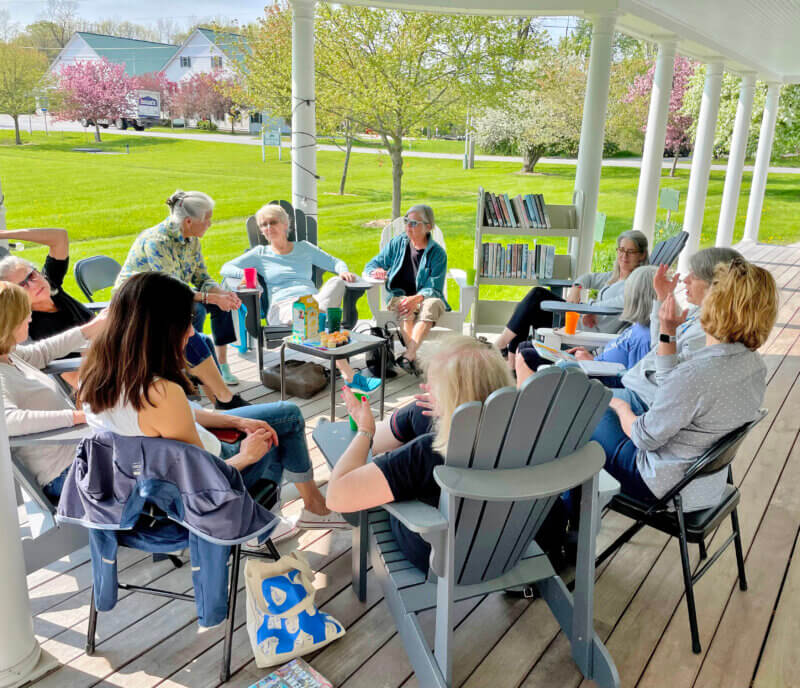 Library Garden Circle
Join the Garden Circle of volunteers who will tend the educational gardens around the library this year. Contact Garden Stewards Karen Tuininga and Linda Hamilton  to sign up to join the merry group work sessions Wednesdays 4:30-6 p.m. starting in late May. Many hands make for light work, and there is always interesting conversation about plants and gardening.
The rain garden is establishing itself as an effective way to manage the rainwater coming off the library roof, and the welcome garden on the south side is filling out with colorful and pollinator-friendly blooms.
Outdoor resources
If you're considering a wildflower walk, take a beautiful map available at the library with you to identify the species that carpet our woods and meadows. Copies are available at the library circulation desk from the Vermont Master Naturalist program.
Similarly, Northern Woodlands weekly emails can help you appreciate the variety of flora and fauna all around us. Check out This Week in the Woods or look for the magazine at the library.
Children's programs
Young children's story time
Tuesdays, 10 a.m.
No registration required.

Preschool free play
Wednesdays, 10 a.m.
Exploring the sensory table, sorting, playing with blocks, play dough — these are a few of the open-ended projects planned for Wednesday morning play-based learning at the Charlotte Library. Ages 2-4. No registration required.
Programs for adults
Book Chat
Wednesdays, 3 p.m.
Meet each week to discuss new books, old books and books we might have missed. Each week, Woodruff selects a theme and highlights related titles from the library collection. No registration necessary. Note: No Book Chat on April 19.
Crochet & Knit Night
Wednesdays, 5:30-7 p.m.
Claudia Marshall is your host for a casual weekly session of crocheting and chatting, knitting and catching up. Bring your project or start a new one with yarn and needles available at the library, along with plenty of books to instruct and inspire. For teens and adults.
Short story selections
First and third Wednesdays, 1 p.m.
Join Library Director Margaret Woodruff to share and discuss short stories old and new. The reading list will include a variety of authors, and one or two stories will be featured each session. Copies of the stories are available at the library circulation desk or via email. Register in advance for the Zoom link.
Creating an Edible Landscape with Dani Baker
Thursday, May 18, 7 p.m.
If you want to create an edible hedge, an edible bed, a foundation planting or a forest garden, you will discover there are a variety of native food plants to choose from to fill your space. This illustrated talk will describe the growth habit, preferred habitat, care required, food value, other users, aesthetic appeal and propagation techniques for over 25 native perennial plants you can include in your edible landscape. Join us online or in person for this timely presentation from Dani Baker, whose work promotes acting as good stewards of the land and water resources entrusted to us on her farm in upstate New York and through presentations like this. Register for Zoom and for in-person attendance.
Library contact information:
Margaret Woodruff, director
Cheryl Sloan, youth services librarian
Susanna Kahn, tech librarian
Phone: 802-425-3864
For the latest information about programs, books and activity kits, sign up for our monthly newsletter: Charlotte Library Newsletter.