Remembering those who gave everything
At least 40 people participated in the inaugural Memorial Day celebration on the Charlotte Town Green. The names of 31 Charlotters who gave their lives for the United States during war were read aloud by town residents.
After each name was read, there was a pause for reflection …
In years past, members of the Charlotte Grange have celebrated Memorial Day by putting flags on the graves of town residents who have served in the country's armed forces.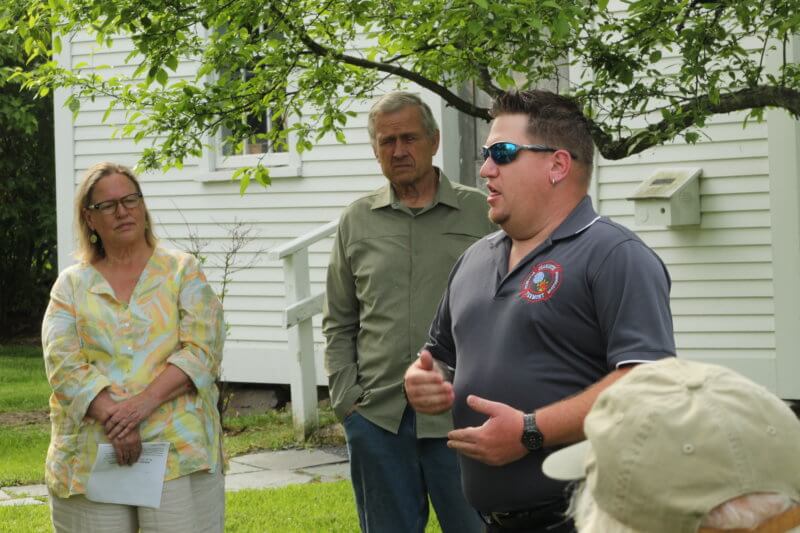 "This year we wanted to do something more," said Grange member Linda Hamilton. "We wanted to honor the soldiers who had some connection to Charlotte, who died in military service, and we wanted to remember them as individual people. They had names. We don't know much about their lives, but we can imagine they were people just like us. They had families, they had friends, they had plans."

Jordan Paquette, a Charlotte fire fighter and a combat veteran in Iraq and Afghanistan, said, "It's so important to remember, especially for our young folks, that everything we have today, everything is because someone said, 'Yes, I'm going to stand up for what I believe in.'"
The 31 people remembered at Charlotte's Memorial Day commemoration were:
War of 1812 — Private Elisha Hill
U.S. Civil War — Private James Arnold Read, Private Oliver T. Archambault, Private Cassius Newell, Private Alonzo E. Root, Private
Joseph Kehoe, Private George Doolittle Sherman, Private Henry Drum, Private Daniel S. Ball, 1st Sergeant Michael A. Kehoe, Private
Fordyce N. Wheeler, Private Alfred Tatro, Private James Little, Private Thomas Young, Private William Clark Powell, Private James
Abell, Private Daniel A. Scofield, Private Jacob Lacoy Jr., Private Moody Haskell, Private Frank Barslow and Private Freeman Mason
World War I — Private Joseph Harry Hanks, Private DeLial W. Magee and Private Julius S. Munnette
World War II — Private First Class William Arthur St. George, Private First Class Romeo Arthur Leclair, Private George Louis
Sturgeon, Air Force Technician/5 Corporal Daniel P. Leonard and Marine Lieutenant Willard Holdredge
Viet Nam — Marine Sergeant Fred David St. George
Iraq — Army Specialist, Vermont National Guard Alan Norman Bean Jr.
Many people from Charlotte served in the Revolutionary War but, Hamilton said, they don't have good information on who they were.
After the reading and quiet contemplation of these names, trumpeters Sarah Stein and Oliver Smith played "Taps."
Then those gathered gradually dispersed, returning to doing the kinds of activities that these fallen 31 Charlotters had helped ensure they would be able to do …