Lori York, Charlotte Senior Center Director
Interested in getting outdoors with others for a spring hike?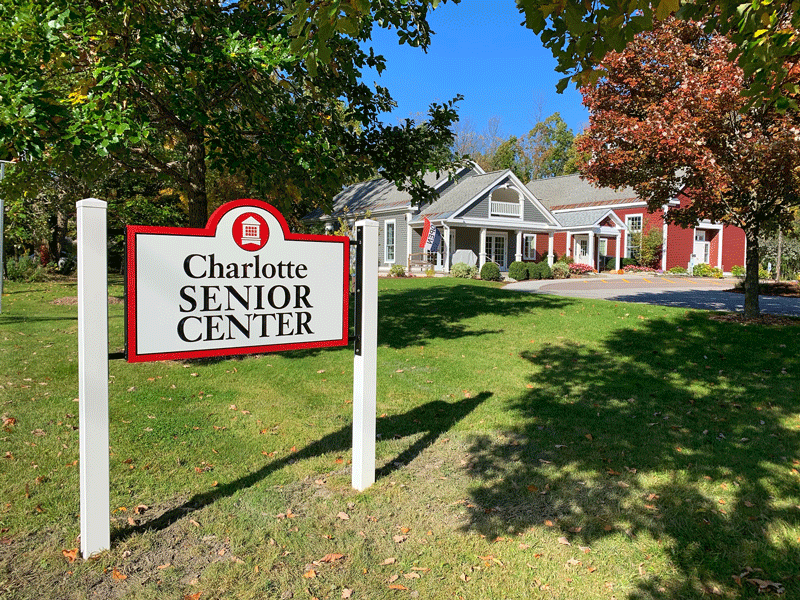 Have you always wanted to visit Italy, but the language is a barrier?
Looking to try your hand at painting?
Check out the Charlotte Senior Center this month for a wide variety of programs from a spring hike at Shelburne Bay, a beginner Italian class, and a painting workshop where no prior painting experience is needed.
Registration open for May programs
The Charlotte Senior Center May newsletter is now available. Stop by the senior center to pick up a copy. It is also available on the website. Follow "charlotteseniorcentervt" on Facebook and Instagram for a glimpse into the activities happening at the center.
Upcoming events and programs
Making a difference with Hands to Honduras Tela
Wednesday, May 11, 1 p.m.
Hands to Honduras Tela is a service group of dedicated volunteers of all ages who travel to Tela, Honduras, to create positive change. Projects are specifically focused on: maternal-child health; educational improvements; medical/dental brigade; community assistance. Linda Gault Gilbert of Charlotte, director of Hands to Honduras Tela , will share photos and stories of how the love of service creates happiness for all involved. Her presentation will show how one small group can accomplish big projects successfully and have fun while doing it.
Italian for total beginners
Fridays, May 13-June 17, 10-11 a.m.
Do you dream of traveling to Italy and ordering your morning cappuccino in a sun-drenched piazza? Feeling tongue-tied? Then Nicole Librandi's class is for you. Now is the time to begin your study of Italian — and have fun along the way.
'CODA' screening
Friday, May 13, 1:30–3:30 p.m.
This award-winning film revolves around the tensions that arise when the only hearing member of a deaf family (a CODA, child of deaf adults) discovers that she has a talent for singing and is torn between the obligations she feels to her family and the pursuit of her own dreams. ,
Coffee & Canvas —
Monet-inspired paintings
Friday, May 20, 10:30 a.m.-noon
Unlike traditional Paint & Sips, this "Coffee & Canvas" class with Sherry Senior will allow you to explore and create your own unique painting. But don't worry — there will be plenty of inspiration from paintings of water lilies, flowers and landscapes with lots of instruction. No prior painting experience needed. All materials included. .
Birding expedition with Hank Kaestner
Wednesday, May 18, 9 a.m. departure
Please meet at the center 10 minutes prior to the 9 a.m. departure so the group can carpool to the location for spectacular bird watching. Group size is limited. Registration required by email and include your name and phone number. Free.
'Reuse! Because You Can't Recycle the Planet'
Wednesday, May 18, 1 p.m.
"Reuse! Because You Can't Recycle the Planet" is a documentary that follows reuse expert Alex Eaves' cross-country adventure as he discovers endless reuse solutions for our waste problem that are easy, sustainable and fun. (Spoiler alert: It features visits to Conant Custom Brass and the VT Peace and Justice Center.) The documentary is about 60 minutes and will be followed with a discussion led by Chittenden Solid Waste District staff.
Spring hikes in the Champlain Valley
Tuesday, May 24, 9 a.m. departure
Join Mike Yantachka for the first of four spring hikes. The group will meet at Shelburne Bay in Shelburne. Hike starts at the parking lot on Bay Road. The forest trail will take us to the beach near the Lake Champlain Yacht Club. Depending on the wishes of the group, the group can either stay on the easier, more level trail or climb Allen Hill for great views of the bay. Please bring water and good hiking shoes. Registration required by Friday, May 20. Free.
If you are interested in leading additional hiking trips or co-leading the spring hikes, please email Mike Yantachka.
Meals
Menus are posted on the website.
Monday lunches
Served weekly. Lunch begins at 11:30 a.m. and ends at 12:30 p.m., or when there is no more food. Suggested lunch donation of $5.
Monthly men's breakfast
Thursday, May 12, 7-9:30 a.m.
On the second Thursday of the month, the men gather for breakfast and conversation.
This month the guest speaker is Fritz Horton, who is a sailplane and glider pilot. He will share his gliding experiences — and he's actually going to plan to bring his plane to the Senior Center parking lot (all folded up, of course). Register by Tuesday, May 10, by contacting Tim McCullough. Suggested breakfast donation of $5.
Weekly Grab & Go Meals by Age Well
Pick up on Thursdays between 10–11 a.m. at the Charlotte Senior Center.
May menus are posted on the Charlotte Senior Center website: charlotteseniorcentervt.org. Please note new pickup time (10–11 a.m.) for meals. Registration required by Monday for the Thursday meal. To register, contact Lori York at 802-425-6371. Free.
Exercise classes
The senior center offers daily exercise programs for a wide range of fitness and activities levels. A complete list of exercise programs is on the website.
Questions?
The senior center staff would love to meet with you. The center is located at 212 Ferry Road, Charlotte. Hours are Monday-Friday, 9 a.m.-4 p.m. Call 802-425-6345 or email Lori York, director.
Residents from other communities are always welcome.