Champlain Valley Union High dominates on the slopes at state championship
The Champlain Valley Union High School boys and girls dominated the Vermont state alpine skiing championships at Burke Mountain a week ago.
On Monday and Tuesday, Feb. 28 and March 1, the boys won all the team competitions and the girls won all but one, coach Mike Minnerly said.
The CVU boys, a year after winning their first state championship in program history, took the slalom with 55 points to second-place Woodstock's 115 points.
The Redhawks were led by George Francisco who came in fifth, Ray Hagios at sixth, Peter Gilliam seventh and Kyle Martin ninth in the top 10 finishers in Tuesday's slalom.
The Redhawk girls nabbed 119 points on Tuesday for a narrow 1-point victory over Rice (120) and Stowe was third with 129 on Tuesday.
Scoring in the top 10 for the CVU girls in the slalom was Dicey Manning at 10th.
In the giant slalom Monday, Carlynn Strobeck took seventh and Dicey Manning 10th for the Redhawks girls.
The CVU boys took three places in the top 10 in the giant slalom—Jake Strobeck second, Ray Hagios fourth and George Francisco ninth.

The team's success was not a complete surprise to their coach.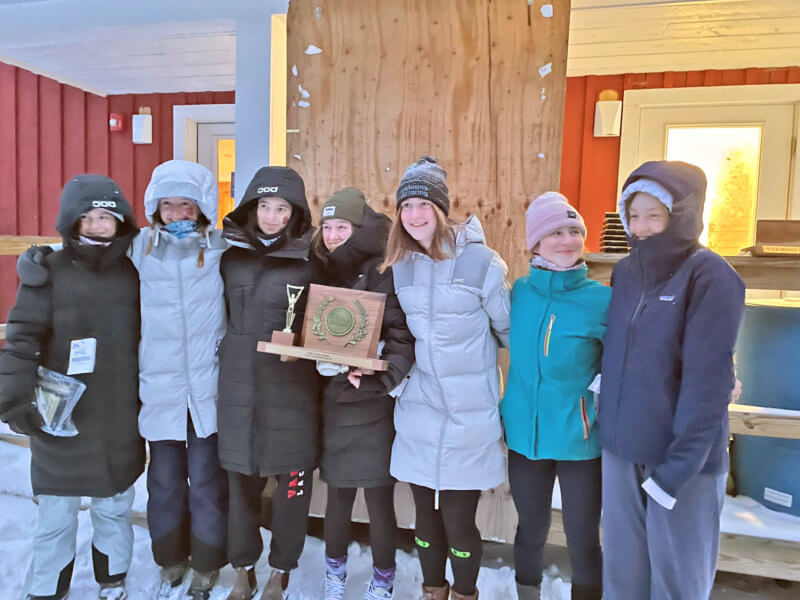 "We had won district and had a pretty good understanding of who we were and what we're capable of," Minnerly said. "We're fully aware that anything can happen, but we also felt that, if we stood up and we skied well, we would be in good shape."
One of the most dramatic moments at the state championships came on the girls side in the slalom when the Redhawks' No. 1 Ella Lisle fell on her first run. But she got up, hiked back to the gate and completed the run.
In spite of her fall, Lisle still managed to place 39th out of 73 skiers on that initial run, but nonetheless a big gap to close for CVU to have a chance in the slalom's combined scores.
"We were going to have to leap frog over teams if we wanted to win," Minnerly said. "So, we needed her to ski her very best at the very biggest moment for us to have a chance."
He said that, on her second run Lisle came in first by nearly five seconds, "which is an absolute eternity in ski racing. And the girls won the state championship by one point. She jumped from 39th place to 20th place on her second run."
The future looks bright for the Redhawks with only one senior and three juniors among the teams' 14 skiers.