Vera Simon-Nobes: crafting leather bags from local farms
Vera Simon-Nobes' sewing career started inauspiciously with her mother's sewing machine. "I made some clothing when I was growing up, primarily unsuccessfully," she said. Success arrived while she was living at what is now Philo Ridge Farm, making wool blankets from the sheep she raised, so when she decided she wanted a leather tote bag, it wasn't out of character to try to make one herself.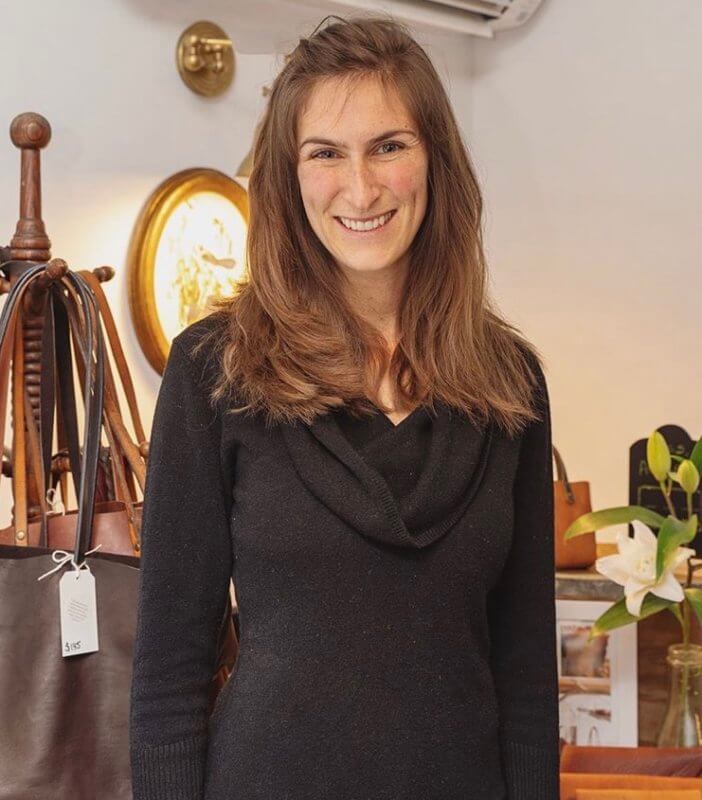 What began as a hobby turned into Rhubarb Leather, a micro-business Simon-Nobes started in 2015. "I had a desire to have a product come to life from our working landscape," she said, "either from animals I knew or those who had been cared for by local farmers." Simon-Nobes had followed the growth of the locavore movement and believed people were becoming more aware of the impact of "fast fashion" on the planet. "I had a lightbulb moment," she said, "where I realized that not only could I catch someone's eye with a product, but I could also turn it into a teachable moment that helps people learn about the source of their clothing and food."
Simon-Nobes gets her hides from Shelburne Farms, Bread and Butter Farm, Tail Feather Farm in New Haven and Drift Farmstead in Roxbury. The hides are tanned at Pergamena, which Simon-Nobes described as the only large-scale, vegetable-based tannery in North America, forgoing the chemicals used at most plants. "They can take these raw, wet, heavy hides and transform them into beautiful leather products in six weeks," she said, adding that the family that owns the Hudson Valley business has been tanning hides since the 1500s. Although largely self-taught, once Simon-Nobes committed to learning how to work with new material, she took a course at leather school in Devon, England.
Simon-Nobes said her walls are covered with notebook pages with different designs but she wants to stick to making practical products. "As soon as I started making tote bags, I saw a pretty strong demand that I couldn't keep up with because I'm so small-scale," she said. "I'm doing this after my job, family life and parenting. The totes are practical and simple." Although Simon-Nobes has an industrial sewing machine, she switched to sewing by hand after her daughter was born in 2018.
Simon-Nobes is the Farm-Based Education Network's Coordinator, a job she has held since 2015. "I work from Shelburne Farms," she said. "They are the coordinating organization, and my job is to facilitate conversations with people across the world who have visitors on their farms." Some of her work is in person, but a lot of it, even before the pandemic, was virtual. She believes her two jobs complement each other to some extent. "Through both avenues I'm able to visit farmers and look at the work they are doing to raise animals and also the way they are teaching about farming," she said. "It's mutually reinforcing."

Five percent of Simon-Nobes' online sales go to non-profit organizations in Vermont. Recipients have included the Janet S. Munt Family Room, Slow Food Vermont, and a partnership between Shelburne Farms and the King Street Center. "Doing that speaks to my questioning of capitalism and its relationship to human and ecological health," she said. "I'm participating in the exchange of goods and getting products into peoples' homes, but it's important for me to take some of the proceeds and give to organizations devoted to environmental education or health."
Simon-Nobes has sold her leather products at Sweet Roots Farm, Philo Ridge Farm, Roots Farm Market in Middlesex, and mysa in Shelburne. She has also worked with the Vermont Food Collaborative and the Bread and Butter Farm, which was the first farm to go full-circle by selling totes made from hides raised on their pasture.
Although she has thought about expansion, Simon-Nobes wants to maintain a good balance between work and family time. She is grateful her retail outlets and online clients are willing to wait patiently for her to finish her products. She also recognizes that she is following in the footsteps of previous artisans. "Indigenous people have been working with leather for generations," she said. "The work I'm doing is something that people have been doing for thousands of years."
Her family no longer raises animals, but Simon-Nobes is passionate about promoting Vermont farms. "Vermont grows grass really well," she said, "and through intensive grazing practices, farmers are building healthy soil, growing healthy animals, and raising food for the community at the same time. I like supporting this work through turning cowhides into a value-added product."