Carolyn Kulik, Senior Center Director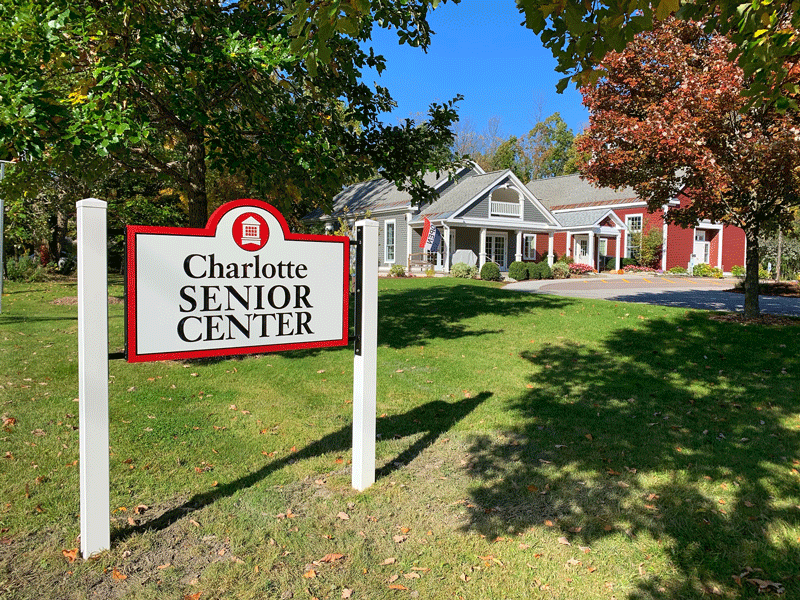 "The important thing is not to stop questioning. Curiosity has its own reason for existence. One cannot help but be in awe when [one] contemplates the mysteries of eternity, of life, of the marvelous structure of reality. It is enough if one tries merely to comprehend a little of this mystery each day."
~ Albert Einstein
"I think, at a child's birth, if a mother could ask a fairy godmother to endow it with the most useful gift, that gift would be curiosity." 
~ Eleanor Roosevelt.
Are you curious? Try something new. . .
Courses starting soon
These courses are starting soon, so please make a note of the registration deadlines. Longer course descriptions can be found in the printed Fall Schedule, or on the website. Registration and payment is in person, by phone (425-6345) or by mail: CSC, P.O. Box 207, Charlotte, VT 05445.
Mindfulness for Life with Jill Abilock. Tuesday afternoons, 1–2. New dates: 9/28–10/26. (5 weeks) No fee.
You can't always change what you experience in life, but you can change how you experience it. Mindfulness Meditation provides tools that help change how you experience things, increasing fulfillment and happiness, and reducing stress. Walk-ins are welcome.
(NEW – not in Fall Schedule)
Watercolor – Fall Spectacular II with Lynn Cummings. Please register and pay by 9/30. Fee: $77. 2 Tuesday mornings, 9–noon. Dates: 10/5 & 10/12.
We'll paint fall-themed, local subjects that reflect the colors, shapes and textures of our surroundings this season. Some experience with watercolor is necessary. You will receive the materials list upon registration. Questions? Contact Lynn Cummings.
How to Read & Sing Shape-Note Music with Kerry Cullinan. Registration required by 10/4. No fee.. Thursday afternoons, 1–2:30. Dates:10/7, 10/14, (no class 10/21), 10/28 & 11/04.
This is an opportunity to learn to read and sing traditional music as it has developed in this country since the Pilgrims. Relying on The Sacred Harp tune book, in 4 sessions we will cover a thousand years of history and 400 years of singing.
Exploring Line & Color: A Creative Process Workshop with Jonathan Silverman. Register by 10/15. Suggested $5 donation to cover materials. Tuesday morning, 10–11:30. Oct. 19.
This 1.5-hour visual art workshop will focus on exploration, discovery and play. Simple prompts and using pencil, markers, and pastels will replenish the artist within for both those who claim not to have any artistic DNA – and for those with artistic experience. The supportive and joyful environment will emphasize process and surprises. Co-sponsored by the Charlotte Library.
Exercise – Ongoing
These classes take place in our spacious Great Room. You're invited to come and check out a class one time for no charge. These are ongoing throughout the year, and you can join at any time. Stop by and fill out an address form—walk-ins are welcome. Be sure to check the course descriptions in the Fall Schedule or see the website for the details.
Chair Yoga – Mon., 9:30 a.m.
Gentle Yoga – Mon., 11 a.m.
Pilates Plus – Tue., 8:30 a.m.
Essentrics –Wed., 8:30 am.
Pilates – Thur., 8:30 a.m.
T'ai Chi for Beginners – Thurs., 10 a.m.
T'ai Chi – Advanced – Thurs., 11 a.m.
Essentrics –Fri., 9:30 a.m.
Wednesday Talks at 1 p.m.
All Wednesday talks and events will be in person only. Masks are required for everyone who plans to attend. Important: Please note that registration is necessary these days, so that we can manage the audience size. You can call from 10 a.m.–3 p.m. to sign up. (Please do not leave voicemail.)
9/29: Artists Reception and Gathering
Sorry, this event has been cancelled, but The 14th Annual Senior Center Community Art Show continues through 9/28. Artists whose work is in the exhibit are asked to pick up their artwork between 10 a.m.–4 p.m. on Wed., 9/29.
10/06: Twisted Tree & Clump of Rocks: From Observation to Abstraction 
Jonathan Silverman will share insight about creative process relating to his works which are on exhibit in October and November at the Senior Center.  He will address both how he is inspired by observing shapes, colors, line, and texture in nature, as well as how he responds to the emerging abstracted images while he is creating them. He will reflect on the artists who have influenced him and open up the session for questions and connections. Co-sponsored by the Charlotte Library.
10/13: Bones, Breaks & Balance: Separating Myths from Facts with Tina D'Amato, D.O.
Focusing on prevention strategies and education around bone density and fractures in seniors, we will review the often confusing and conflicting information about calcium supplements, touch on Vitamin D and other supplements, and prescription medications. Resources for self-directed and group exercise as well as physical therapy will be reviewed. Dr. D'Amato is a family medicine physician working at Charlotte Family Health.
Lunch Schedule
Our meal schedule is currently in flux. Monday lunches are continuing; Wednesday lunches are suspended at the moment.
Please call in advance to be certain that a Monday lunch will be offered on the day you plan to come. Reservations are not required. The next Monday lunch is Sept. 27. Suggested donation is still just $5. Meal time is 11:30-12:30. Take out may be requested.
Menus
9/27. Kale and sausage soup, beet and feta salad, bread, berry crisp
10/4. Couscous meatball soup, Caprese salad, brownies with ice cream.
Menus are also posted on the CSC website. Our café is spacious and airy, and our porch has tables with big sun umbrellas.
Art News
September Art Exhibit
The 14th Annual Senior Center Community Art Show is drawing to a close. After some revision, the last day to view the complete show will be Tues., 9/28. There are 66 works by 36 artists in a wide variety of styles. Mediums include watercolor, acrylic, oil, pastel, wood, glass, mixed media and prints. Most pieces are for sale. Because the gallery space in the great room is used for other activities, the best times to view art in Sept. are: Tues. & Wed. after 2:30; Thurs. & Fri. after 12:30.
The October & November Art Exhibit
These two months the display will be Jonathan Silverman's "Visual Dancing: The Interplay between Intent and Spontaneity." His artwork ranges from landscape and abstract watercolors and pastels, to whimsical driftwood character sculptures, to functional and non-functional pottery inspired by Japanese aesthetics.
About volunteering
Ever thought about becoming a volunteer? There's a special spot for you whether you are available once a month for a couple of hours, or on a weekly basis. This is a great opportunity to meet other people, make new friends and to be part of our community. Lori would love to meet you and talk with you about the possibilities of volunteering at the Charlotte Senior Center. She can be reached at email or 425-6345.
Notes on masks
If you'd like to visit or join an activity, there are some mask requirements to keep in mind. Plus, some activities, like Bridge and Mahjong, are requiring participants to be fully vaccinated because they take place over long periods of time and in close proximity. Please do call to check if you want to join a new activity. Here is where things are now at the Senior Center. If you are . . .
Fully Vaccinated: No mask required—but strongly encouraged. Social distancing advised.
Not Vaccinated: Mask required. Social distancing required. (6 feet).
Not Vaccinated & Not Wearing A Mask (for any reason): Kindly do not plan to visit at this time. We ask that you come back after the mask guidance for the Senior Center is updated.
We look forward to seeing you soon!
Please visit our website for expanded course descriptions and for more information. The mission of the Senior Center is to serve those 50 and up; some course enrollments are limited, and if a course is not full, younger participants are most welcome to enroll. Questions? Call or stop by between 9 and 4, or leave a message at 425-6345.
Charlotte Senior Center
425-6345