It's mid-summer now, and the trout have figured out that if they want to survive the heat they've got to find deep pools with water temps below 70 degrees. They hide in these dark corners, underneath a canopy of shade from trees hanging over the banks. Where they can rest and not expend too much energy. Where they can get behind a structure like a tree that has fallen into the river. Where their preferred food of mayflies, stoneflies, midges and grasshoppers float by after a rain and all they must do is lurch upward with one strong sweep of their tail to pick up their meal.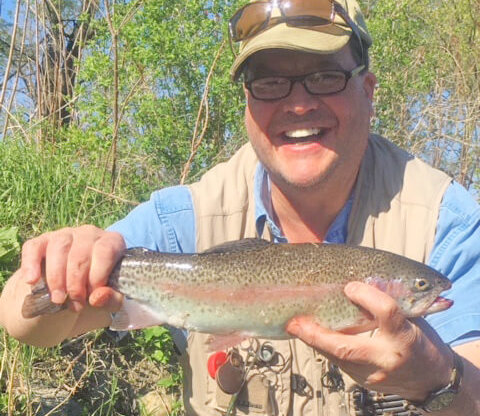 I am much like those trout in the summer. The heat is not my friend. I would sequester myself in the air-conditioned office, and when the sun rises or sets I will be moving about at my peak energy level for the day.
Normally I like to write about our garden and the abundance of vegetables we are receiving, but the last few years have not been kind to our schedules. We've had too much to do with work and not enough time to reflect and breathe. It's as if the summers have slipped by us while we have hidden ourselves in the tedium of daily obligations. And when we do that, we miss out on the miracles around us.
I'll admit it, for a while I had been swallowed up by a world of obligations and work, and my spiritual self began to wither. I needed a break, and the Great Spirit knew it. I was stressed and worried. I knew that I was drifting from my spiritual core—a connection to the outdoors. I simply wasn't getting enough of it. My dreams began to guide me toward the inevitable. When you don't listen to that still, small voice in your heart, the lessons will seek you out and create the circumstances that will cause a cathartic event, which you will not see coming. It will be like a cold slap in the face from a friend telling you that you have gone off track and need to reset your coordinates.

It was such an experience that the job I had, which was paying the bills well, was literally sucking the life out of me. And so, the Great Spirit found a way to awaken me from my dream of supporting myself and my wife through a job in banking. The job was great in the beginning but had become something for which I was not skilled. And thus, it was made apparent that the path was no longer one that I could walk down. It was going nowhere I wanted to go.
Sometimes, when things don't work out the way we expect or want them to, it's simply a matter of consulting with our core values and asking for direction from the Universe. It is this time of my life's seasons that I am facing the most challenging choices. Why was I swimming in a heavy current, using up so much of my energy doing something that I didn't enjoy? I needed to tuck myself back toward the shoreline and out of the current to really ask myself, "What am I afraid of? Why am I afraid to do what I love? Is it fear of failure at the things that mean the most to me?" What is it to fail at the things that don't mean much to me? Is it easier to accept failure at those things because we don't really care about them?
After consulting with a few of my closest confidants and a well-respected professional journalist who convinced me that my friends are right, "I am good enough," I will be taking the next step as a writer and begin submitting my work to outdoor magazines and newspapers. It is, after all, my true love, the outdoors, and my love of words. For all of you who have shared comments to me in the last couple of years regarding my writing, I thank you. It is because of your kind words that I am finally willing to thrust my proverbial tail upward, to reach out for what this magnificent life current has to offer. If you watch for me, you may one day catch my drift, and we will once again be tethered by a string of hope of which all fishermen dream.
Bradley Carleton is executive director of Sacred Hunter, a nonprofit that seeks to educate the public on the spiritual connection of man to nature.