Carolyn Kulick, Senior Center Director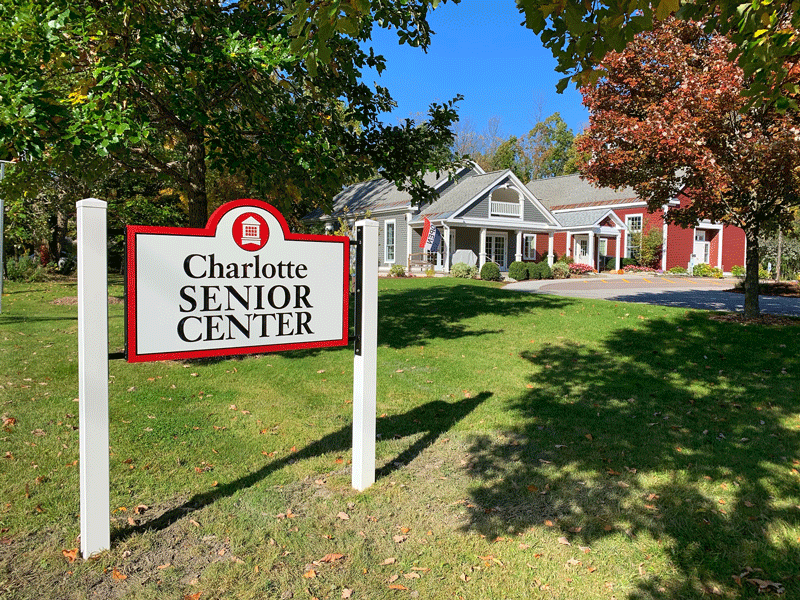 "In ordinary life, we hardly realize that we receive a great deal more than we give, and that it is only with gratitude that life becomes rich."
~ Dietrich Bonhoeffer
"We often take for granted the very things that most deserve our gratitude."
~ Cynthia Ozick
When I mentioned this almost exactly a year ago, it was just a little premature. But now, it seems we really are in the technicolor beginnings of The Wizard of Oz. We munchkins are cautiously emerging from our hiding spots under the flowers and toadstools. While we are not quite at the point where we can celebrate and sing the 'Ding Dong' song about the coronavirus, that time is getting closer. Maybe the right song is closer to Somewhere Over the Rainbow.
The Senior Center is about to begin a slow—but steady—re-opening process in June. It will be happening in stages and with a just few groups this month. Activity groups and instructors will be contacted separately about their return dates. Priority is being given to those groups that have not been able to gather on Zoom.
At this time, we ask that individuals who have not been fully vaccinated (for any reason) to wear a mask and maintain a six-foot distance from others when inside the building.
If you are not vaccinated and do not wear a mask (for any reason), we ask that you delay your visit to the Senior Center until the mask guidance from the VT Dept. of Health changes.
Limited meals be might starting in July with special arrangements. A more regular schedule will depend on the creation of new, volunteer cooking teams. You will know more as soon as plans are firmed up. We look forward to seeing you very soon!
Courses Starting in June
6/08. June Hike #1 with Teri Fitz-Gerald. Destination: Audubon Vermont near Huntington. Meet at the Center at 8:30 a.m.; we should return by 1:00 p.m. To register and for more information, contact Teri directly. No fee.
6/09. Better balance with Laurel Lakey. Wednesday mornings, 11:00 a.m. to 11:45 a.m. Dates: 6/9–7/28 (eight weeks). In collaboration with Dee Physical Therapy, this eight-week course is designed to improve your balance and reduce fall risk. Newcomers welcome. Register by 6/7. Fee: $30. (Please pay at the start; directions below).
6/11. Kayaking for Women. Destination: Green River Reservoir with Nancy Stead and Mary Silverman. For more information, please email Susan Hyde directly. Registration required. Maximum is determined by leaders. Paddlers need to provide their own boats for all trips. No fee.
6/23. Conflict Resolution with Mark Williams. Register by: 6/18. Fee: $48.
Wednesday mornings, 11:00 a.m. to 12 noon. Dates: 6/23–7/28 (six weeks). Using role-playing and mediation exercises, participants in this six-week course will learn practical skills.
6/23. Books of the World with Steve Goldstein. Register by: 6/18. No fee.
Wednesday afternoons, 4:00 p.m. to 5:30 p.m. Dates: 6/23, 7/7, 7/21, 8/4 & 8/18.
In five twice-monthly sessions, you will travel around the world reading and discussing novels by international authors.
6/25. Italian – 4 different courses for all levels. Register by: 6/18. Fee: $48.
Fridays, at various afternoon times. Dates: 6/25–7/30 (six weeks).
See complete course listings on the Senior Center website.
For expanded course descriptions see the printed Summer Schedule, or visit the Senior Center website. The mission of the Senior Center is to serve those 50 and up; some course enrollments are limited, and if a course is not full, younger participants are welcome to enroll. Feel free to leave a message anytime at 425-6345; voicemail is checked frequently.
Ongoing classes continue year-round
Check out the website and consider signing up for an online exercise or health course—these can be joined at any time during the season: Chair Yoga (M, W); Essentrics™ (W, F); Gentle Yoga (M); Pilates (Th); Pilates PLUS (Tu); Tai Chi for Beginners (Tu, Th); and Mindfulness Meditation Practice (W). And, if a course is offered twice a week, you can opt for participating on just one of those days, if you wish.
Talks at 1:00 p.m. Wednesdays
These free talks are continuing online throughout the summer. They do not require advance registration and closed captioning is included. The Zoom invitation/link to each talk is posted on the Senior Center website the day before. Can't make it? Talks are recorded and posted for 2 weeks afterward on the website.
6/09. Chinese Medicine and Acupuncture: Another Worldview with Molly Fleming, N.D., L.Ac. This talk will introduce you to Chinese medical theories and how they allow us to understand the body and its functions in a whole different way: It truly was the first 'wholistic' medicine. Acupuncture will be demonstrated, and its use for treating many conditions will be discussed. Bring your questions for a lively interaction. Dr. Fleming is an acupuncturist in Burlington who has integrated Chinese medicine with naturopathic medicine for nearly 40 years.
6/16. Shape-Note Singing: Origins and resurgence with David Rosenberg. Shape-note singing was America's first music craze, and after two centuries, it is still going strong. It's called 'shape-note' because the musical notes have distinctive shapes and names. Where did this music come from? How does it sound? Who sings it? This program will explain and demonstrate the social and spiritual appeal of shape-note singing. David has been singing bass in shape-note groups for 12 years, since he retired from teaching at Middlebury College. He is coordinator of the Middlebury Shape-Note Singers and chair of the 40th Vermont All-Day Sacred Harp Singing for March 2022.
6/23. Ethiopia Travels: History, Culture & Scenery with Sheri and Rich Larsen.
6/30. Biking in the Dolomites with Don Porter
Art Exhibits
The Senior Center's monthly art exhibits are planned to restart in August with three artists exhibiting. As before, there will be special viewing times. Stay tuned.
Start getting ready. The plan is to once again have the Annual Senior Center Art Show in September. The last one was in 2019 —two long years ago. (Seems longer). And the hope is that everyone has continued making art during that time. More details and dates coming soon.
Plant Sale
The Senior Center Plant Sale last Saturday was a great success! Thank you plant shoppers and plant donators! And a big thanks also to the organizers and helpers who made it happen again: Sukey Condict, Susan Hyde, Roberta Whitmore, Wally Gates, Polly Price, Jacqueline Bartelsman, Rose Baslow, Janet and Lane Morrison, Beth Merritt, Windsong Kervick and Carrie Spear. (It takes a village). Another small step toward getting back to the Before Times.
Not totally out of the woods yet—but skipping down the yellow brick road.
How to Register for a Course
All courses are online (except for those outdoors)—and require registration in order to receive the invitation/link. To register, send an email with your name, mailing address and phone number. Be sure to type in the title of the course in the subject line of your email. You will receive confirmation that you are registered. The invitation/link for the course will be sent to you by the instructor the week the class starts.
How to Pay
If there is a fee, kindly pay by check (made out to CSC) and send to: CSC, P.O. Box 207, Charlotte, VT 05445. Be sure to note the full title of the course in the memo line of your check.
For ongoing exercise courses, please pay at the end of each month for the classes attended. Unless otherwise stated, tally your attendance and figure $5 per class hour. (This price will continue through the summer months).
For all courses with specific starting and ending dates, please pay at the start and note the fee listed in the course description.
Questions?
Need help with Zooming? Please send an email, or leave a message at (802) 425-6345. The physical building of the Senior Center remains closed until further notice.
Charlotte Senior Center
(802) 425-6345