From rinks to slopes to trails to courts
For a pandemic-driven school year, sports crop up at odd times and in limited spaces – limited in terms of fans-in-the-stands and in terms of where competition occurs so as not to endanger fellow competitors. Nordic skiers, for example hit the trails in small batches from single schools, unlike previous years where they began in large batches from many schools. Alpiners, of course make the trails their own, bending slalom courses as the flags direct them. And hockey rinks and basketball courts limit spectator capacity.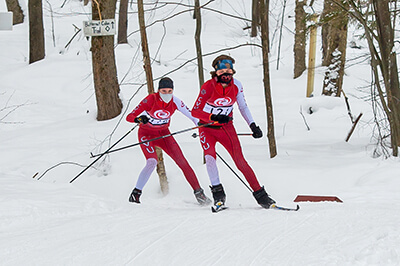 With that said, let's look at how some sports did midway through the season.
Zubarik and Lisle lead CVU Alpiners
Olivia Zubarik has been the Redhawk women's top Alpine Slalom racer so far this year as has Ethan Lisle on the men's side.
Womens basketball keeps its streak alive
It was 340 days since their last official game. Anxious to get back on the court, they opened their season February 12 with a convincing 54-19 win over South Burlington. Although the Redhawks jumped out to an 8-2 lead, they relied on defense when the ball would not find the net. That net seemed larger in the second quarter as CVU's offense came alive for a 22-4 halftime lead and 42-11 after three quarters.
The Hawks were led by Catherine Gilwee's 12 points and seven assists. Maddie Reagan was all over the court adding seven points, six rebounds and five steals.
The second game of the season meant traveling to St. Johnsbury Academy. It was an important contest insofar as St. Jay claimed the last victory over CVU two seasons ago. Their efforts led to a lopsided 47-19 win with with scoring spread throughout the team. Maddie Reagan led with eleven points and seven rebounds. Sophomore Shelby Companion tallied eight more points and six steals, while Catherine Gilwee collected seven points, seven assists, five rebounds and four steals. Catherine, by the way, is off to UVM next year where, perhaps, coronavirus will have lost a part of its grip on winter sports.
Monday night the Hawks went to Burlington's Buck Hard Gym where Catherine Gilwee was again a key element in CVU's 61-49 victory over BHS. Down by one point after one period, BHS scored the first four points of the second to led CVU by three before Coach Otley sent her squad into a full-court press. CVU lead 37-24 at intermission and 47-37 going into the final period. Catherine Gilwee's game-high 20 points were followed by Maddie Reagan and Shelby Companion with ten apiece.

Coach Ute Otley (a Charlotter) said she thinks "it will take us some time to get our timing right on our offensive sets since we have so many new players on varsity this year." She says BFA, Essex and Rice could be strong opponents. However, the Redhawks have hit the mid-mark of this abbreviated season with a 4-0 record.
Mens basketball begins the season with a win
Given a taste of what lies ahead, the Redhawk men squeaked out a 37-34 win over Mount Mansfield. Behind MMU 22-20 at halftime, CVU came back and regained the lead with just over a minute to play. This was due in large part to Devin Rogers' team high of twelve points, as well as seven from Alex Provost and six from Oliver Pudvar.
Input for CVU basketball came from Tom Giroux and Edd Merritt.
Hockey victories for both men and women
Both men and women's hockey teams came away with wins this past Saturday. The men topped Stowe 4-2 on goals by Angelos Carroll, Devan Fay, Ryan Carty and Alex Zuchowski.
It took the women three periods to upend Middlebury by one goal, 2-1. Hannah Schmid and Georgia Bruneau were scorers. Georgia provided an assist to Hannah, and Riley Erdman did the same for Georgia. Grace Ferguson made 18 saves in goal.