Sports Report – February 11, 2021
Nordic and Alpine ski racers hit trails and slopes
CVU's ski racers saw only members of their own team on trails as they raced through the woods and down the slalom courses. This wariness of clustering several teams together was designed to limit the possibilities of interpersonal contact and, hence, the chance for corona infection.
January 27 saw Nordic racers carry out a 4K Classic run at Sleepy Hollow. Charlotte's Finn Mittelstadt led the Redhawk women, finishing in second place, less than a minute behind the winner from Burlington High School. Maddie Haydock and Ava Rohrbaugh finished among the top 32 skiers.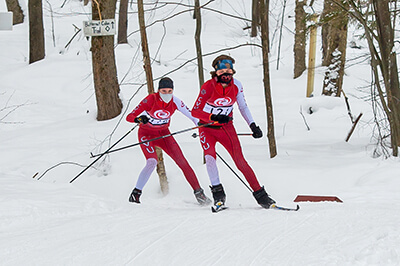 Charlotte's Matthew Servin finished sixth among men, with his teammate George DeBosse slightly ahead of him in fifth. Skyler Heininger and Sam Holmes were other Charlotters near the top of the board, and Sam Haydock completed the course in 34th place.
The Essex Carnival allowed the Alpine racers to test their slalom skills at Smuggler's Notch the following week. Both men's and women's Redhawk teams ranked first, ahead of second-place St. Johnsbury Academy and four other schools.
Among the women CVU's Olivia Zubarick, Dicey Manning and Ella Lisle took first, second and third places through their combined times. Kate Kogut placed ninth and Charlotte Couperthwait tenth.
On the men's side, six of the top ten individuals were Redhawks. Ethan Lisle placed first, Ari Diamond third, Sean Gilliam fifth, Will Bartley sixth, Peter Gilliam eighth, Cody Van Dine ninth and Kyle Marvin tenth.

Governor sets Feb. 12 as potential start date for winter sports
During a media briefing on Friday, Governor Scott said that high school and youth sports competition could start the end of this week. Snow sports such as Nordic and Alpine skiing have been going with racers competing by themselves and only others from their team. No general spectators were present.
Moving to low-contact indoor sports, teams will be allowed to conduct virtual meets, according to Julie Moore, chair of the state's task force on restarting scholastic sports.
Megan Nick flips on a world-class stage
CVU grad from Shelburne, Megan Nick recently won her first World Cup event as a freestyle aerialist, in Yaroslavl, Russia.
Megan graduated from CVU in 2014. While a student there, her primary sport had been gymnastics. However, she and a group of gymnasts decided to attend a freestyle ski aerials tryout camp in Lake Placid, which led Megan to a national development program in Utah. Since then it has been down European slopes for her. Her first U.S. stop is this week in Deer Valley, Utah.
As an aerialist she demonstrates her ability to carry out tricks while in the air, coming down the slope. It requires body control that can only be developed through lengthy practice.