Champlain Area Trails taking shape across the lake
Champlain Area Trails (CATS) hosted a volunteer trail project at their new Essex Quarry Nature Preserve on Friday, Nov. 20. Volunteers helped staff cut brush and fallen trees along two separate paths that are part of a network of trails going around the quarry.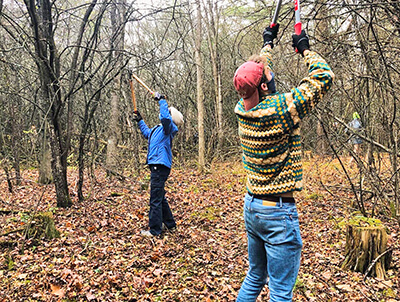 The day brought in 16 volunteers, along with three staff members. To follow with New York State's COVID-19 guidelines, volunteers were split into two groups and worked on different trails while staying socially distant.
"It was fantastic to see such a great turnout on a Friday afternoon, especially during a pandemic," said CATS Executive Director Chris Maron. "We had a great time getting out on the trails, making new ones, and having everyone get a chance to see the quarry."
CATS purchased the 35-acre Essex Quarry property in Essex, N.Y. in December 2019 to create a nature preserve that features 400-million-year-old fossils, a globally rare forest type called a Limestone Woodland, and a historic rock quarry. Stone carved from the Essex Quarry walls was used in many of the buildings in Essex. It was also reportedly used for the construction of the State House in Albany N.Y. as well as the Brooklyn Bridge.

The nature preserve will feature a network of hiking trails with interpretive signs, which can be used for walking or cross-country skiing. It advances CATS mission of saving land, making trails, connecting people with nature, and promoting economic vitality.
"It was exciting having everyone out for our first volunteer day in a long time due to COVID. We take for granted the simple things–doing trail work, socializing in our community, and meeting new people. We had a great turnout of board members and community members, all of which were so enthusiastic about the quarry and what we are doing with the preserve," said CATS Operations & Communications Manager Emily Segada.
The Essex Quarry Nature Preserve is set to officially open Saturday, June 26th, 2021. It is easily accessible once disembarking from the Charlotte-Essex ferry.