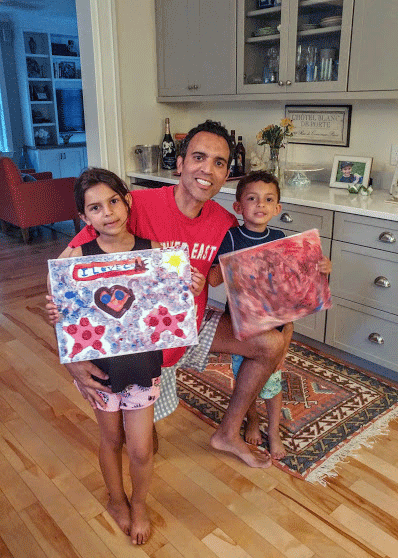 Years ago, my friend Gabe and I started a well-thought-out and carefully planned subterfuge campaign to undermine his wife, Sara. She is one of the dearest people in the world to me, but a great failing of hers at the time was the inability to understand the necessity of a DVR on their cable box to record television shows. Gabe was a basketball player and coach and a huge sports fan and wanted to catch every second of every game without neglecting his family.
"You watch enough sports already," she said to him.
"It won't make me watch more sports," he said. "I'll watch more efficiently, because I won't need to watch commercials, and I can watch the games when it's convenient."
"He watches enough sports already," she said to me.
"He won't watch more," I said. "He'll just watch them more efficiently and will spend less time watching television because he can watch when it's convenient."
In retrospect, we probably should have been more nuanced in our approach, but it worked, and I still have the celebration email he sent me—the forwarded email from Sara with the information about their new DVR, and his teasing response to her: "You really love me!"
Everyone really loved Gabe. The coming week marks the first anniversary of his death from cancer at the supremely unfair age of 45. He was a terrific husband, brother, son, uncle, cousin, friend and, above all, he was the best father. He left behind two little ones who are luckily old enough to have memories of him but are so terribly unlucky to not get the chance to make any more.
This summer it will be 10 years since I lost my own father to cancer. Those 10 years seem to have lasted just a second or two, but in that time, so many things happened in our family. New jobs, new houses, more grandchildren, and all the things that go along with them—berry picking, loose teeth, backyard kickball games, and all the sports. So many sports. I wish we had a life DVR and I wish we could get my dad back, and then we could watch everything more efficiently, not wasting time on commercials or missed communications and regretting all the things we wished we said but didn't because we thought we had a little more time.
Taking it on a June-to-June basis, this past year has been a particularly unsettling one—starting with the loss of one of the best people on the planet and ending in the midst of a global pandemic that has sent us all home to stay for a while.
I've done my share of complaining about the current situation (why does everyone walk right by their father to ask me to make them something to eat?) while recognizing, appreciating, and being deeply grateful for how relatively easy it has been for us. The sun is shining today, and we're all here and well, but there are many who are grieving the loss of someone dear to them because of this startling and uncontrollable virus.
This pandemic has surely sent many people into an existential crisis—or at least leaves one questioning a life choice or two. It's not fun to feel like things are out of your control. Even the sunshine can feel insulting, even as it's so welcome and was so desperately needed.
At the end of April last year, Gabe and I were texting back and forth about the previous evening, when we had all been hanging out, and he wrote, "I am a lucky man!!!"
I remember at the time being just totally floored that someone who had been through all that a cancer diagnosis entails, who was facing his own mortality, who was deeply concerned about his wife and his kids, would not only declare himself lucky, but would do so with multiple exclamation points. He seemed impossibly full of gratitude.
After all that's happened over the past few months, I've come around to this idea. I'm going to do my best to make this next June-to-June the year of luck—which, Gabe knew, comes not from what happens to you, but what you decide to do with it.