Around Town – April 16, 2020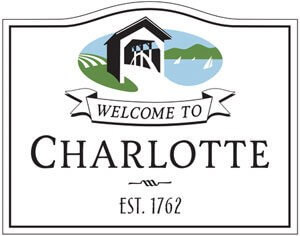 I was eight years old and running with a dime in my hand
Into the bus stop to pick up a paper for my old man
I'd sit on his lap in that big old Buick and steer as we drove through town
He'd tousle my hair and say son take a good look around
This is your hometown
.
~ Bruce Springsteen, Your Hometown
Over the years of The Charlotte News, the "Around Town" section has addressed issues that impact people and organizations of our community.
Although something we call community will likely exist, the COVID-19 pandemic will produce changes in how that community displays itself. As our representative Mike Yantachka noted in the last News issue, we are faced with the unexpected and have to "adapt our lifestyle quickly." How that adaptation will appear is difficult to say. How will future generations define fellowship, learning/schooling, belief and religion, supply and demand, and all other elements of what now we take for granted?
As journalists we have to help others understand what's happening through the use of language. That requires some understanding of ourselves before passing it along. However, to paraphrase Mark Twain, he never knew what he was going to say until he wrote it.
Well, not that "Around Town" will produce Life on the Mississippi, it may, however, define the currently indefinable.
Meanwhile though, we are sticking to our existing format.
Congratulations to Ava Rourbaugh of Charlotte, whose poem "Where am I?" appeared in the Young Writers section of the April 10 Burlington Free Press in response to the challenge of "lost." Ava suggests that being lost in place or even body is not unnatural. While she waits for a map to help her make sense of where she exists, she will droop herself over her brain and be lost in herself.
Sympathy is extended to family and friends of Mary T. Dawson of Shelburne who died April 3 at the age of 77. She married her husband, Robert, in 1963, and the couple moved to Charlotte where they lived and raised daughters Kimberly and Michelle. The family says that no public services are planned at this time.